Toen ik klein was bakte mijn moeder altijd appeltaart voor m'n verjaardag. En omdat mijn moeder de eigenschap heeft om met verjaardagen een hoeveelheid eten in huis te halen waarmee ze het hele dorp twee maanden in hun dagelijkse caloriebehoefte zou kunnen voorzien, was er de volgende dag vaak nog appeltaart over. Je voelt 'm waarschijnlijk al aankomen: dat werd appeltaart als ontbijt.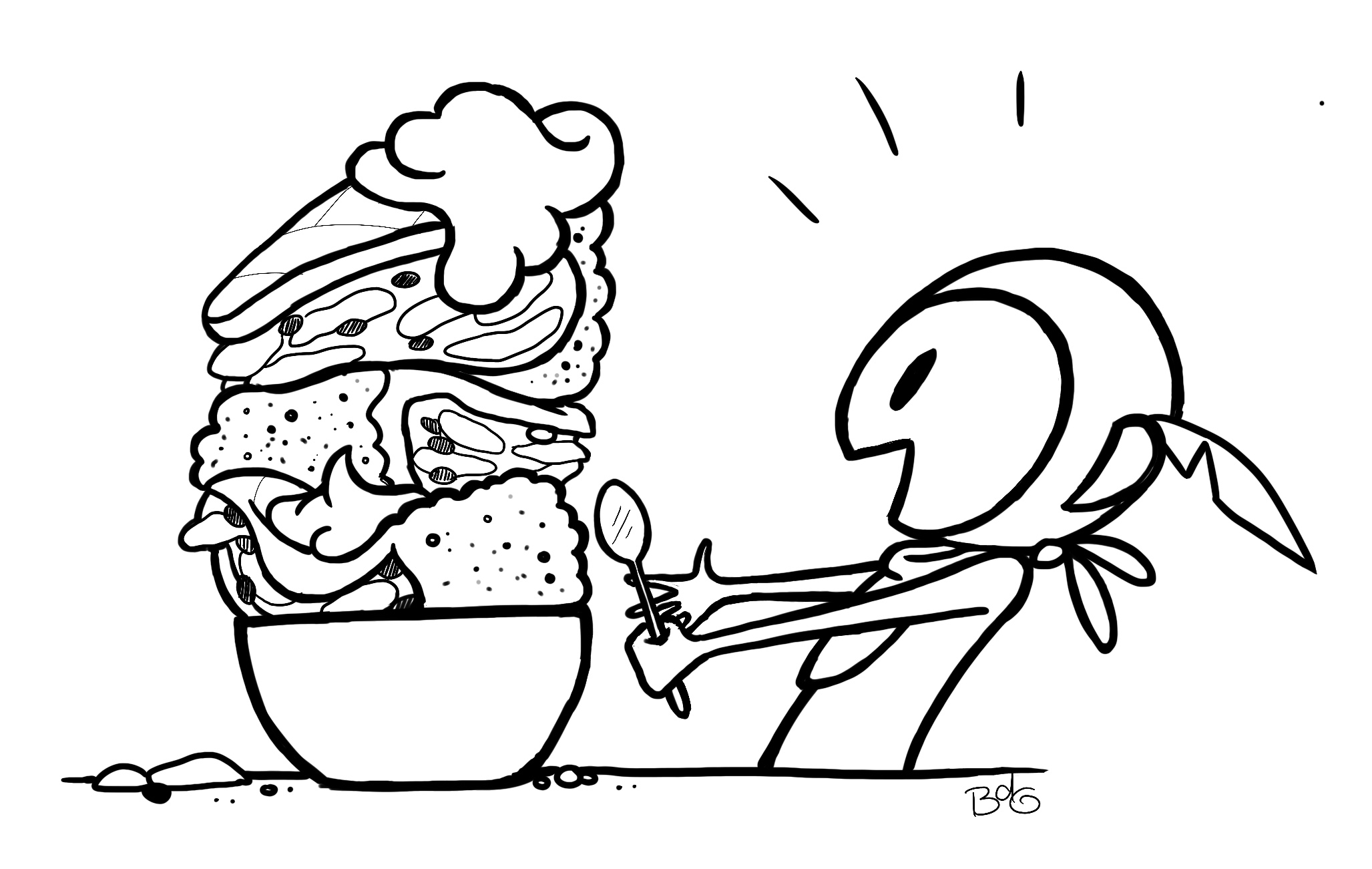 Voor een keertje is zo'n appeltaart ontbijt niet zo erg. Maar het is natuurlijk wel een vrij grote middelvinger naar de schijf van vijf, voedselzandloper, -piramide, of welk ander voedselfiguur dan ook.
Appeltaart is in essentie boter, suiker, tarwebloem en kapotgebakken stukjes appel. Het levert je precies nul gezondheidsvoordelen op. Maak je over die appel ook geen illusies, want het gezondste deel (de schil) ligt in je prullenbak, en met de rest van de vitaminen heeft je oven zojuist korte metten gemaakt.
Enneh.. kaneel? Dat is toch gezond?
Helemaal juist. Kaneel heeft als eigenschap dat het je bloedsuikerspiegel stabiel houdt [1,2]. Maar goed, dat is in deze situatie natuurlijk een beetje als een pleister plakken op een afgerukt ledemaat. Net als chiazaadjes over je patat sprenkelen of tarwegras door je milkshake roeren.
Beat the System met Appeltaart Overnight Oats
Als je net zo'n health-freak bent als ik, maar wél wilt kunnen ontbijten met appeltaart, dan is dit jouw lucky day – en morgen jouw lucky morning: met dit recept maak je een gezond appeltaart ontbijt van overnight oats!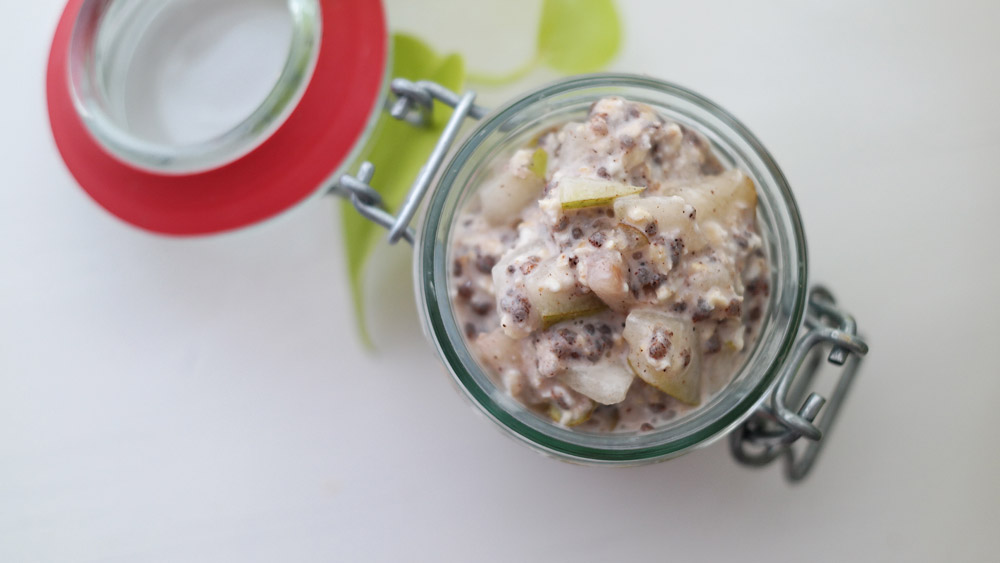 Gezonde Appeltaart als Ontbijt
Overnight oats is koude havermoutpap die je maakt door havermout een nachtje te weken. Het recept is super simpel, en er komt geen pan of afwas aan te pas. Zoals de naam al doet vermoeden bereid je overnight oats de avond van tevoren, zet ze in de koelkast, duikt je bed in, en de volgende ochtend sta je op met je ontbijtje ready to go. Omdat overnight oats in de basis zo neutraal van smaak zijn, kun je er vanalles mee maken. Zoals een gezond appeltaart ontbijt.
Met dit overnight oats recept vervang je alle niet-zo-schijf-van-vijf-waardige dingen in appeltaart door gezonde dingen:
Tarwebloem = havermout
Suiker = stevia of ahornsiroop*
Boter = wat-je-krijgt-als-je-havermout-en-chiazaad-een-nachtje-weekt
Kapotgebakken appel zonder schil = rauwe appel met schil
Et voilá. Nu kun je iedere dag appeltaart eten zonder diabetes te kweken of een kamerolifant te worden. Op naar het recept!
* Ik ben fan van stevia omdat het geen enkele toegevoegde suikers levert, maar als je dan toch uit een gezond alternatief voor suiker wilt kiezen, dan is ahornsiroop een goede keuze. Vooral C-graad ahornsiroop, omdat deze de meeste vitaminen en mineralen bevat.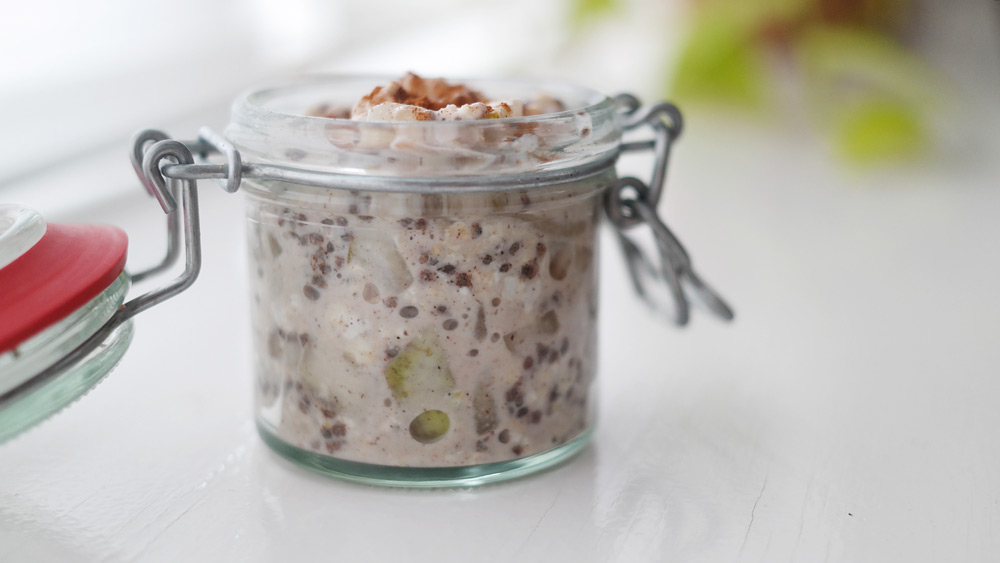 Ingrediënten
50 gram havermout
½ appel
1 el rozijnen
1 el chiazaad
½ tl kaneel
200 ml ongezoete amandelmelk
1 el ahornsiroop of een beetje stevia
Snufje zout
Toppings: handje amandelen + 2 el kokos- of sojayoghurt
---
Zo maak je Appeltaart Overnight Oats
Snijd de appel in minuscule blokjes. Ik daag je uit.
Doe de appelblokjes in een pot / kom.
Voeg de rest van de ingrediënten behalve de toppings toe.
Schud of roer de ingrediënten door elkaar.
Zet in de koelkast en laat minstens 2 uur rusten.
☀ Ochtend: Roer even door en garneer met de yoghurt en amandelen. Enjoy!
PS: Voor de oplettende kijker: Ja, dit is peer op de foto's, geen appel. Ik had geen appels in huis en wel heel veel peren, en uit ervaring weet ik dat het met peer stiekem nóg lekkerder is. Tip.
PPS. Als jij ook van Team Appeltaart-Moet-Zonder-Krentjes bent, dan mag je die rozijnen natuurlijk lekker achterwege laten.
---
Voedingswaarde*: Kcal: 415 | Koolhydraten: 47,3 | Eiwit: 12 |Vet: 13,3
*Berekend met sojayoghurt en stevia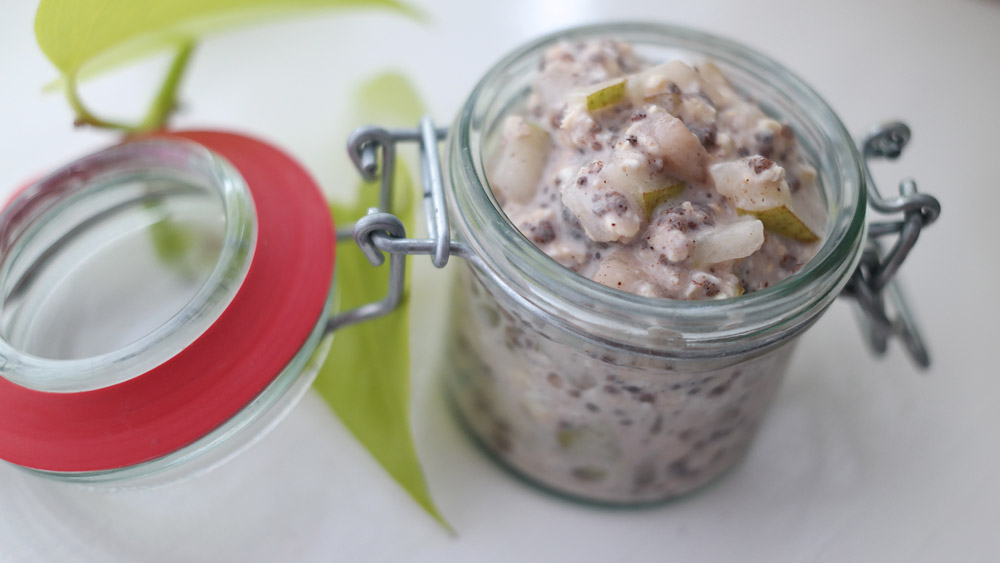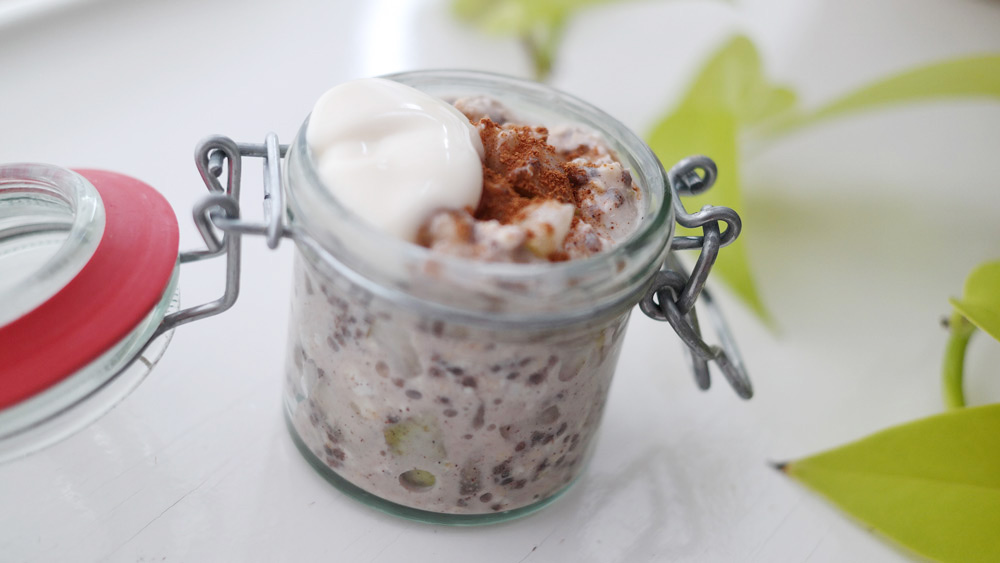 Nog meer Overnight Oats Recepten
Ik heb mezelf zeer democratisch uitgeroepen tot Queen of Overnight Oats, en ik heb nog veel meer recepten voor je in petto, zoals:
Of maak 'm lekker zelf, met het 5-stappenplan dat je in dit ultieme overnight oats artikel vindt! Veel (eet)plezier!