Veganistische versies van niet-veganistische producten lijken nog al te vaak de mwah-factor te bezitten. Vooral voor niet-vegans zijn de plantaardige vervangers vaak mwah qua smaak en mwah qua voedingswaarde.
Mwah
Als we inzoomen op de macronutriënten – koolhydraten, eiwitten en vetten – dan komen we al snel tot de conclusie dat het overgrote meerendeel van de veganistische versies van niet-veganistische producten minder eiwit bevat dan zijn wannabe-variant.
En dat is een dooddoener voor onze toch ietwat eiwitgeobsedeerde samenleving. Het is één van de redenen dat veel mensen die een eiwitrijk voedingspatroon volgen de stap naar een veganistisch dieet niet willen of durven te zetten. Een angst die volledig ongegrond is, want als vegan krijg je meer dan genoeg eiwitten binnen. Maar als je voor jezelf om wat voor goede of slechte reden dan ook als doel hebt gesteld om veel eiwitten te eten, dan heb je het als veganist minder makkelijk dan de eerstvolgende klant die bij je lokale slager een onsje kipfilet afrekent. Zeker wanneer je ook op de calorieën, vetten, koolhydraten, of je portemonnee let.
Neem nu kwark. Bevat gemiddeld 10 gram eiwit per 100 gram, en kost nog geen euro voor een halve liter. Als je na goed zoeken vegan kwark (zoals Alpro Go of Provamel kwark) vindt, valt je als eerste op dat ze meer dan het dubbele kosten voor dezelfde hoeveelheid, en daarna dat ze een stuk minder eiwitten bevatten. Voor vleesvervangers geldt vaak – helaas – hetzelfde. Kortom: vegan producten hebben het zwaar in een eiwitlievende maatschappij. Maar voor deze ene keer geldt er een uitzondering: deze vegan mayonaise.
Ik heb namelijk iets uitgevonden waarmee vegans, fitness junkies en gezondheidsfreaks gebroederlijk zij aan zij juichen naar één dip. We introduce to you:
Gewone vs. Eiwitrijke Vegan Mayonaise
Eindelijk een plantaardige variant met betere macro's dan het origineel. En of je nu keukendyslectisch bent, calorie-arm eet of een beetje krap bij kas zit: deze vegan mayo is the one for you. De mayonaise is plantaardig, eiwitrijk, low-fat, clean, wholefoods, zonder soja, makkelijk én goedkoop. Het lijkt te mooi om waar te zijn, en toch is het zo:
High protein vegan mayonaise:
222 kcal
16g eiwitten
26g koolhydraten
3g vet
Gewone mayonaise:
741 kcal
1,7g eiwitten
2,5g koolhydraten
82g vet
---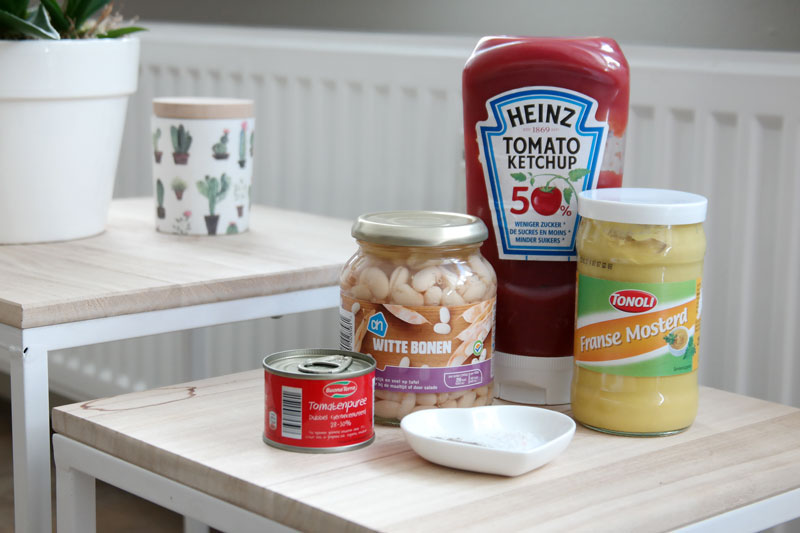 Ingrediënten:
• 1 potje witte bonen (240 gram)
• 3 tl mosterd
• 2 tl citroensap (staat niet op de foto – oeps)
• 1 tl ketchup of tomatenpuree
• flinke snuf zwarte peper
• flinke snuf zout
Zo maak je Eiwitrijke Vegan Mayonaise:
Doe alle ingrediënten in de keukenmachine of pak de staafmixer
Mix tot het een egale zachte substantie is geworden, ongeveer zo dik als gewone mayonaise.
Is het te dik? Voeg dan wat water toe. Te flauw? Voeg wat peper en/of zout toe.
Dip je patatjes erin, smeer het op je brood, meng het door de rauwkost, buddha bowl, of maak er een lekkere salade mee voor op een toastje.