Mij kun je werkelijk begraven onder satésaus. Het tovert ieder gerecht om tot een goddelijke creatie waar ik mezelf zonder uitzondering helemaal klem in eet. Giet het in grote getale over gestoomde groenten, kleefrijst, gemarineerde tempeh of zacht wit brood. Of dip rauwe groenten in pindasaus! Superleuk als variatie op dat eeuwige bakje hummus. Kortom, satésaus kan altijd.
Always, Coca Conimex
Wacht, dat neem ik terug. Want de satésaus die je in de supermarkt koopt is echt niet gezond. Het zit bomvol suiker, zout, nog meer suiker onder schuilnamen (maltodextrine, dextrose, melasse), en zooi zoals gemodificeerd zetmeel en andere zwaar overbodige toevoegingen. Als vegan heb je trouwens sowieso het nakijken bij het schap met satésaus, want ze bevatten nagenoeg allemaal melkbestanddelen zoals weipoeder.
Dat kan echt Veel Beter
Ik had dus weer een doel in het leven. Hoe je lekker makkelijk gezonde vegan satésaus maakt. En ik kan je zeggen: het is gelukt. Wat een openbaring – zelf satésaus maken is zó makkelijk! Je hebt een handjevol basic ingrediënten nodig en het kost je net zoveel tijd als een blikje kokosmelk aan de kook brengen. Want dat is eigenlijk precies wat je gaat doen.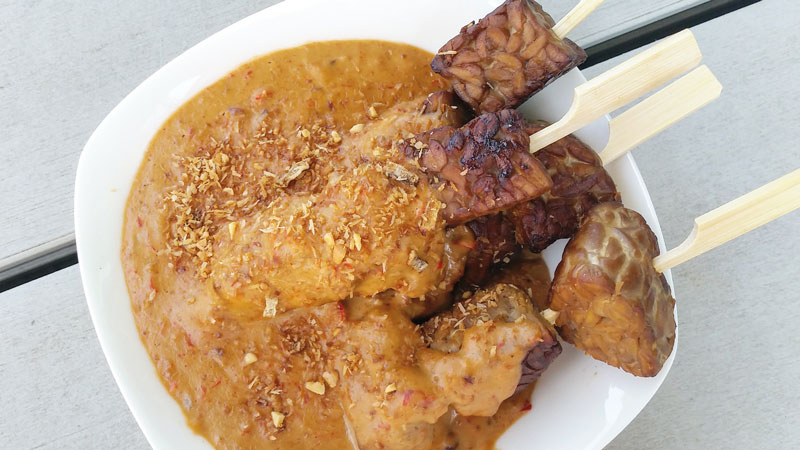 Ingrediënten
1 blik kokosmelk van 400 ml (origineel of light!)
100g pindakaas
3 el sojasaus*
1 tl knoflookpoeder / 2 teentjes geperste knoflook
4 tl kokosbloesemsuiker / een flinke mespunt stevia
Zout
Optioneel: 1 tl sambal
* Dit mag ook ketjap zijn, maar sojasaus is beter omdat het geen toegevoegde suikers en andere 'zooi' bevat.
Zo maak je Gezonde Vegan Satésaus
Doe alle ingrediënten in een steelpannetje.
Breng dit op laag vuur aan de kook. Blijf roeren terwijl je de saus verhit: zo voorkom je dat het aanbrandt.
Laat de saus even zachtjes doorkoken tot het mooi met elkaar is gemengd.
Liever een dikkere saus? Laat dan wat langer doorkoken terwijl je blijft roeren. Juist dunner? Voeg dan water toe.
Serveer over je favoriete gerecht of laat afkoelen tot een heerlijke dip. Enjoy!
Tip: Maak er pindasoep van door eenvoudigweg wat extra water en gekookte groenten of noodles toe te voegen. Dit kun je ook doen als je satésaus overhebt.
Als ik een suggestie mag doen: de satésaus smaakt onwijs lekker op deze dubbele vegan tempeh burger!
---
Voedingswaarde (per 100 gram)
Originele recept
Kcal: 256
Koolhydraten: 6,1
Eiwitten: 6,7
Vet: 22,3
Met light kokosmelk
Kcal: 180
Koolhydraten: 5,2
Eiwitten: 5,8
Vet: 13,3
---