Ik vind dat al het eten in een kom geserveerd zou moeten worden. Het mooiste van bowlfood is dat je het overal kunt eten: kom in de ene hand, lepel in de andere. Hoe knus is het om je havermoutontbijtje of curry lekker op de bank te kunnen eten terwijl de regen tegen de ramen tikt, en je onder een dekentje je favoriete film of serie kijkt? Juist. Heel knus.
Het lekkerste eten wordt al standaard in kom-vorm geserveerd: curry, pompoensoep, havermout, bananenijs en Buddha bowls. Ook smoothies behoren sinds kort tot de categorie bowlfood. Want mocht het je aandacht zijn ontglipt: de smoothie bowl is hot. Of nou ja, liever cold. Je snapt me 😉
De Psychologie achter de Smoothie Bowl
Mocht je 'm nog niet helemaal helder hebben: een smoothie bowl is gewoon een smoothie in een kom in plaats van in een glas. Je eet een smoothie dan ook met een lepel, en drinkt het niet met een rietje. En daar schuilt het geheim.
Je kunt van een smoothie een waar vitaminebommetje maken. Maar een groot nadeel van een smoothie – vind ik – is dat het je niet het gevoel geeft dat je iets substantieels hebt binnengekregen. Een smoothie als ontbijt, hoe groot en gezond ook, zorgt gegarandeerd voor cravings naar meer.
Dat was lekker. Tijd voor ontbijt.
Normaal gesproken niet het resultaat dat je met een ontbijt wilt bereiken. Maar met de smoothie bowl is deze bodemloze put-ervaring verleden tijd.
Er zit namelijk een wereld van verschil tussen 'uit een kom eten' en 'uit een glas drinken'. Niet wat betreft de voedingswaarde – die is identiek. Waar het om gaat is niet wat er in onze maag, maar wat erin ons hoofd gebeurt.
Smoothies verzadigen (mij) niet
Laten we een smoothie maken met de volgende ingrediënten:
1 kleine banaan (125 gram)
50 gram spinazie
50 gram blauwe bessen
1/2 avocado (75 gram)
200 ml water
Je gooit het in de blender en er komt in totaal 1/2 liter smoothie uit. Dit is wat er in een lege pindakaaspot past, of in twee middelgrote glazen (probeer vooral zelf even uit).
Maar je kunt er ook een salade van maken. Vergis je niet: met 50 gram spinazie heb je al best wat op je bord liggen. Als je daar een halve avocado en een hele banaan in plakjes bij doet, en de blauwe bessen eroverheen strooit, dan heb je een goed bord vol.
Als ik dit zo even visualiseer, dan voorspel ik dat die salade mij wel even verzadigd houdt. Terwijl mijn lichaam na die salade in smoothievorm nog steeds vraagt om ontbijt.
Een grote fruitsalade vs. 500 ml smoothie: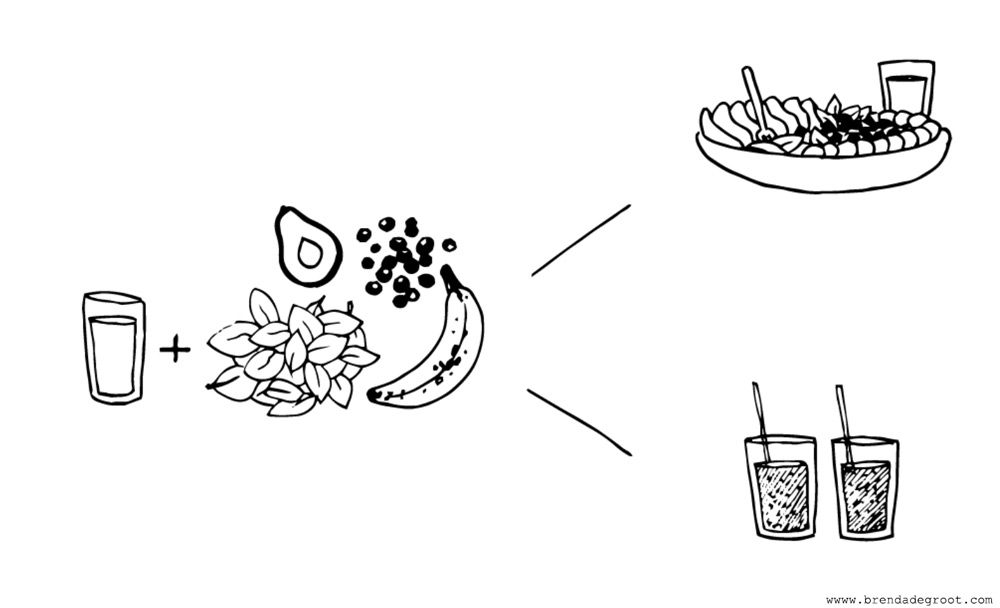 De Wetenschap Over Smoothies
Uit onderzoek blijkt inderdaad dat je langer vol zit van voedsel in vaste vorm dan van vloeistoffen (drinken), ook al blijft de hoeveelheid calorieën en voedingswaarde precies hetzelfde.
"Maar," denk jij nu misschien, "een smoothie bowl is nog steeds vloeibaar, net als een smoothie."
Klopt. Het interessante is alleen dat het bij soep precies tegenovergesteld lijkt te werken! Uit o.a. dit onderzoek bleek dat je langer verzadigd bent van het eten van soep dan van dezelfde hoeveelheid eten in vaste vorm + een glas met water met dezelfde inhoud als dat nodig was om de soep mee te maken. De voedingswaarde en het aantal calorieën van de gerechten bleef hetzelfde.
Hoe zit dat dan?
Misschien heeft het te maken met hoe lang je over een gerecht doet. Waarschijnlijk eet je de soep langzamer dan het bord met eten – en is een smoothie eerder op dan een salade.
Timing is cruciaal als het om verzadiging gaat. Het duurt 20 minuten voordat je hersenen het seintje binnenkrijgen dat je vol zit. Na 20 minuten heeft het eten namelijk je darmen bereikt, die vervolgens allerlei verzadigingshormonen aanmaken en ze doorsturen naar je hersenen. Het bijzondere is wel, dat de mensen van het soeponderzoek maar 10 minuten over hun eten mochten doen – of dit nu vloeibaar, vast of in soepvorm was.
Waarschijnlijk zit het allemaal niet zo simpel in elkaar, maar spelen er allerlei zaken mee. Van bloedsuikerspiegel tot enzymen die vrijkomen als je kauwt op je eten. Wat de achterliggende verklaring ook is: de manier waarop je iets eet bepaalt hoe verzadigd je bent.
Conclusie
It's all in your head. Je hersenen registreren vloeistoffen anders dan vaste voeding. Jij hebt dus invloed op hoe je je voelt nadat je iets gegeten (of gedronken) hebt. Als je vloeistoffen drinkt heb je sneller weer trek, en als je ze eet met een lepel zit je langer vol.
Ik zou zeggen: doe er je voordeel mee.
Wil je langer verzadigd blijven van je smoothieontbijt?
Schenk 'm dan in een kom.
Wil je meer kunnen eten op een dag, bijvoorbeeld omdat je spieren op wilt bouwen?
Drink 'm dan uit een glas.
Tips Voor een Perfecte Smoothie Bowl
Tip 1: Maak van je smoothie een supergezonde creatie. Hier lees je hoe je de gezondste smoothie bowl allertijden maakt. (Echt. Hij wordt epic).
Tip 2: Doe banaan in je smoothie. Of beter nog: bevroren banaan. Door banaan toe te voegen krijg je een zoete, romige smoothie. Daarnaast bevat banaan veel vitaminen en mineralen, en is de tijd dat deze vrucht het label 'dikmaker' droeg allang passé.
Tip 3: Voeg wat minder water of plantaardige melk toe aan je ingrediëntenmix dan dat je voor een gewone smoothie zou doen. Dit maakt je smoothie dikker, waardoor je hem makkelijker met een lepel kunt eten. Een dikkere smoothie bowl zorgt er ook voor dat eventuele toppings blijven liggen en niet naar de bodem zinken