Jazeker, je leest het goed. Na Tofutella is het tweede vegan Nutellarecept een feit. En ik kan je zeggen dat deze niet onderdoet voor haar grote broer! Avotella zit vol vezels en omega-3 vetten, en met slechts 4 basic ingrediënten is deze goddelijke chocopasta ook nog eens supermakkelijk en snel te maken.
Misschien vraag je je nu af:
Waarom Avotella als Tofutella al zo goed was?
Goeie vraag. Want ook wat mij betreft mag de uitvinding van Tofutella in hetzelfde rijtje als die van het wiel, vuur en pindakaas. Het smaakt precies zoals Nutella, is vegan, eiwitrijk, vet- en caloriearm, en bevat geen palmolie of geraffineerde suiker waar het origineel voor het grootste deel uit bestaat. Tofutella werd dan ook met veel enthousiasme onthaald (bedankt iedereen 🙂 ), maar nu kreeg ik een paar keer de vraag of je de tofu ook kunt vervangen, en hoe het recept er dan uit zou zien.
Ik had wel een vaag idee, maar je weet: nattevingerwerk is not how I roll. Dit moest tot op de bodem worden uitgezocht. En zo geschiedde dat ik de dag nadat ik Tofutella het leven schonk alweer vrolijk een volgend Nutellakind stond te bouwen. Alsof het niets is.
Het werd Avotella – het vezelrijke zusje van Tofutella. Zelfde concept, ander hoofdingrediënt. Mag jij raden wat.
A-, a-, a- ?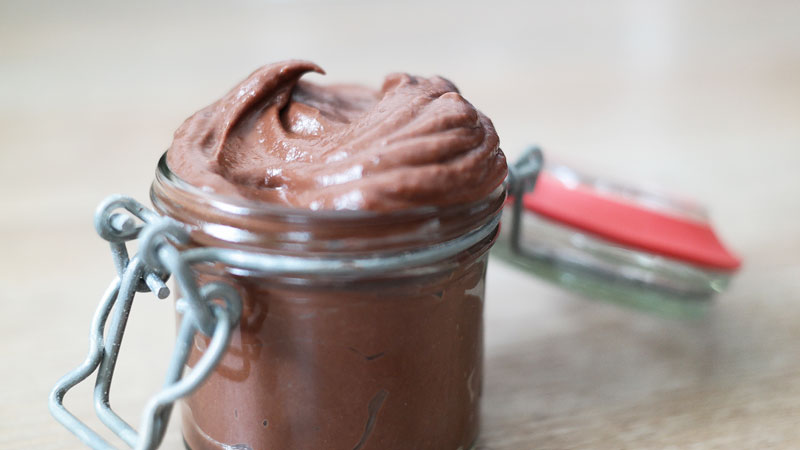 Vegan Nutella van Avocado
Avocado dus, yes! Dat, samen met dadels en cacaopoeder is feitelijk wat je eet als je een pot Avotella leeglepelt. Al vind je in dit recept ook een high-protein optie met plantaardig eiwitpoeder, net als bij Tofutella.
Avotella is ideaal voor als je allergisch bent voor soja, je geen zin hebt om naar de toko te gaan om silken tofu te kopen, of als je nodig iets met die rijpe avocado in je fruitschaal moet doen. Je kunt deze chocopasta alleen niet zo lang bewaren: binnen 2 à 3 dagen moet 'ie echt op zijn. Besef namelijk dat je nog altijd te maken hebt met een soort zoete guacamole. Daar heb ik dan ook rekening mee gehouden wat betreft de portiegrootte van dit recept. 🙂
Of deze Avotella net zo lekker is als Tofutella? Pak je keukenmachine en oordeel zelf!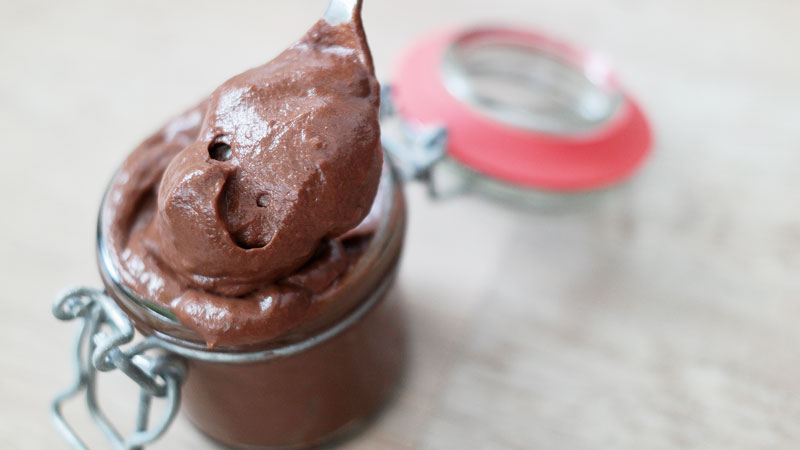 ---
Ingrediënten
150 gram avocado (±1 grote)
75 gram medjooldadels
20 gram cacaopoeder
50 ml water of amandelmelk
Ingrediënten High-Protein Avotella
150 gram avocado (±1 grote)
20 gram Orangefit chocola / Body en Fit Vegan Protein eiwitpoeder*
30 gram cacaopoeder
40 gram medjooldadels
200 ml amandelmelk
* Ik gebruikte zelf een van deze protein powders voor dit recept, en als je een ander merk gebruikt zul je misschien wat minder of meer amandelmelk of dadels nodig hebben. Experimenteer met de verhoudingen door steeds kleine beetjes toe te voegen.
Zo maak je Avotella
Doe alle ingrediënten in een keukenmachine.
Mix tot een gladde pasta.
Schep in een pot en bewaar in de koelkast (maximaal 3 dagen),
Gun het dit keer je huisgenoot om de keukenmachine uit te likken.
---
Voedingswaarde (per 100g)
Avotella
Kcal: 197
Koolhydraten: 20,3
Eiwitten: 2,7
Vet: 11,5
High-Protein Avotella
Kcal: 141
Koolhydraten: 8,4
Eiwitten: 5,7
Vet: 8,6
Nutella
Kcal: 546
Koolhydraten: 57,6
Eiwitten: 6
Vet: 31,6
---
PS. Probeer dus ook vooral m'n Tofutella: net zo clean en gezond, maar dan bomvol eiwitten!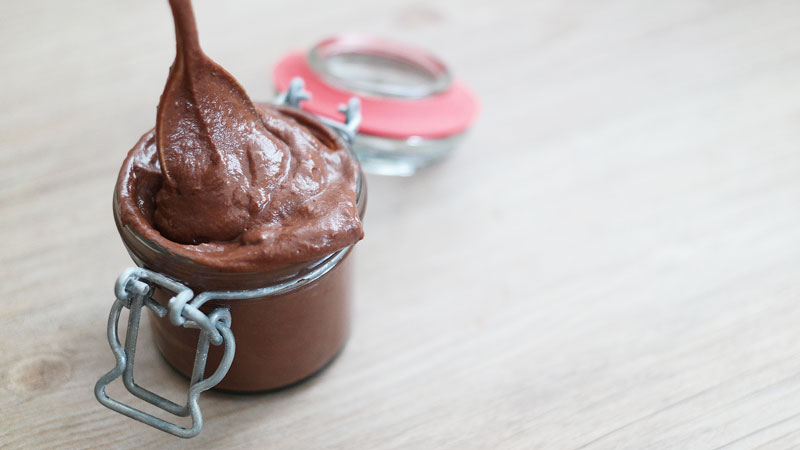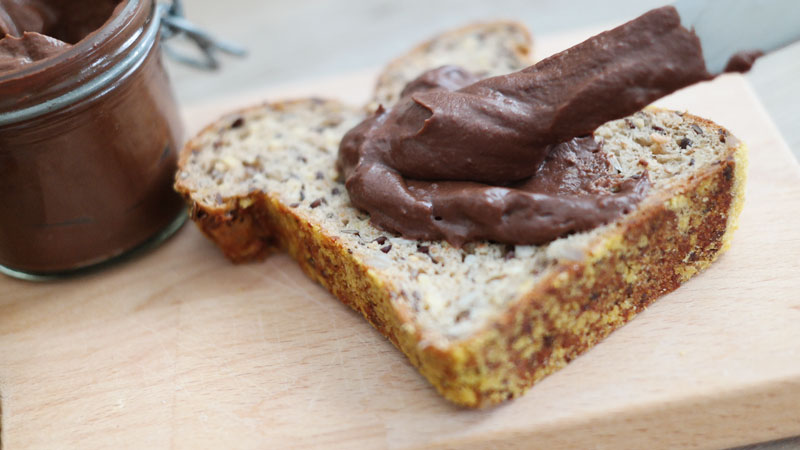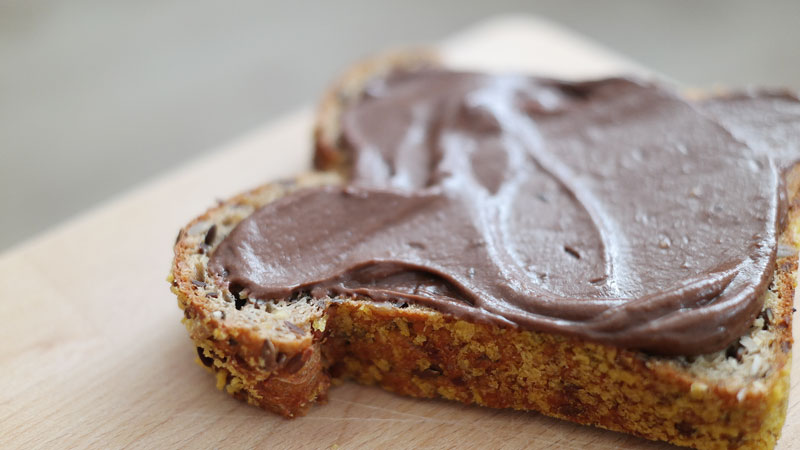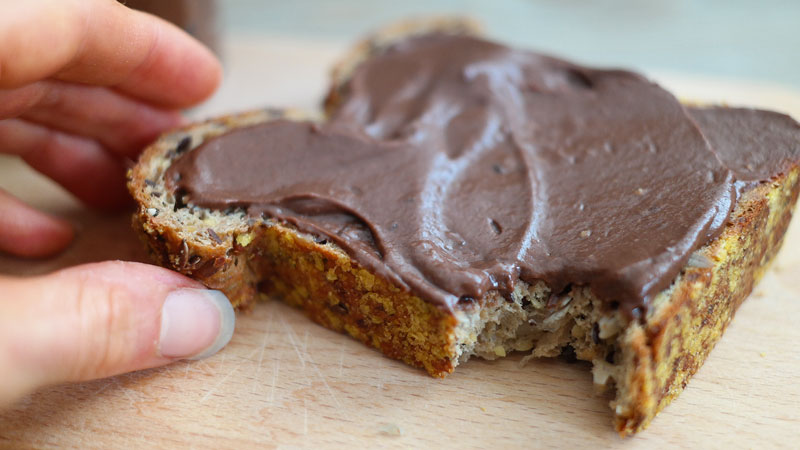 ---
PPS. De link naar de Body en Fit Shop is een affiliate link. Dat betekent dat als jij via deze link iets bestelt, dat ik dan en klein percentage van dat bedrag van de Body en Fit Shop krijg. Zo sponsor je me dus met een kopje koffie (waardoor ik nog sneller dit soort recepten in elkaar kan flansen) zonder daar iets extra's voor te hoeven betalen. Dank je wel! 🙂