Ik heb, al zeg ik het zelf, de uitvinding van de eeuw gedaan. Tofutella. Ja, het is precies wat je denkt: vegan Nutella gemaakt van tofu. Ik kan het ook bijna niet geloven, maar ik zweer met heel mijn wezen dat deze creatie precies zo smaakt als de real deal. En het mooiste is dat deze vegan Nutella super simpel te maken is. Je hebt 3 ingrediënten nodig, één keukenmachine en een grote lepel om 'm geheel in stijl te verorberen. Doop die lepel trouwens gerust nog één, twee, of – oh boy – drie keer in, want deze guilty pleasure is eigenlijk helemaal niet zo guilty.
Vegan Nutella van Tofu
Wat je eet is namelijk niets meer dan een mix van tofu, dadels en cacaopoeder. That's it! Tofu is een eiwitrijke en caloriearme vervanger voor de palmolie waar Nutella uit bestaat, en de dadels zorgen voor die heerlijk zoete smaak en de originele 'plakkerige' structuur. Schep cacaopoeder erbij en Tofutella is born in your kitchen! Oh ja, heb ik al gezegd dat dit recept ook een high-protein optie met minder suiker heeft? Die vind je ook verderop in dit recept. Voor vegan nutella van avocado (drie keer raden hoe die heet), moet je dit recept hebben.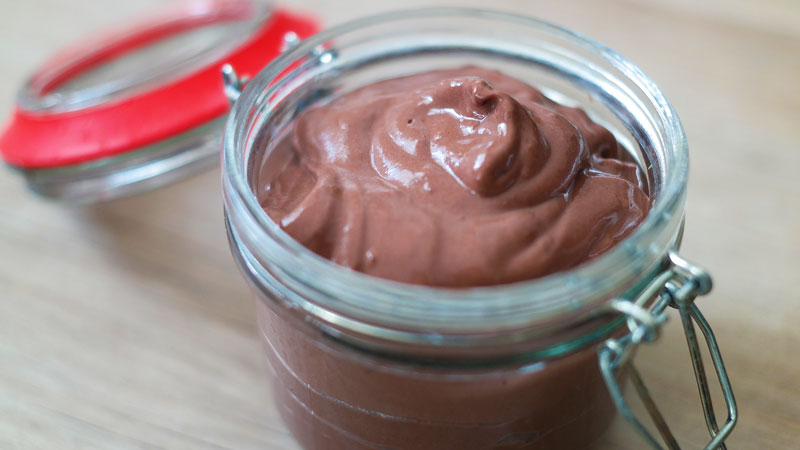 Maar waar zijn de hazelnoten?
Nou, die zijn er dus niet, en ik zal je zeggen: die mis je ook niet. De mensen van Nutella mogen dan wel doen alsof hun suikerbommetje vol zit met hazelnoten, maar de realiteit is dat de chocosmurrie slechts voor 13% uit hazelnoten bestaat. Omgerekend is dat 2 gram per portie van 15 gram. Komt neer op precies 1 hazelnoot. Je snapt, daar ga ik jou (en mezelf) echt niet voor naar de winkel sturen.
En om eerlijk te zijn: een chocopasta op basis van hazelnoten vind ik eigenlijk een groot nadeel. Hazelnoten zijn niet goedkoop, en om er een pasta van te maken zijn geduld en een goede blender een noodzaak. Ja, je zou een pot hazelnootpasta kunnen kopen, maar voor hetzelfde geld kun je net zo goed nog minstens 8 potten Tofutella maken. Bovendien is chocopasta op basis van hazelnoten vaak even calorierijk en vet als de originele Nutella. Dus als je portemonnee en tailleomtrek je lief zijn, kies je voor deze vegan nutella.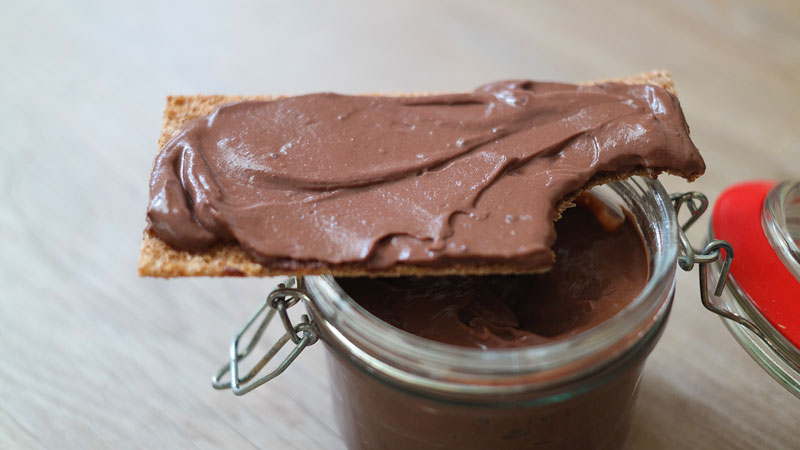 ---
Ingrediënten
250 gram silken tofu (ook wel soft tofu of zijdentofu genoemd)
100 gram medjooldadels
20 gram (2 el) cacaopoeder
Ingrediënten High-Protein Tofutella
250 gram silken tofu
30 gram Orangefit chocola / Body & Fit Vegan Protein eiwitpoeder*
30 gram (3 el) cacaopoeder
30 gram medjooldadels (1 grote of 2 kleine)
100 ml ongezoete amandelmelk
* Ik gebruik zelf altijd een van deze twee merken voor dit recept, en ik weet niet hoe het met andere eiwitpoeders uitpakt. Waarschijnlijk moet je minder of meer amandelmelk gebruiken, dus probeer maar even wat uit. Laat het me vooral weten hoe het bij jou is gegaan als je een ander merk hebt gebruikt!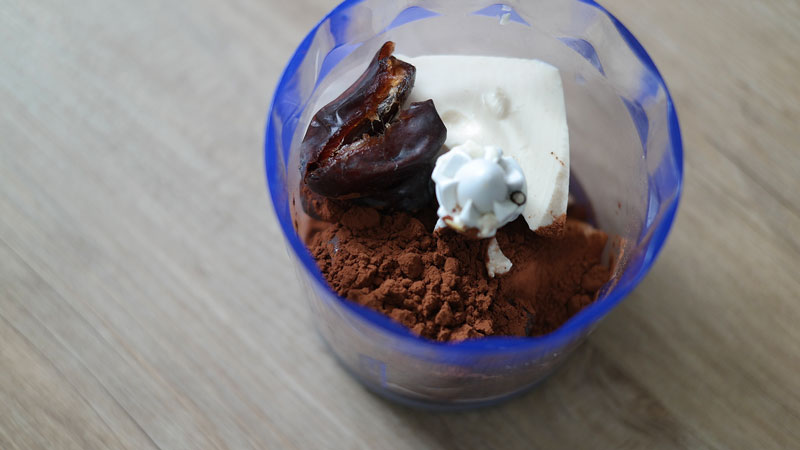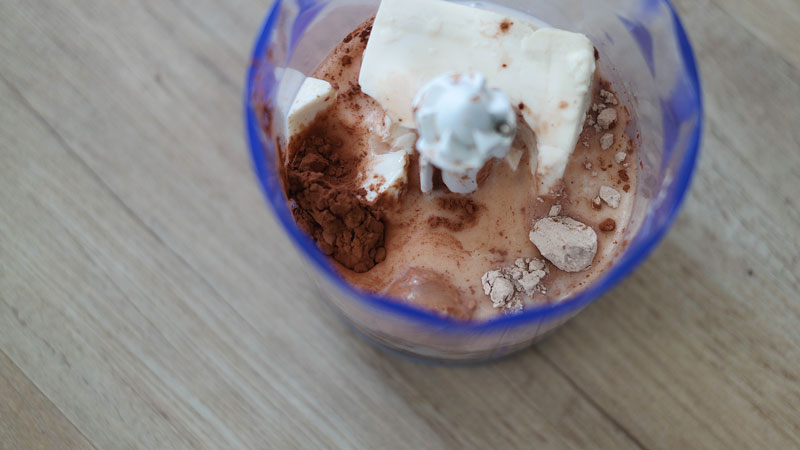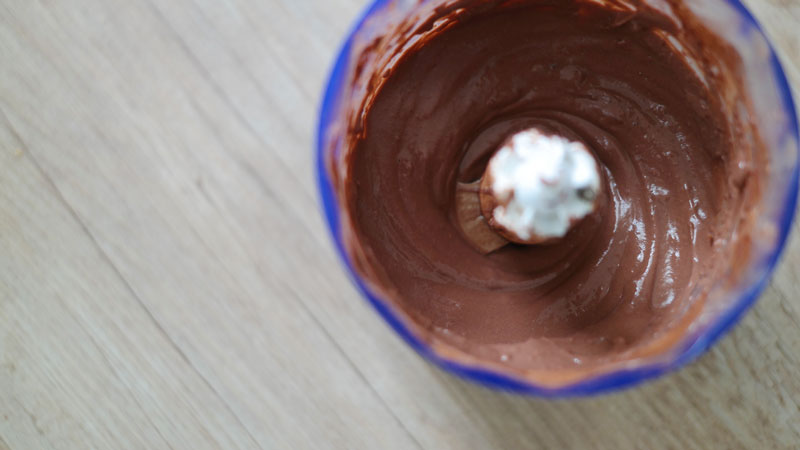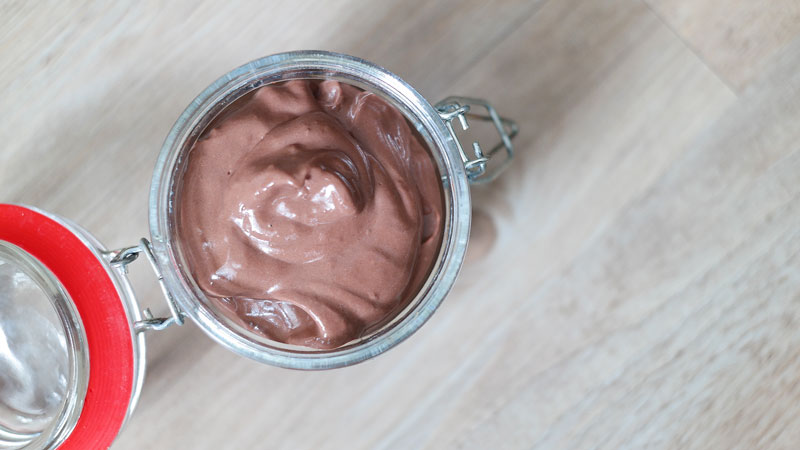 Zo maak je Tofutella
Doe alle ingrediënten in een keukenmachine.
Mix tot een gladde pasta.
Schep in een pot en bewaar in de koelkast (maximaal 1 week),
Lik de keukenmachine uit.
---
Voedingswaarde (per 100g)
Tofutella
Kcal: 136
Koolhydraten: 21,1
Eiwit: 6,6
Vet: 3,3
High-Protein Tofutella
Kcal: 106
Koolhydraten: 6,6
Eiwit: 11,0
Vet: 3,8
Nutella
Kcal: 546
Koolhydraten: 57,6
Eiwit: 6
Vet: 31,6
---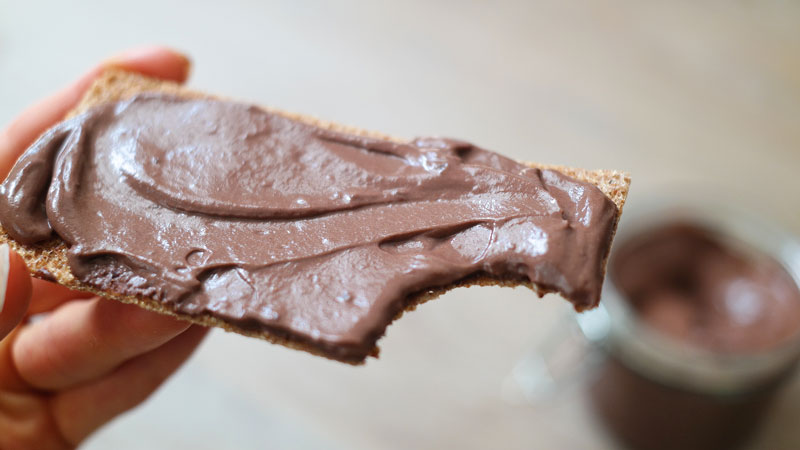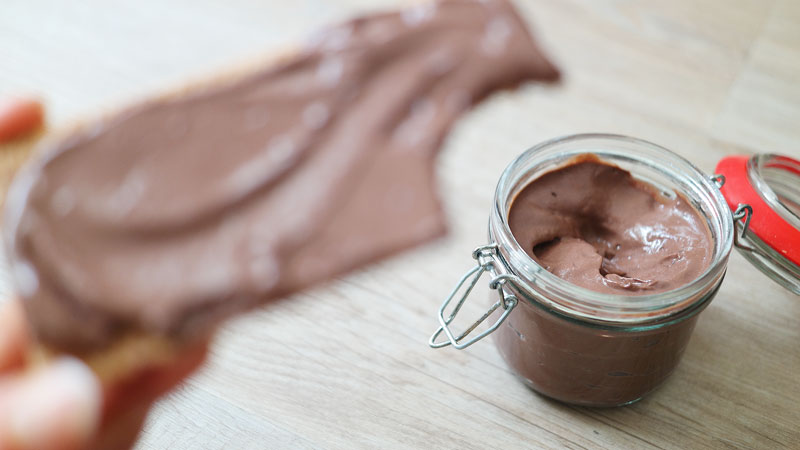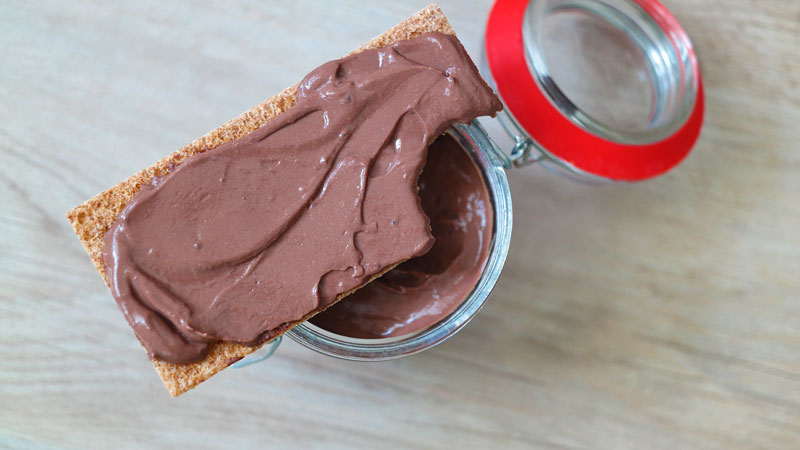 ---
Nóg meer Gezonde Nutella!
Je leest het goed: ik heb nóg een gezond vegan Nutella recept! Deze is gemaakt met avocado in plaats van silken tofu. Drie keer raden hoe 'ie heet. Juist: Avotella! Net zo lekker, net zo smeuiig, en met heel veel vezels en gezonde vetten. Pick your fave!
---
PS. De link naar de Body en Fit Shop is een affiliate link. Dat betekent dat als jij via deze link iets bestelt, dat ik dan en klein percentage van dat bedrag van de Body en Fit Shop krijg. Zo sponsor je me dus met een kopje koffie (waardoor ik nog sneller dit soort recepten in elkaar kan flansen) zonder daar iets extra's voor te hoeven betalen. Dank je wel! 🙂