Voordat ik veganist werd was ik gek op kwark. Ik ontbeet iedere dag steevast met een grote bak vol met havermout en vers fruit. M'n kwarkobsessie was één van de grootste redenen dat het zo lang duurde voor ik veganist werd. Ik schoot in een stuip bij alleen de gedachte al om m'n kwarkontbijtje vaarwel te moeten zeggen.
M'n kwarkie. M'n way-too-guilty pleasure waar ik soms wel een halve kilo van wegdrukte op een dag.
Toen ik in oktober 2015 toch daad bij ideaal voegde en meedeed met de Vegan Challenge, heb ik m'n vertrouwde ontbijtje zo hard gemist dat ik op 1 november om 8 uur 's ochtends bij de Albert Heijn voor de deur stond om – zeer schuldbewust – een pot kwark te halen.
Nohh!
Ja, ik weet het. Niet chique. Maar gelukkig is het allemaal goedgekomen met me. Ik ben al minder dierlijke producten gaan eten en uiteindelijk in december helemaal gestopt. Want die koe moet je natuurlijk gewoon met rust laten.
Kwark Cravings
Toch bleef ik soms verlangen naar m'n oude ontbijtje. Van die romige substantie waar je lepel rechtop in blijft staan. Waarvan je de pot ondersteboven kunt keren en dat het dan gewoon blijft zitten. Iedere keer dat ik dat probeer met sojayoghurt moet ik steevast m'n hele appartement dweilen.
Tot ik op een vreugdevolle dag de waanzinnige uitvinding deed om overnight oats met sojayoghurt te maken. Want wat daaruit ontstond was niets minder dan vegan kwark. Yes.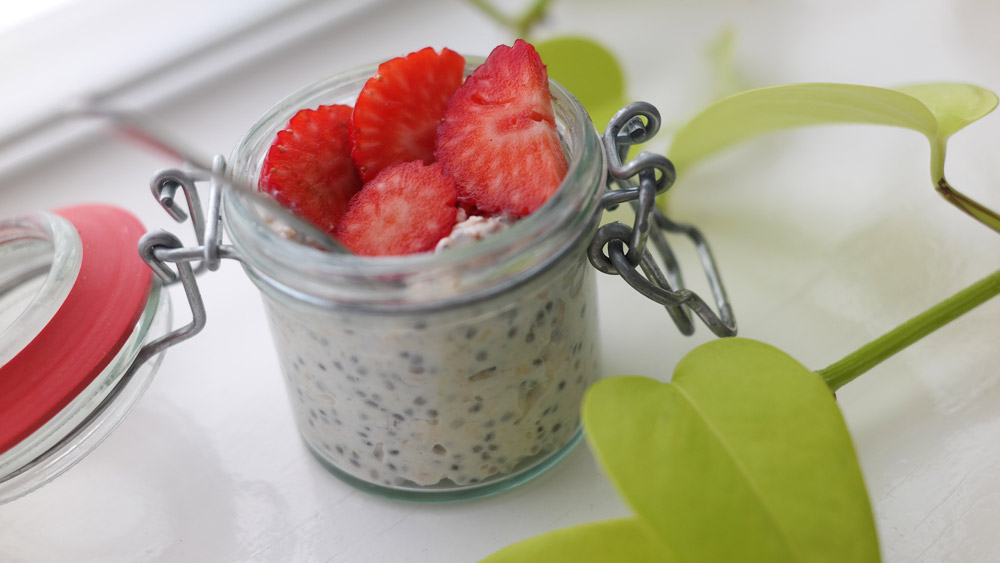 Vegan Kwark maken met Overnight Oats
Overnight oats is koude havermoutpap dat je maakt door havermout een nachtje te weken in plantaardige melk. Het is super simpel: je gooit alle ingrediënten bij elkaar, wacht een paar uurtjes, en je hebt een gezond ontbijtje of tussendoortje.
Je maakt overnight oats standaard met plantaardige melk. De havervlokken nemen het vocht op en zo ontstaat er een yoghurt-achtige substantie. Door een deel van de melk te vervangen door sojayoghurt worden de overnight oats dikker. Zo dik, dat je ze ondersteboven kunt houden en er een lepel in rechtop kunt laten staan. Ook de structuur is net zo romig als kwark.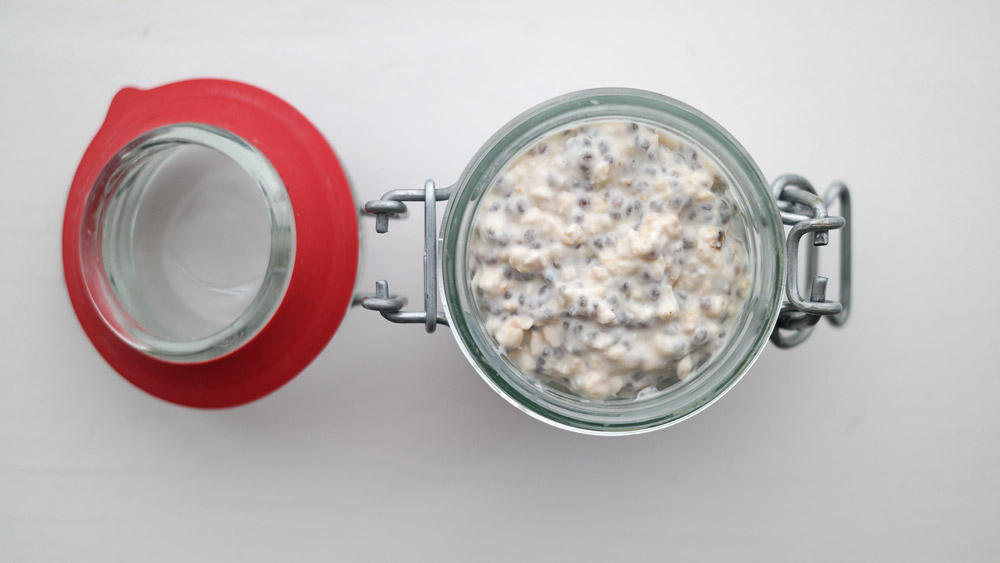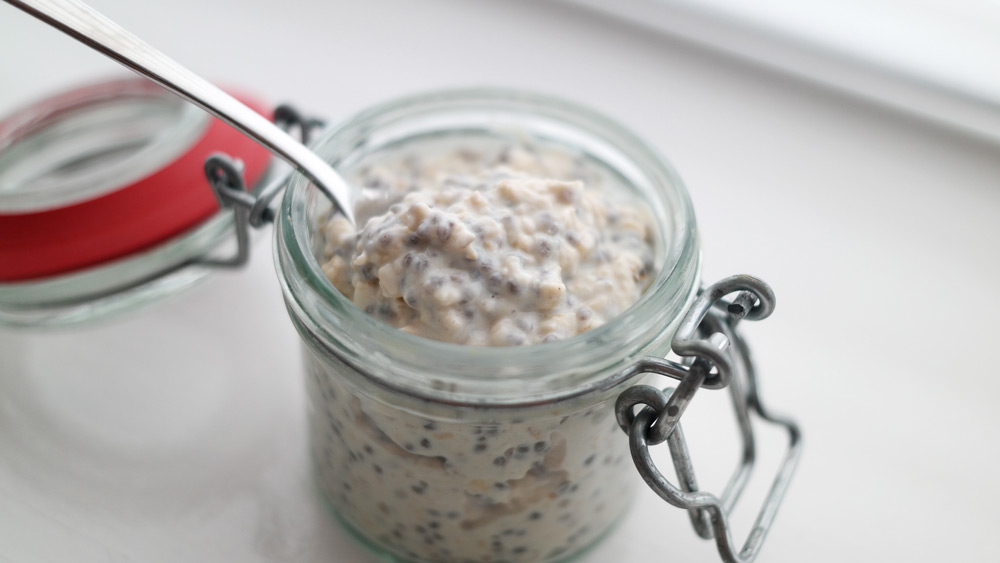 Gezonde en Goedkope Vegan Kwark
Natuurlijk kun je ook gewoon kant-en-klare vegan kwark van Alpro Go of Provamel kopen. Maar als je net zo'n kwarkliefhebber als ik ben dan word je daar straatarm van. Bovendien bevat Alpro Go kwark toegevoegde suiker, en ik wil gewoon zelf bepalen of ik ergens suiker in pleur of niet.
Dit vegan kwark recept is suikervrij, budget-vriendelijk, en zit ook nog eens bomvol oplosbare vezels (dankzij de havermout) en omega-3 vetten (dankzij de chiazaadjes). Over die oplosbare vezels ben ik zo enthousiast dat ik er zeker nog een heel artikel aan ga wijden.
Vegan Kwark Zonder Soja
Een ander voordeel van dit vegan kwark recept is dat je het sojavrij kunt maken. Door de sojayoghurt in dit recept te vervangen door kokosyoghurt, haveryoghurt of amandelyoghurt maak je vegan kwark zonder soja. Ideaal voor wie een sojaallergie heeft, of om een andere reden liever geen soja eet. De aanpassing staat in het recept.
Goed, genoeg gepraat, we moeten nu nodig gezonde vegan kwark maken! Let's gooo!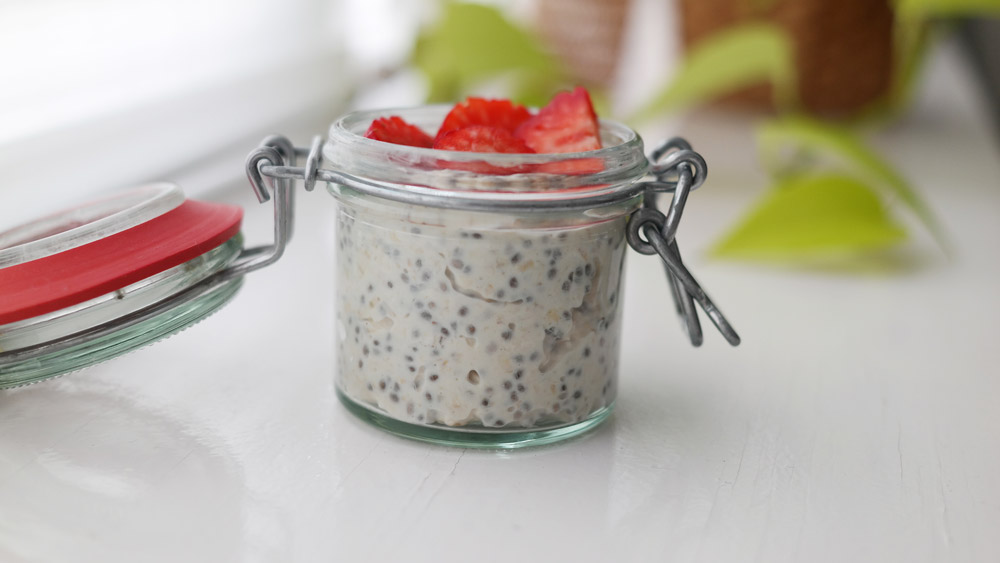 ---
Ingrediënten
50 gram havermout
100 ml sojayoghurt*
100 ml amandelmelk
1 el chiazaad
½ tl kaneel
1 el ahornsiroop of een beetje stevia
Snufje zout
Toppings: je favoriete fruit en een handje ongezouten noten. Inspo: blauwe bessen, aardbeien, frambozen, kiwi, ananas, mango, banaan | walnoten, pecannoten, amandelen, cashews, hazelnoten, pinda's, zonnebloempitten.
---
Zo maak je Vegan Kwark
Snijd de appel in minuscule blokjes. Ik daag je uit.
Doe de appelblokjes in een pot / kom.
Voeg de rest van de ingrediënten behalve de toppings toe.
Schud of roer de ingrediënten door elkaar.
Zet in de koelkast en laat minstens 2 uur rusten.
☀ Ochtend: Roer even door en garneer met je favoriete toppings. Enjoy!
---
Voedingswaarde: Kcal: 287 | Koolhydraten: 31,4 | Eiwit: 12,5 | Vet: 9,5 | Vezels: 5,6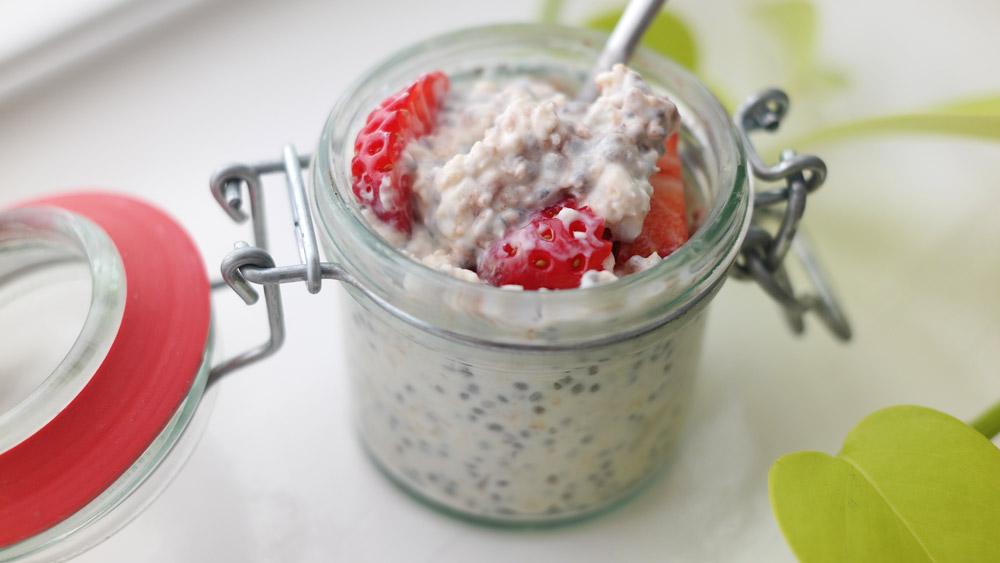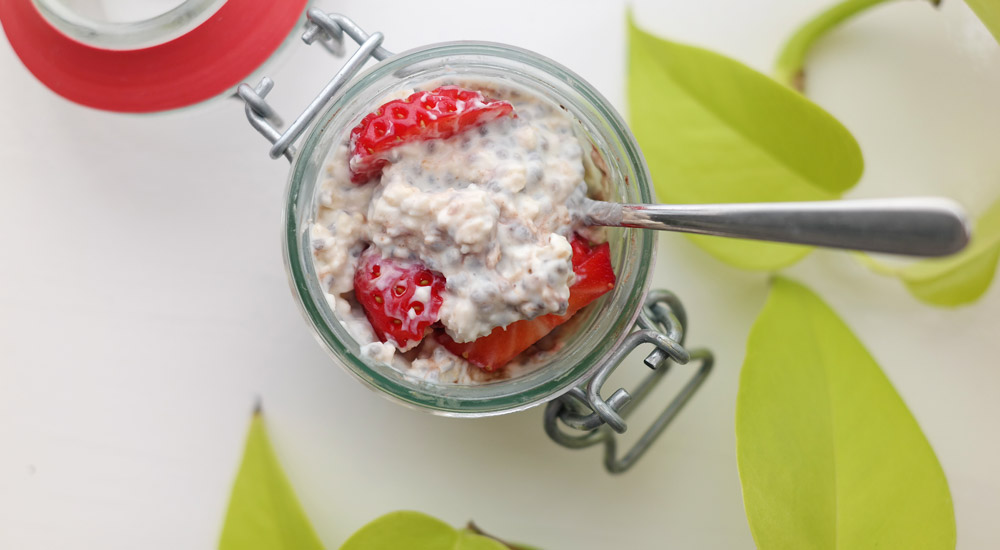 We Want More Oats!
Mocht je nou helemaal fan zijn van dit vegan kwark recept, en ook eens een nader overnight oats receptje wilt proberen, dan val je met je neus in de margarine. Ik heb mezelf (zeer democratisch) uitgeroepen tot Queen of Overnight Oats, want ik heb nog veel meer awesome recepten:
En als je die allemaal al hebt gehad, dan kun je ook je eigen overnight oats receptje of vegan kwarkontbijtje bouwen met het 5-stappenplan dat je in dit overnight oats artikel vindt. Veel (eet)plezier!