Twee verhalen over de dierenlevens en levende dieren waar we letterlijk en figuurlijk de schaar in zetten.
Verhaal 1. 🐄
Het is zondag en je bent op ziekenhuisbezoek bij je oma. Het is niets ernstigs gelukkig, en ze mag morgen weer naar huis. Met een grote bos bloemen in je hand loop je in rap tempo langs rijen gesloten deuren. Totdat je plots een zacht gejammer hoort.
"Nee, nee niet mijn kind, alstublieft!"
Je staat stokstijf stil, je oren gespitst. De vrouwenstem klinkt verward en angstig. Zachtjes sluip je naar de deur waar het geluid vandaan komt, de enige deur die op een kier staat, en gluurt naar binnen. Wat je daar ziet doet je maag omkeren. Een pasbevallen vrouw ligt op bed met haar handen uitgestrekt naar een baby, die hardhandig door een dokter in een kist wordt gesjord. De baby is nog nat van de bevalling.
"Wat gaat u doen met mijn kind?" vraagt de vrouw zwakjes. De dokter antwoord niet, pakt zijn sleutels en beweegt zich met de baby in de kist richting de deur waar jij achter staat. Hij trekt de deur open, wurmt zich langs je heen en beent met grote passen weg. Je kijkt door de wagenwijd geopende deur naar de vrouw op bed. Ze kijkt je recht in je ogen maar zegt niets. Haar blik spreekt boekdelen. Verwarring. Ongeloof. Angst. Onmacht.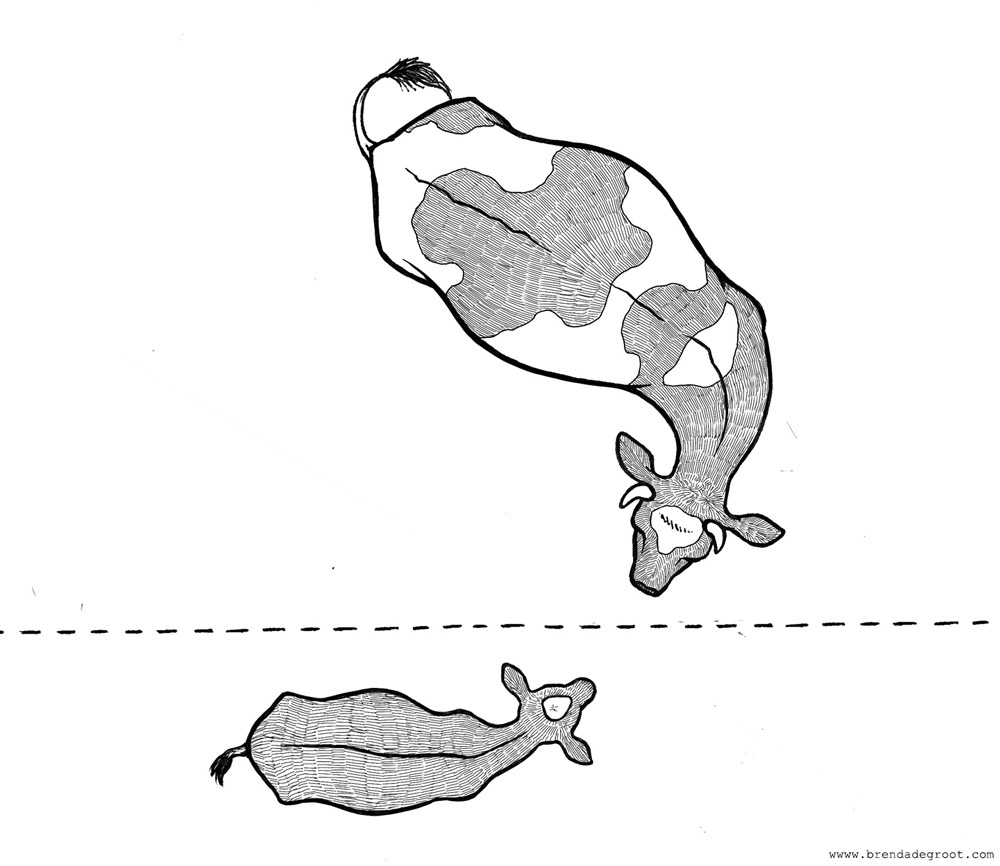 Welkom in de zuivelindustrie.
Waarin iedere moeder keer op keer haar pasgeboren kalf weggevoerd ziet worden. Ze kan nog dagenlang jammeren om haar kalf, maar haar geblaat zal altijd onbeantwoord blijven. Haar kalf wacht hetzelfde lot, of eindigt in een krat, met kalfsfricandeau als eindbestemming. En dat alles, al dat leed, omdat de mens haar melk voor zichzelf wilt hebben. Wat de koe of haar baby ervaren boeit de mens niet, of in ieder geval niet genoeg om hun ijsje of schaaltje yoghurt ervoor te laten staan.
Maar veel mensen weten het ook niet, omdat dit alles plaatsvindt achter gesloten deuren. Wat als de deuren wagenwijd open zouden staan? Zouden we dan nog steeds deze gruwelijke industrie in stand houden, omwille van onze gewoontes en smaak? Wat als het mensen waren die dit overkwam? Is speciesisme dan toch iedere keer de boosdoener?
Think about it. En beslis dan zelf of je hier nog aan bij wilt dragen of niet. Iedere keer dat je voor een plantaardig alternatief voor zuivel kiest zeg je 'nee' tegen deze verschrikkelijke praktijken in de zuivelindustrie, en 'ja' tegen de oplossing.
Kies met je hart en je hoofd. Go (for) vegan.
Verhaal 2.🐖🐓🐑
Eén blik op de inhoud van je koelkast vertelt je hoe laat het is: tijd om boodschappen te doen. Je pakt een tas en vertrekt richting supermarkt. Eieren, ham, en oh ja, ook niet vergeten om vanmiddag nog die wollen trui te kopen die zo leuk stond!
Je passeert een persoon die voorovergebogen staat. In het voorbijgaan kijk je nieuwsgierig achterom om te zien waar hij mee bezig is. Je adem stokt, en de vloer lijkt onder je weg te vallen: de man heeft een kind in de houdgreep en staat op het punt om met een grote schaar zijn wijsvinger af te knippen. Het kind heeft geen idee wat voor pijn hem te wachten staat en kijkt met grote onschuldige ogen naar je op.
"NEE!" schreeuw je.
Te laat.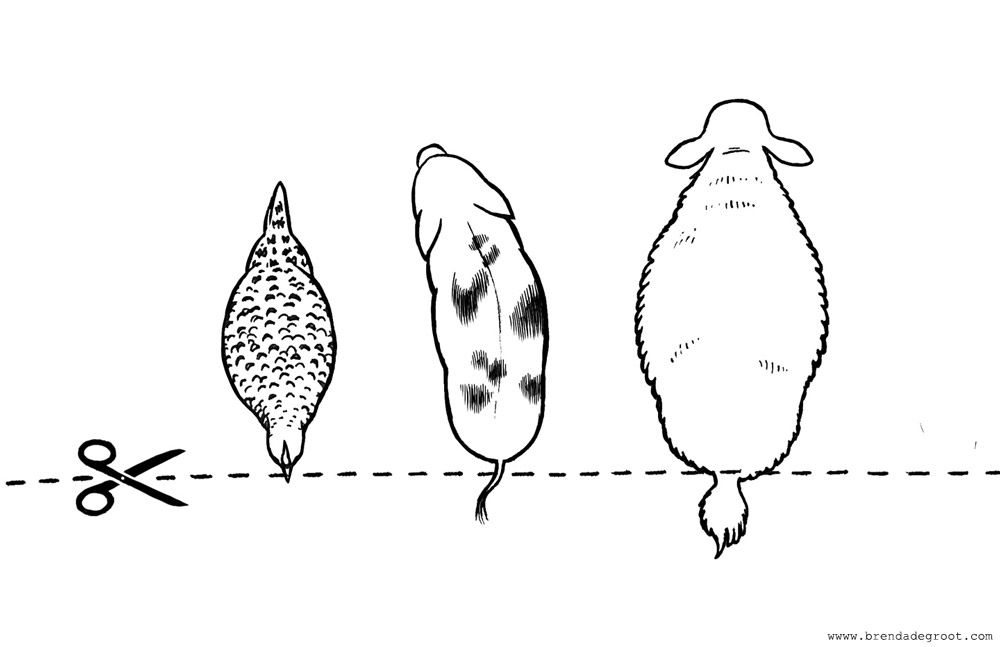 Welkom in de vleesindustrie 🐖, waarin de staartjes van biggetjes, kleine levende varkenskindertjes, zonder verdoving worden afgeknipt. Omdat ze anders door de gekmakende verveling aan elkaars staarten gaan vreten.
En welkom ook in de eierindustrie 🐓, waar kippen hun snavels worden afgeknipt of afgebrand. Bij volle bewustzijn wordt 2/3e tot zelfs 3/4e van hun snavel afgeknipt, tot er slechts een stompje overblijft. Alleen omdat ze anders uit frustratie elkaar doodpikken.
En dan nog even over die wollen jas 🐑. Waarvoor bij schapen hele plakken van hun billen afgesneden worden – wederom zonder verdoving – omdat ze anders worden opgevreten door maden. Dat gebeurt in Australië, maar is allesbehalve een ver-van-mijn-bed-show: 80% van al het wol in Nederland komt uit Australië, en deze zogenaamde mulesing is niets anders dan common practice op de wolboerderijen daar.
Ze zijn gruwelijk, deze verhalen achter de 'doodnormale' voeding- en mode-items. En omdat het 'slechts' dieren zijn, wordt het in die industrieën niet gezien als misdaad, maar als de normaalste zaak van de wereld.
Ik vind het niet normaal. En gelukkig heel veel mensen met mij ook niet. Dus voegen we daad bij woord en stoppen met het sponsoren van dit soort gruwelijke praktijken, door de producten die deze industrieën leveren (vlees, eieren, wol) niet meer te kopen, en voor plantaardige alternatieven te kiezen. Dat kan iedereen. Jij ook.
Kies met je hart en je hoofd. Go (for) vegan.

Dank je wel 🐖🐓🐑🐄