Soms heb je van die dagen dat je zou willen dat je kaboutertjes had. Al was het maar voor wat assistentie in de ochtend. Dat je 's ochtends opstaat, de woonkamer binnenstapt, en dat daar dan een compleet verzorgd, gezond ontbijt voor je klaar staat – hoe lekker zou dat zijn.
Voor iedereen die dit wel ziet zitten, mezelf incluis, heb ik goed nieuws: onze gebeden zijn verhoord. Wat wij nodig hebben in ons leven zijn geen kaboutertjes, maar overnight oats.
Tell me more.
Overnight oats is koude havermoutpap gemaakt van geweekte havermout en plantaardige melk. Het is zo makkelijk en snel te maken dat het bijna lachwekkend is: het enige dat je hoeft te doen is 's avonds de ingrediënten bij elkaar gooien, goed roeren, in de koelkast zetten en de tijd doet de rest. De volgende dag sta je op met een gezond vegan ontbijtje ready to go!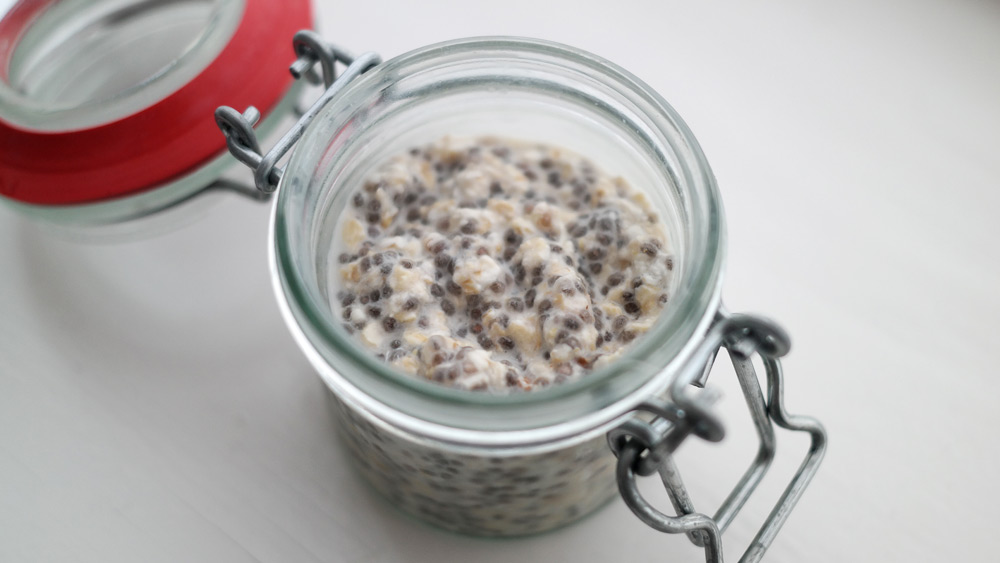 Overnight Oats Maken
Goed, laten we beginnen bij de basis. Standaard overnight oats zijn niets meer dan havermout, chiazaad en plantaardige melk. That's it! Met een klein snufje zout en een beetje stevia of ahornsiroop geef je smaak aan dit van zichzelf vrij smaakloze papje. Je kunt de basis overnight oats zo al eten en je favoriete toppings toevoegen als je 's ochtends opstaat, zoals een handje fruit of ongezouten noten (of je eet het echt gewoon naturel – jouw feestje).
Maar met de allerkleinste moeite, wat niet eens moeite mag heten, geef je kleur en een special touch aan je overnight oats. Door bijvoorbeeld tarwegras- of matchapoeder toe te voegen maak je je overnight oats groen, en met kurkuma kleur je ze geel (extra lekker met speculaaskruiden!). Bietensap of geraspte biet tovert je oats om in een Valentijnsontbijt, en met geraspte wortel kun je er op Koningsdag de straat mee op!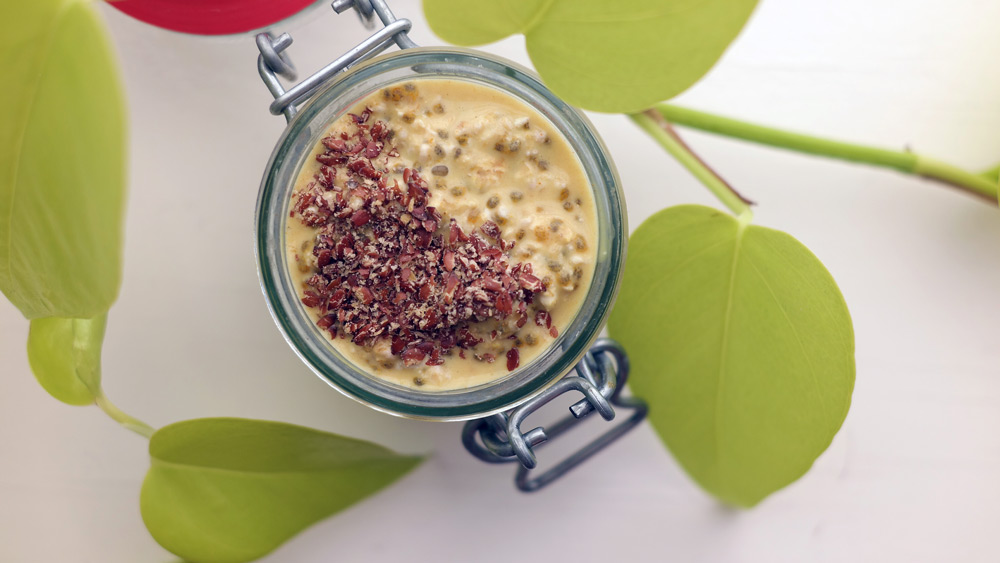 Gezonde Taart als Ontbijt
En bij kleurtjes houdt het natuurlijk niet op. Omdat overnight oats in de basis zo neutraal van smaak zijn kun je flink uitpakken met allerlei ingrediënten en toppings, waardoor je de meest guilty pleasures om kunt toveren in een gezond ontbijt! Wat dacht je bijvoorbeeld van appeltaart overnight oats, carrot cake overnight oats of chocolade overnight oats? Je kunt er zelfs vegan kwark mee maken!
➵ Lees ook: Overnight Oats: de complete gids + 15 gezonde recepten
Maar goed, voordat we in de houte quisine van de overnight oats duiken, laten we eerst gewoon beginnen bij de basis: het recept voor simpele overnight oats.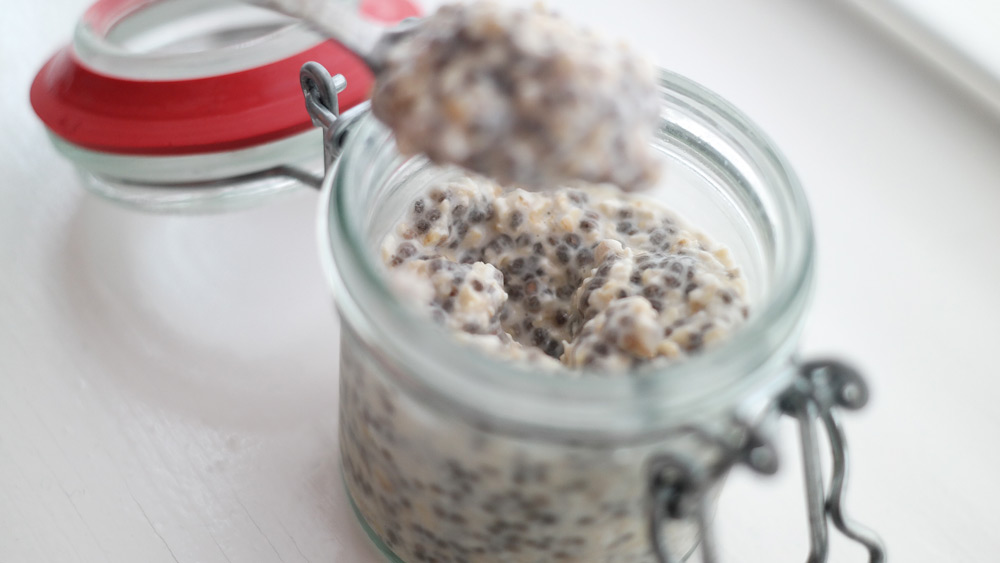 Ingrediënten Overnight Oats Basisrecept
50 gram havermout
200 ml plantaardige melk naar keuze
1 el chiazaad
1 tl ahornsiroop of stevia naar smaak
Klein snufje zout
---
Zo maak je Overnight Oats
Doe alle ingrediënten in een pot of een kom.
Roer of schud de ingrediënten door elkaar.
Roer na 1 minuut nog een keertje door, om de chiazaadjes los te maken.
Zet in de koelkast en laat het een nachtje rusten (in ieder geval minstens 2 uur).
☀ 's Ochtends haal je de overnight oats uit de koelkast, roert ze nog even door, en klaar is Kees!
---
Voedingswaarde: Kcal: 257,3 | Koolhydraten: 30,8 | Eiwit: 8,1 | Vet: 6,9
---
In plaatjes ziet dat er zo uit: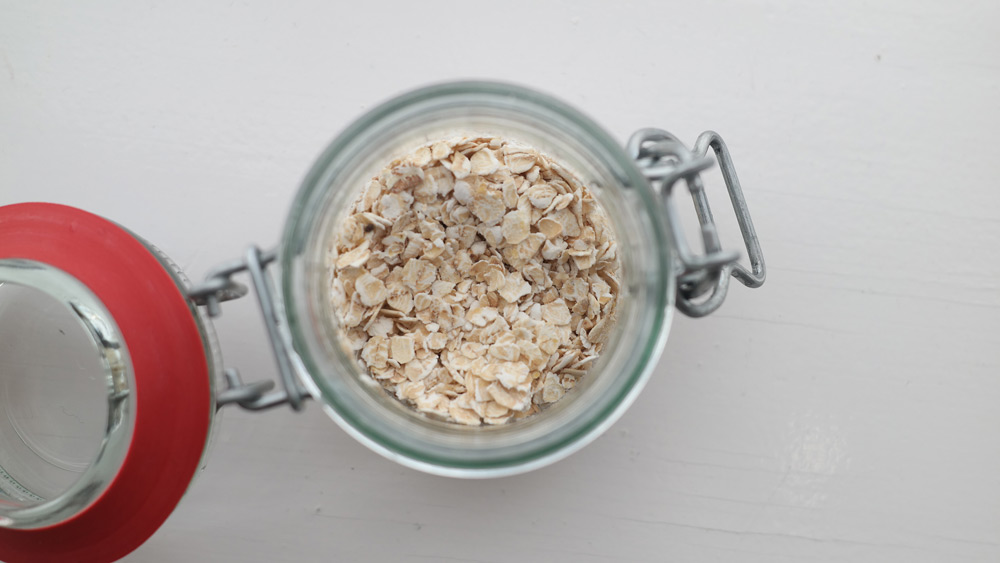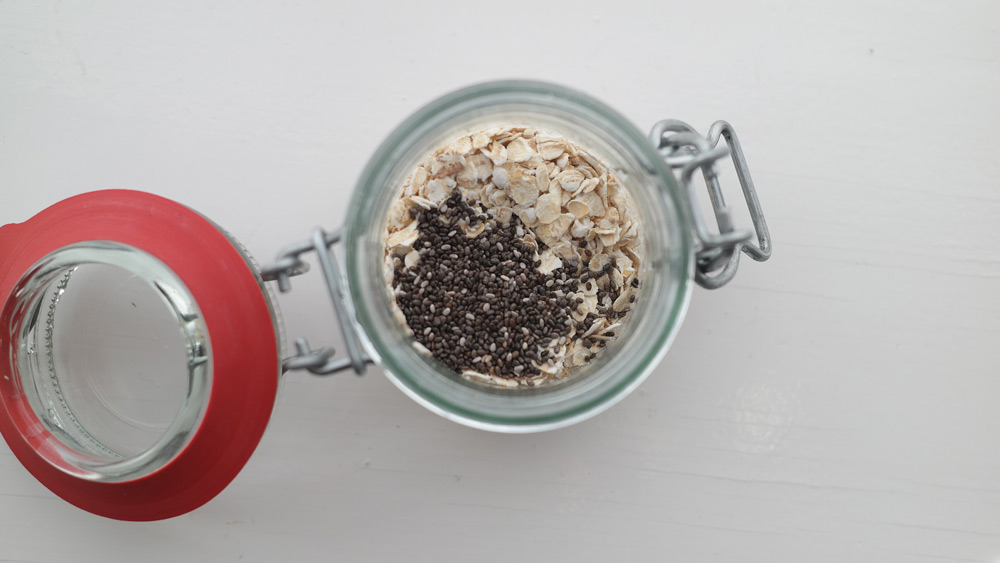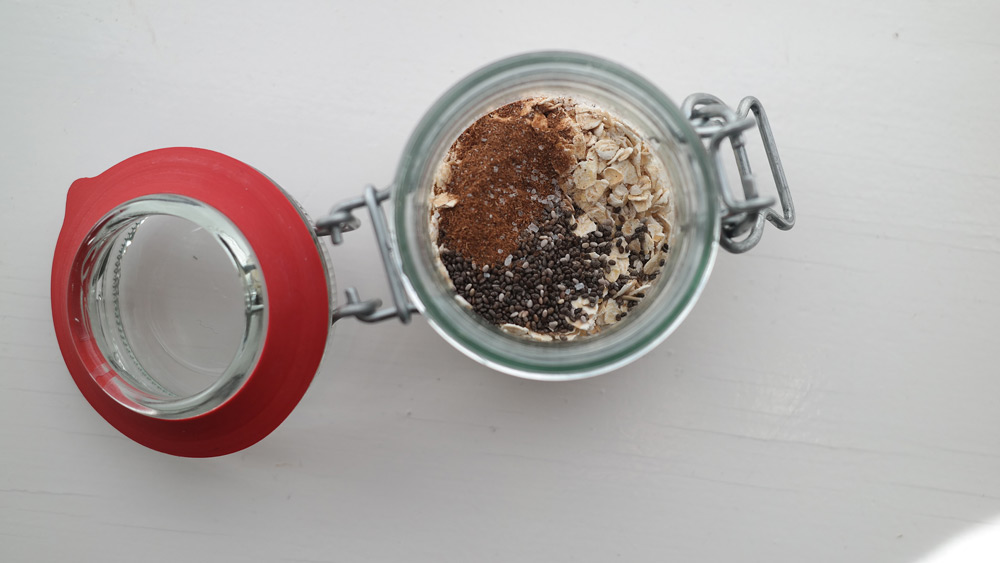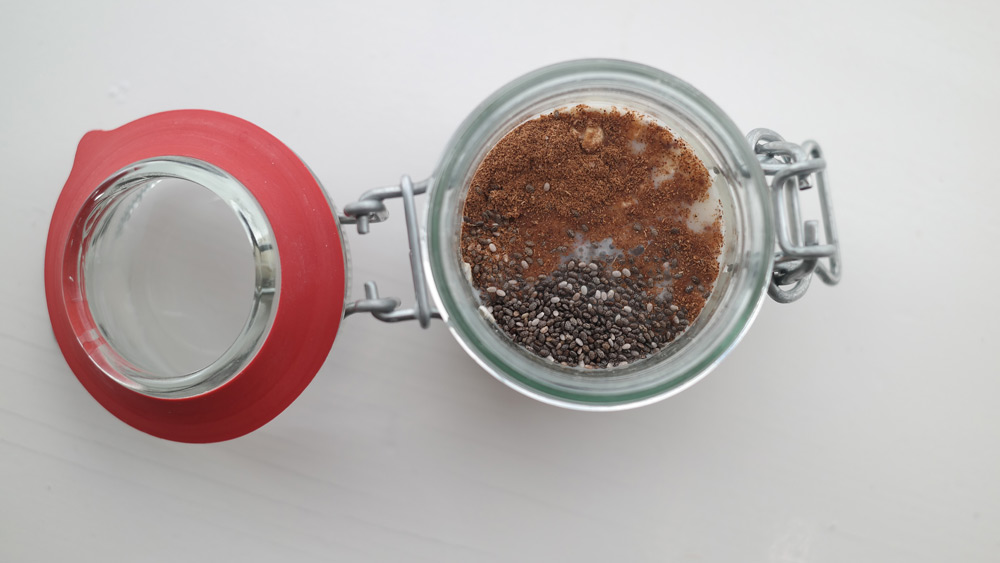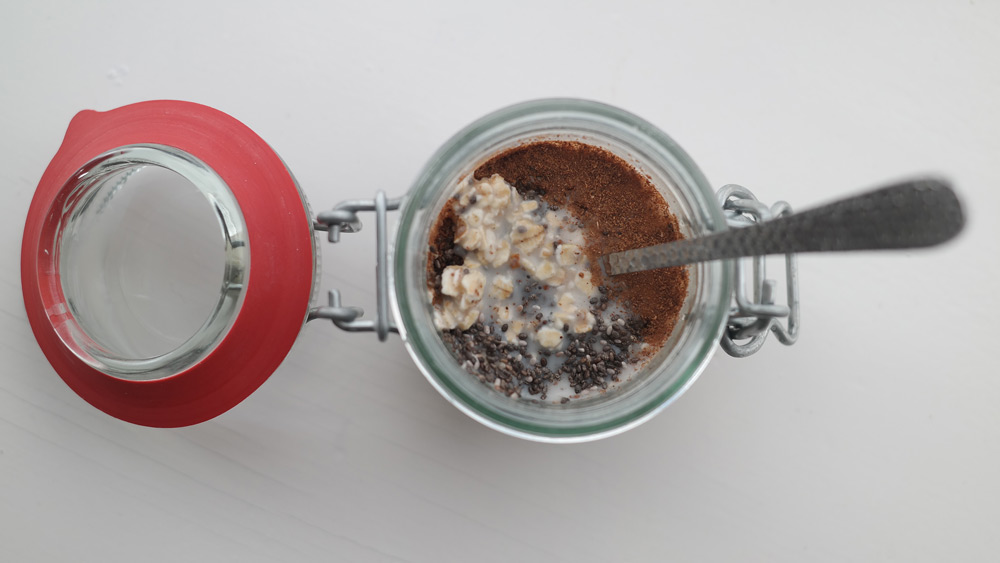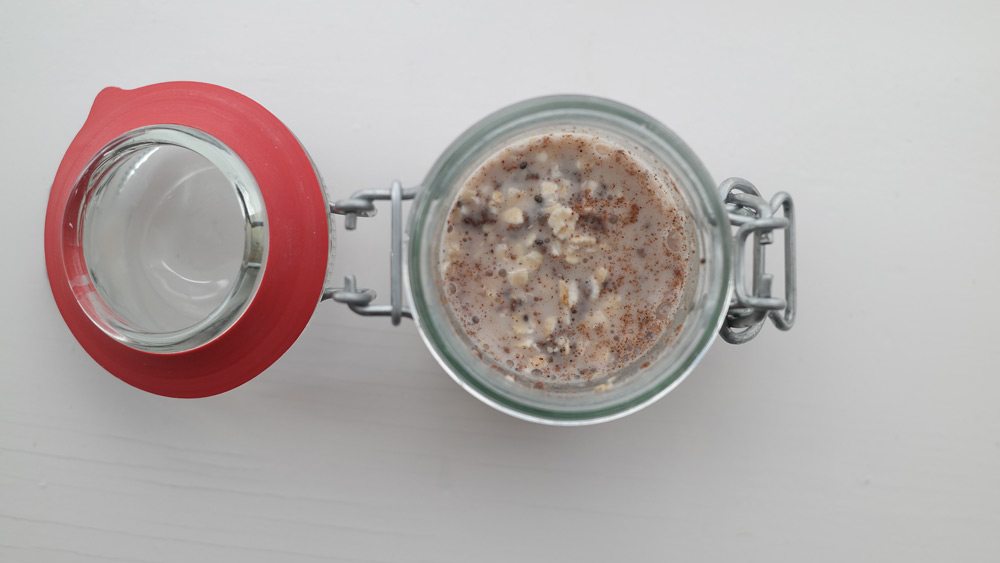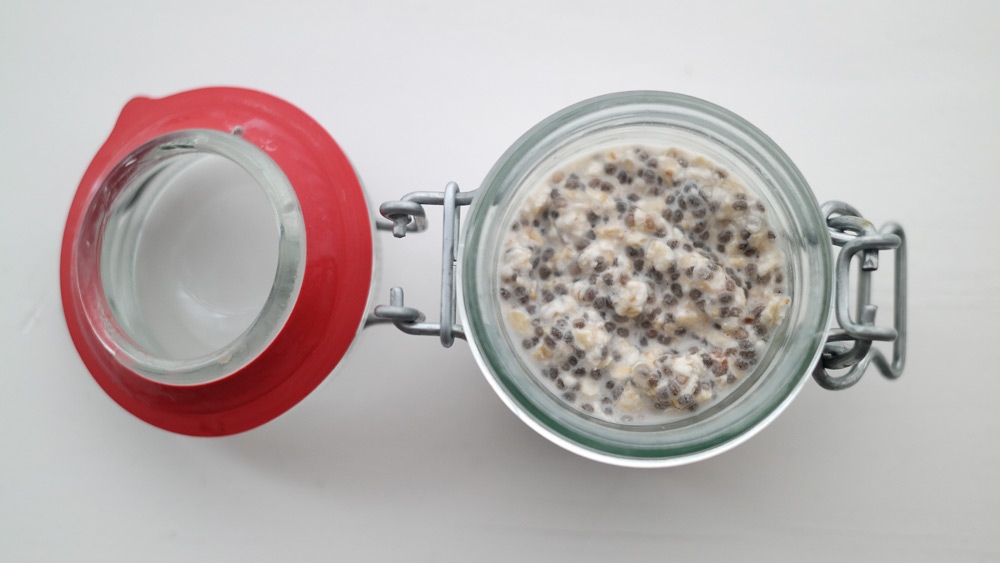 Toppings
Je kunt dit basisrecept prima zo al eten en je favoriete toppings in de ochtend toevoegen. Even wat toppinginspiratie:
Fruit:
Aardbeien
Blauwe bessen
Frambozen
Banaan
Mango
Kiwi
Appel
Peer
Noten:
Walnoten
Pecannoten
Amandelen
Cashewnoten
Hazelnoten
Macadamia's
Ongezouten pinda's
Zonnebloempitten
Superfoods & co:
Cacao nibs
Kaneel
Sojayoghurt
Kokosyoghurt
Pindakaas
Amandelpasta
Tahin
Vegan eiwitpoeder
Mijn persoonlijke favorieten zijn aardbeien met cacao nibs, banaan met walnoten, mango met kokosyoghurt, blauwe bessen met zonnebloempitten, peer met kaneel en appel met pindakaas!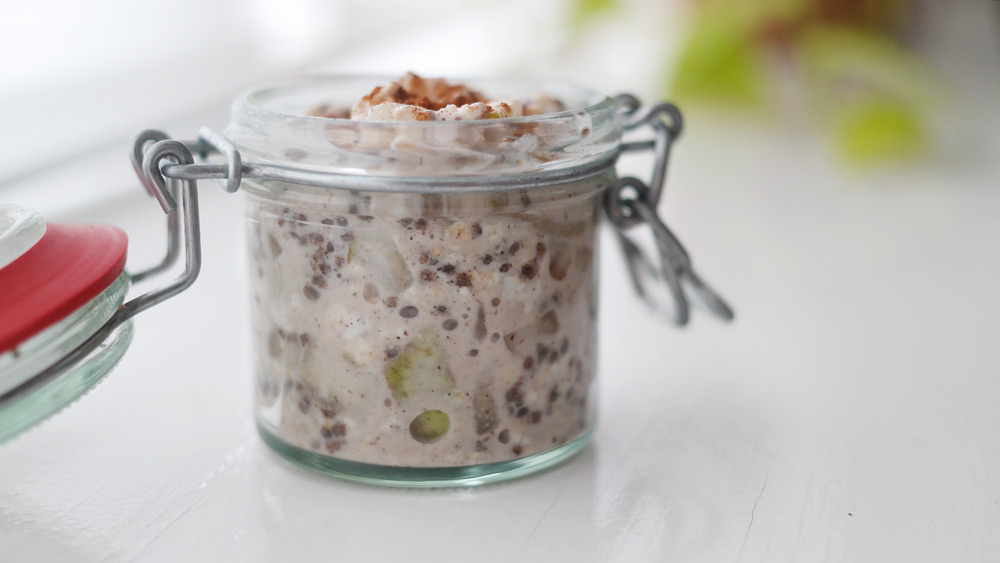 Ingrediënten Variaties
Wat natuurlijk nog veel leuker is, is om je overnight oats een kleurtje te geven voordat ze de koelkast in gaan. Dit doe je door eenvoudigweg 1 extra ingrediënt toe te voegen bij stap 1 van het overnight oats basisrecept. Let op: dit zijn echt de basic, meest simpele manieren om je overnight oats van een vrolijk kleurtje of apart smaakje te voorzien. Voor volledige recepten waarmee je je overnight oats omtovert in bijvoorbeeld appeltaart moet je bij m'n overnight oats master artikel zijn!
1. Roze overnight oats
+ 50 ml rode bietensap / geraspte biet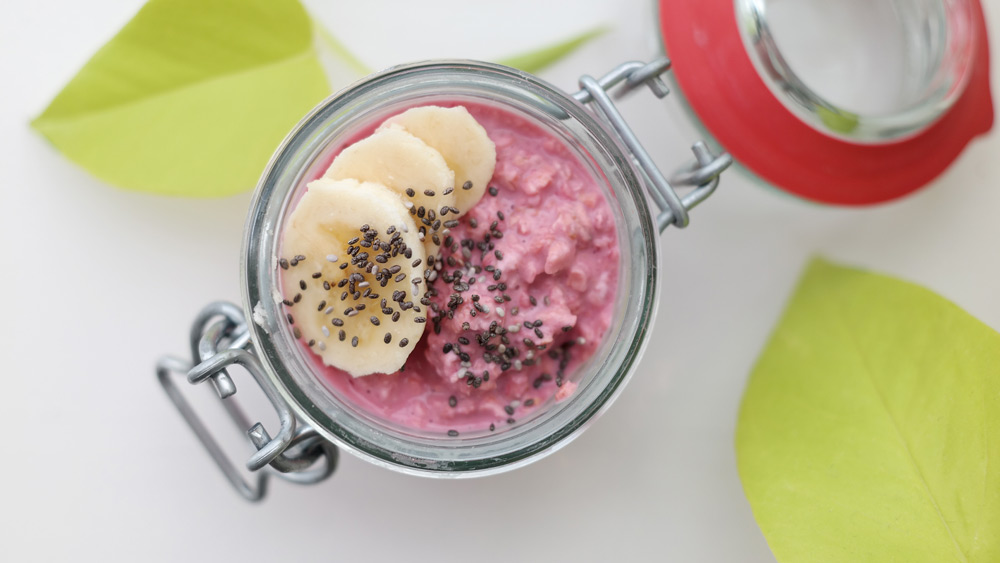 ---
2. Gele kurkuma overnight oats
+ 1/2 tl kurkuma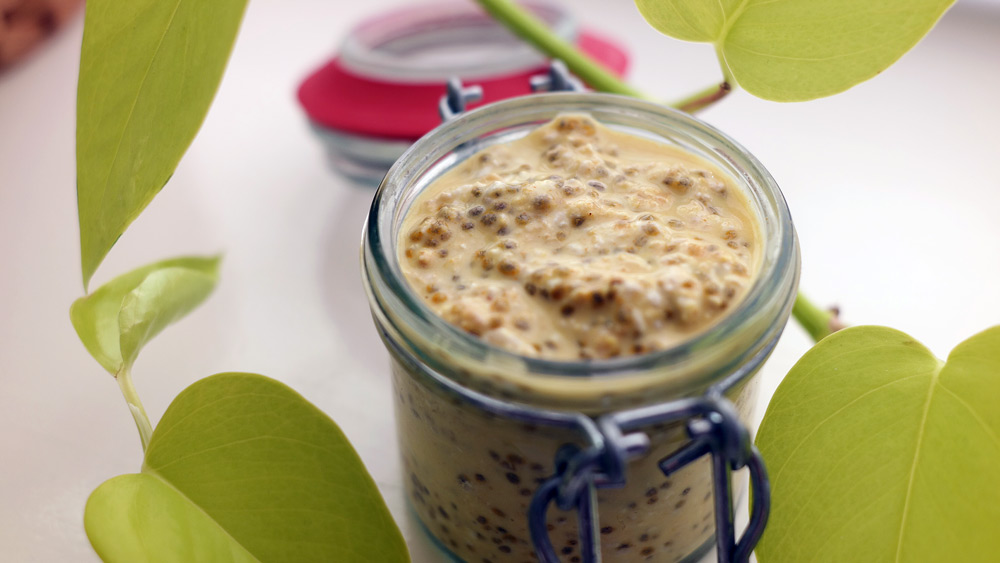 ---
3. Chocolade overnight oats
+ 1 volle tl cacao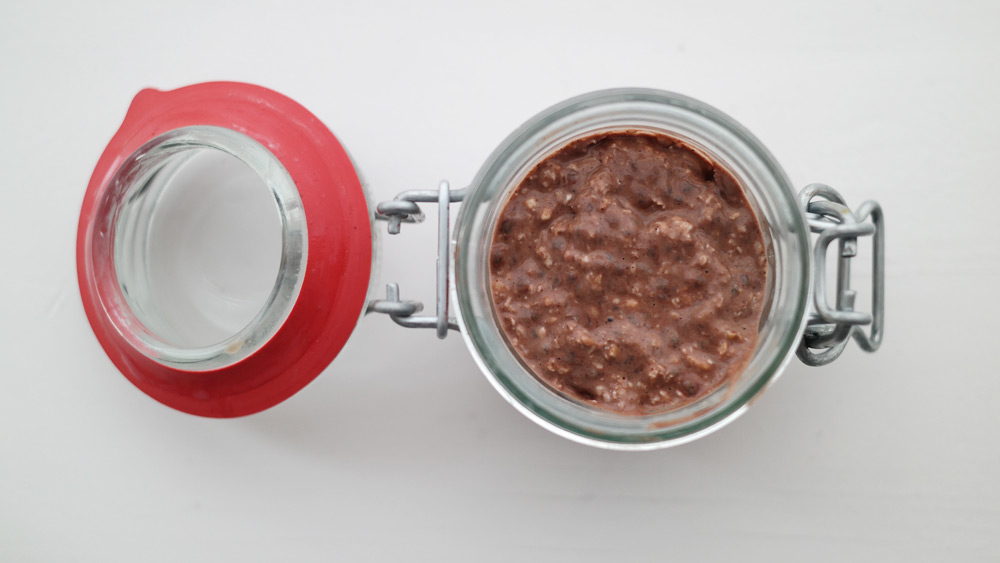 ---
4. Superfood overnight oats
+ 1/2 tl tarwegras of matcha poeder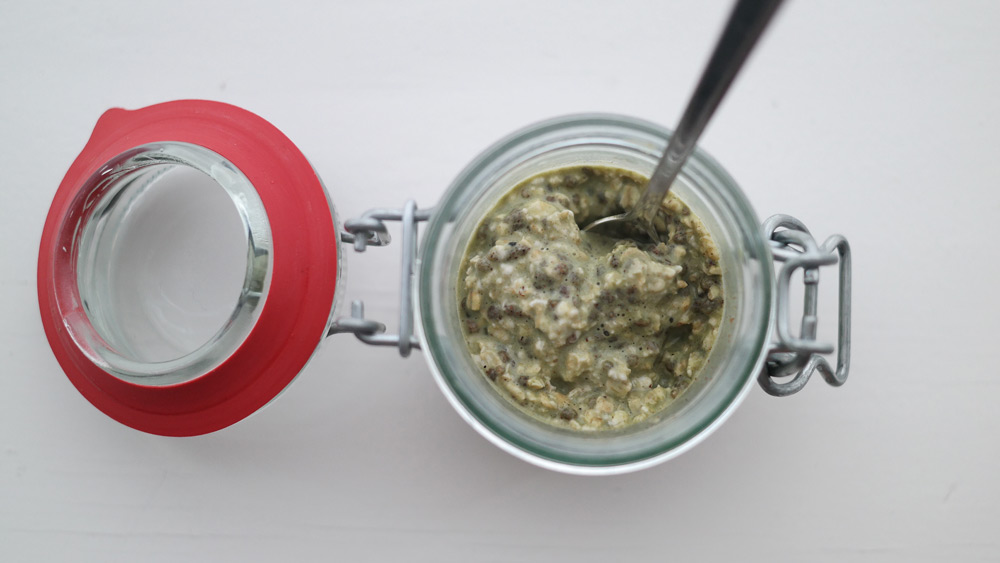 ---
5. Oranje (boven) overnight oats
+ 50 gram geraspte wortel
---
We Want More!
Ben je net zo enthousiast geraakt over overnight oats als ik, en wil je nog meer recepten zien? Of wil je weten hoe je zelf, in 5 stappen, je eigen ultieme overnight oats recept in elkaar flanst? Of wil je nóg enthousiaster worden door te lezen waarom overnight oats zo gezond zijn? Dan staan deze artikelen voor je in de rij: