Wat is er leuker dan overnight oats? Roze overnight oats. Of je het nu maakt voor valentijn, moederdag, de geboorte van de dochter* van een vriendin, of jezelf (de beste reden), met dit overnight oats recept flans je in 5 minuten een gezond ontbijtje in elkaar.
*Fuck genderonderscheid – dit kan natuurlijk ook prima voor vaderdag en jongetjes. En als jij als man dit ontbijt op maandagochtend in de spitssprinter naar Amsterdam weglepelt dan vind ik je gewoon een baas.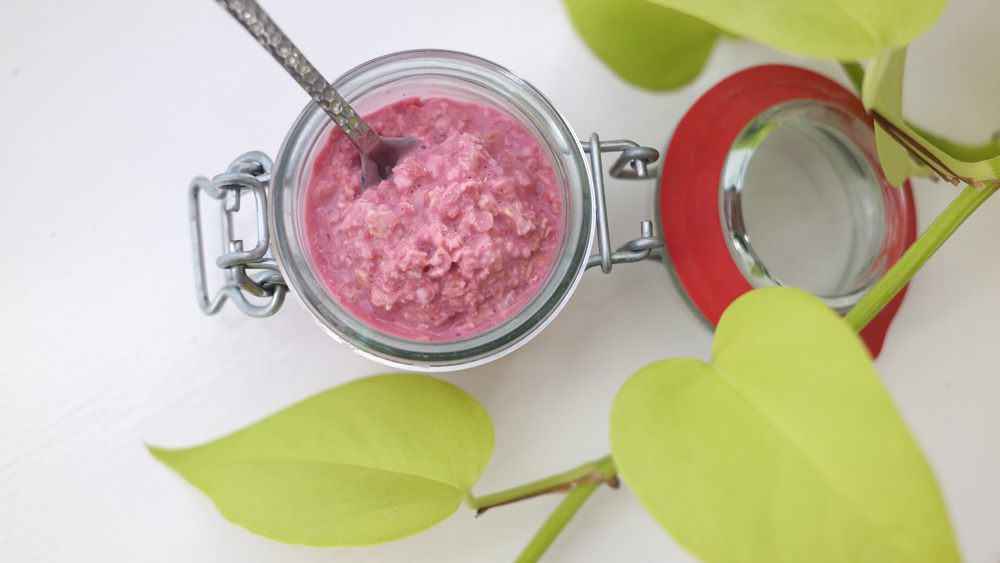 De Magie van Overnight Oats
Overnight oats is niets meer dan koude havermoutpap. Je maakt je door havermout te weken in plantaardige melk, en een nachtje in de koelkast te laten wellen. Als je wakker wordt hoef je alleen je koelkast open te doen, je ontbijt eruit te halen, eventueel wat gezonde toppings toe te voegen, en er een lepel in te steken. Kind kan de was doen.
Waarschijnlijk heb je al wel gemerkt dat ik groot fan ben van overnight oats. Ik denk dat ik nu al 5 recepten heb gepubliceerd, plus een complete overnight oats gids met een stappenplan waarmee je zelf je ultieme oatbijtje kunt creëren. En m'n manie is niet ongegrond. Want overnight oats zijn (a) gezond, (b) super makkelijk te maken, (c) binnen 5 minuten klaar, (d) budgetvriendelijk, en d(e) upgrademogelijkheden zijn eindeloos.
Het enige dat je voor dit roze overnight oats recept nodig hebt is havermout, chiazaad, plantaardige melk. en een kleine rode biet. Hier, ik heb het al verklapt. Hoef je niet eens verder voor te lezen. Maar mag wel, want ik heb nog een leuk verhaaltje over roze eten. 🙂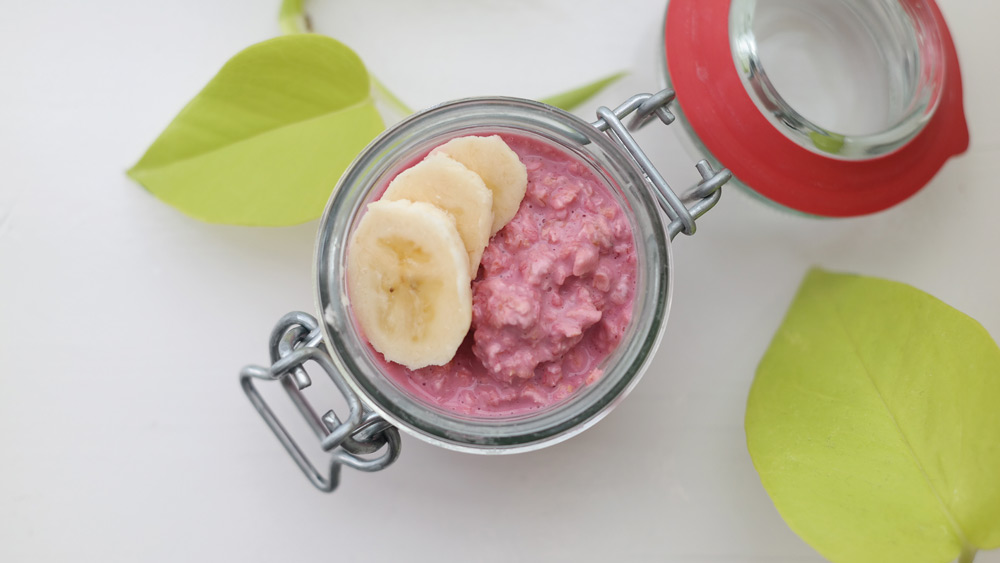 Lekker Kleurtje
Wist je dat je je brein kunt foppen door je eten een kleurtje te geven? Uit onderzoek blijkt aan dat kleur een belangrijk onderdeel is van hoe we denken dat eten smaakt [1] – en dan met name de kleur rood. We gaan er bijna automatisch vanuit dat rood voedsel zoet smaakt. Wat best logisch is als we kijken naar ons evolutionaire verleden.
Miljoenen jaren lang hebben we op een dieet van voornamelijk fruit geleefd. Rijp fruit heeft een hoge voedingswaarde, smaakt lekker zoet, en heeft meestal een warme, felle kleur. Vandaar dat we denken dat rood, oranje en roze voedsel zoeter smaakt dan voedsel dat bijvoorbeeld groen, geel of wit is.
Dit overnight oats recept is dus best een goed idee als je wat overtollige kilo's wilt kwijtraken. Dus hop, op naar het recept!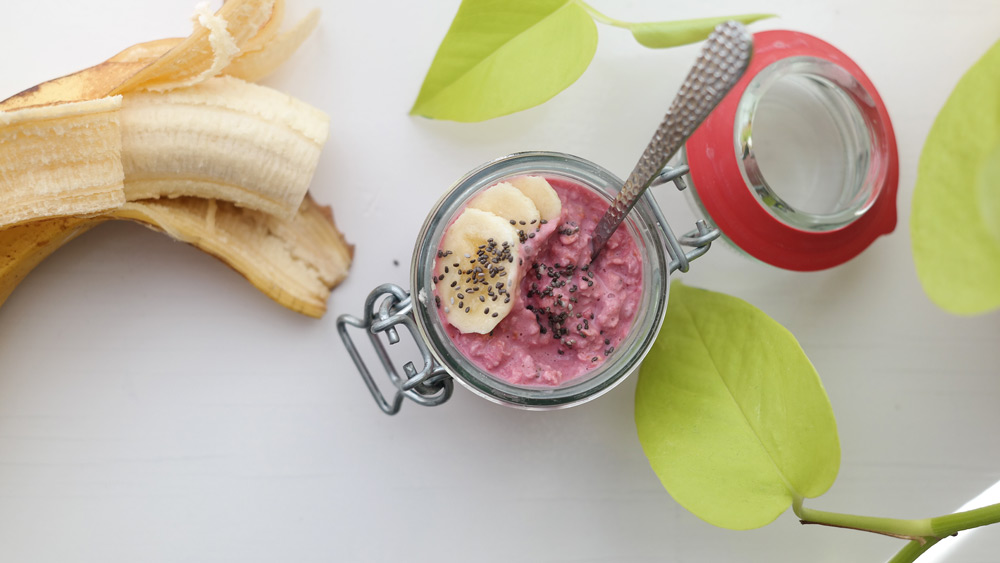 Ingrediënten
50 gram havermout
50 gram rode biet (gekookt of rauw, mag allebei) of 50 ml bietensap
150 ml amandelmelk
1 el chiazaad
1/2 tl kaneel
1 el ahornsiroop of een beetje stevia
Klein snufje zout
Topping: halve banaan + wat chiazaadjes voor-de-leuk
---
Zo maak je Roze Overnight Oats
Pureer of rasp de biet, of gebruik bietensap
Doe alle ingrediënten behave de banaan in een pot / kom en schud of roer door elkaar
Zet in de koelkast en laat minstens 2 uur wellen
☀ Ochtend: Roer even door, snijd de halve banaan in plakjes leg deze op je oats. Maak 'm af met een sprenkeltje chiazaadjes. Enjoy!
---
Voedingswaarde: Kcal: 265,8 | Koolhydraten: 2,3 | Eiwit: 8,7 |Vet: 6,9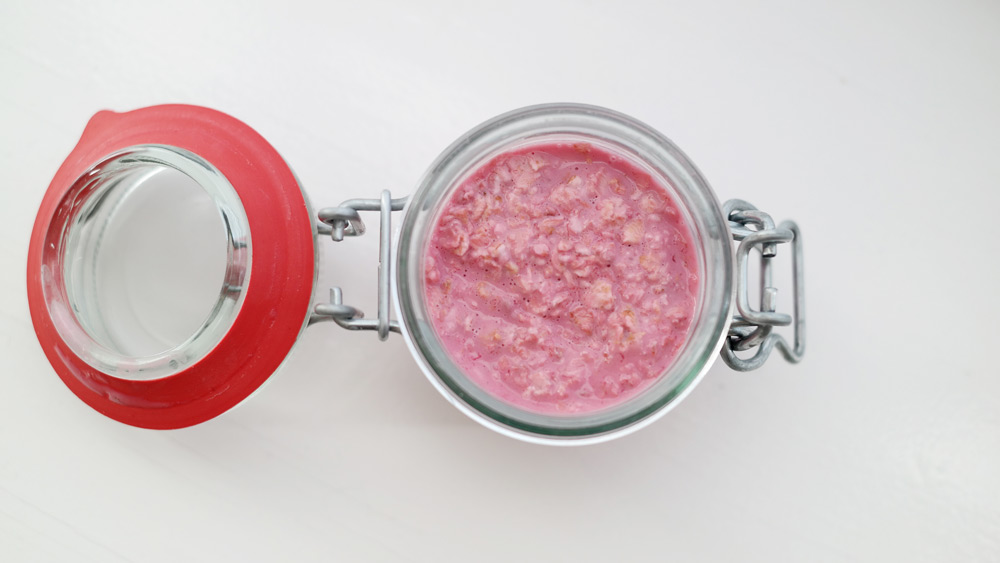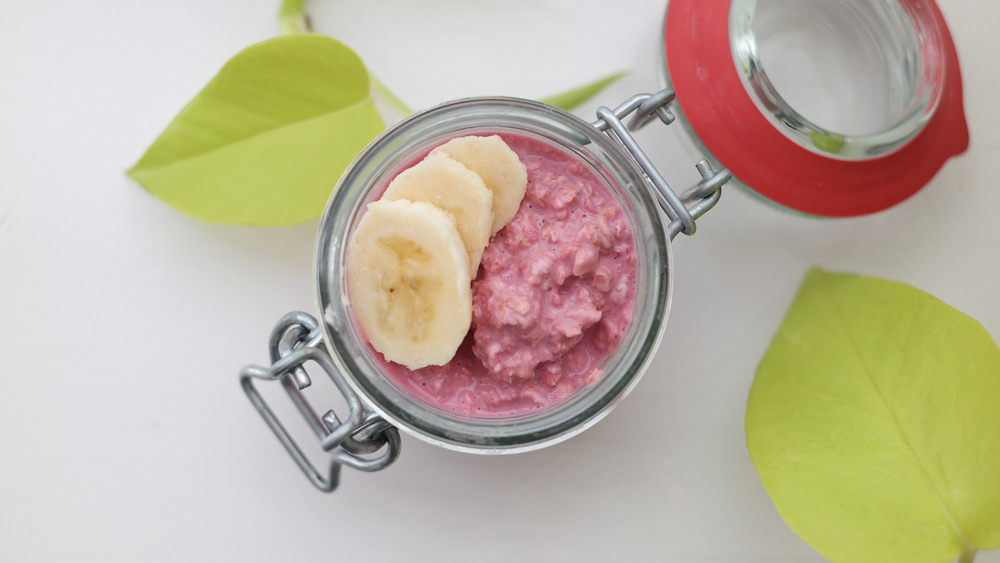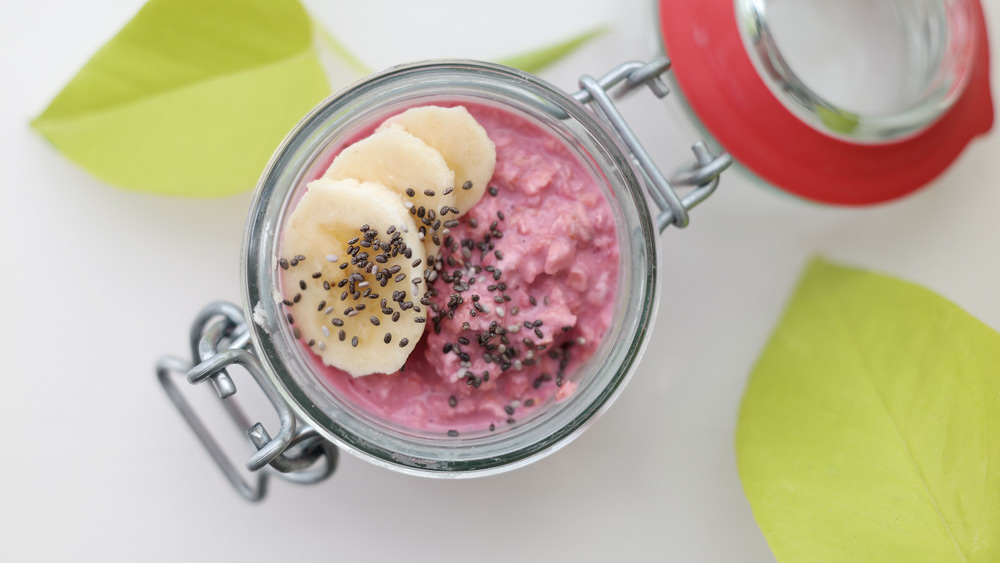 Ik Wil Nog Een Overnight Oats Recept!
Nou, dan val je met je neus in de margarine (dat is lief voor de dieren), want ik heb nog een heel scala aan gezonde overnight oats recepten voor je! Je krijgt nog keuzestress, want dit zijn je opties:
En mocht je daar doorheen zijn, dan kun je met het 5-stappenplan in dit overnight oats artikelje eigen overnight oats recept bouwen. Veel plezier!