Na het eten heb ik altijd zin in wat zoets. Gewoon, om het af te ronden. En dat wil ik dan ook meestal à la direct hebben. Dus grijp ik standaard naar een stukje 85% pure chocola (hoewel ik die 99% van Lindt echt de allerlekkerste vindt), of ik bak ik in 10 minuten een koekje van een halve Body & Fit vegan protein bar. Ik kwam nooit echt veel verder dan één van die twee opties, want snel en makkelijk.
Maar sinds kort heb ik het concept Cookie Dough ontdekt – oftewel eetbaar koekjesdeeg. Nu is koekjesdeeg sowieso al eetbaar, maar bij Cookie Dough is het de bedoeling is dat je het 'rauw' eet, en er geen koekjes van bakt. Ik heb er een gezonde vegan versie van gecreëerd, en het recept zo makkelijk mogelijk gemaakt. Dus nu loop ik regelmatig na m'n avondeten naar de keuken, gooi ik alle ingrediënten bij elkaar, staafmixer erin, en binnen no-time zit ik aan m'n nieuwe favo toetje!
Eureka!
Maar nu komt het. Laatst was ik uitgeschoten met de amandelmelk, waardoor je het eerder beslag dan deeg kon noemen. Dit bleek wel een heel happy accident te zijn: Cookie Dough Mousse was born. Ik heb geëxperimenteerd met verschillende hoeveelheden amandelmelk, maar de verhoudingen in recept leveren toch echt de beste mousse op. Dus hop, inslaan die potten kikkererwten, want dit wordt gegarandeerd ook jouw nieuwe guilty-not-so-guilty toetteke!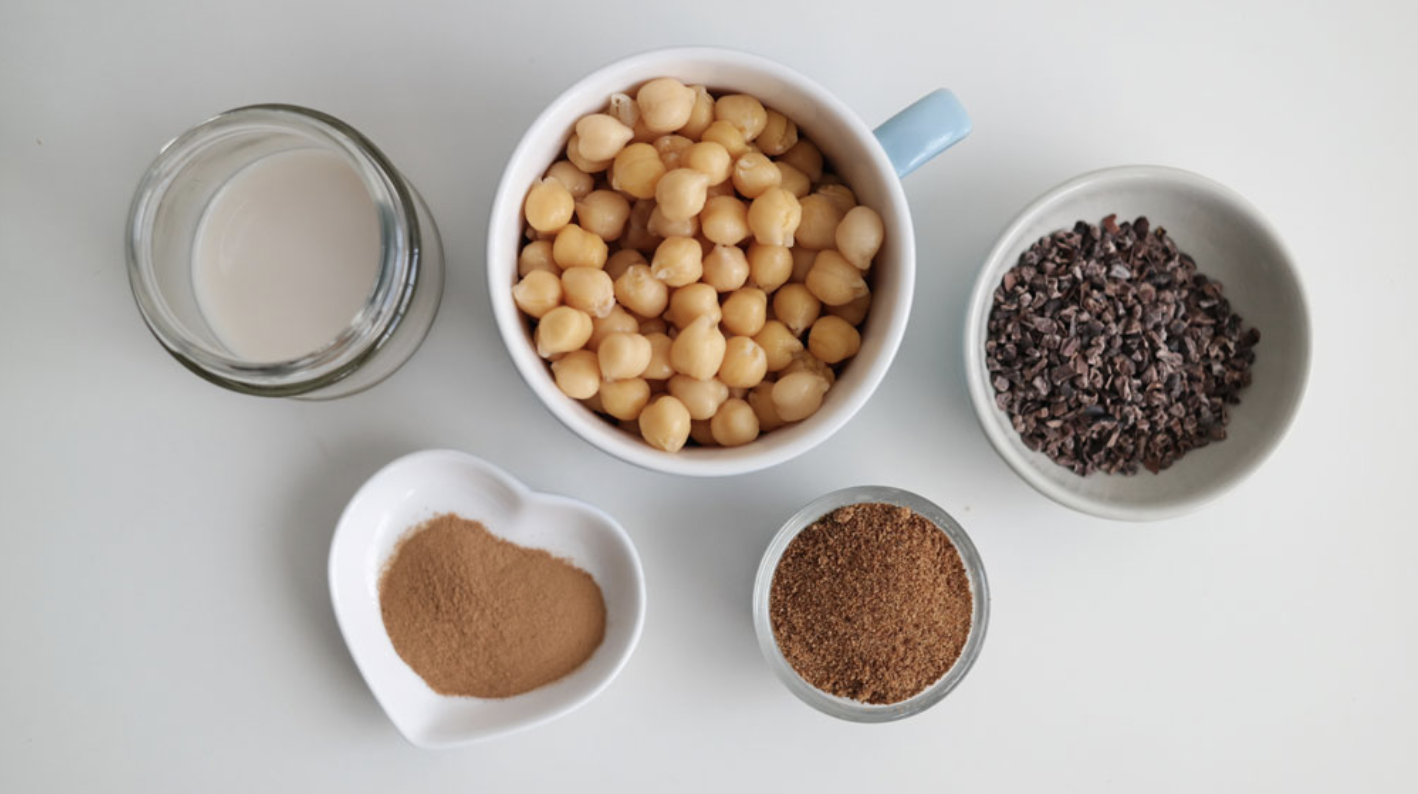 Ingrediënten
200 g kikkererwten (of 1 pot, uitgelekt)
100 ml ongezoete amandelmelk
4 el kokosbloesemsuiker / jouw favoriete zoetmiddel
1 volle tl kaneel of speculaaskruiden
Snufje zout
2 el cacaonibs
Optioneel (maar wel héél lekker): 1 grote el pindakaas / notenpasta
Tip #1: Je kunt ook witte, bruine of zwarte bonen gebruiken.
Tip #2: Maak er eenvoudigweg chocolade- of high-protein mousse van, door de variatie-opties uit het Vegan Cookie Dough recept te volgen!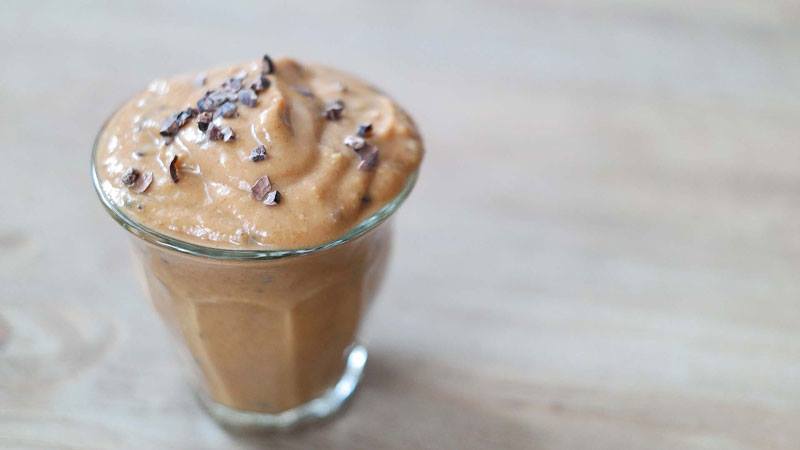 ---
Zo maak je Cookie Dough Mousse
Mik alle ingrediënten behalve de cacaonibs in een bak, pan of keukenmachine.
Voeg eventueel de ingrediënten van jouw gekozen variatie-optie toe.
Mix ze met de staafmixer of in de keukenmachine tot een gladde massa.
Roer de cacaonibs erdoorheen, serveer in een kom of glas en enjoy!
Finishing touch: Top je mousse met vers fruit en/of een eetlepel sojayoghurt en je kunt dit toetje zonder problemen aan gasten serveren!
Voedingswaarde
Per portie (= 1/2 van het recept)
Kcal: 148
Koolhydraten: 18,4
Eiwitten: 4,5
Vet: 5