Als kind heb ik het concept 'beslagkom uitlikken' nooit begrepen. Gefascineerd keek ik toe hoe mijn moeder en zusje de één na de andere sliert appeltaartdeeg wegwerkten, me afvragend hoe ze in godsnaam die rauwe eieren konden zijn vergeten. Ongebakken koekjesdeeg? Dank je de rauwe koekoek.
Maar de tijd van onbezorgdheid is voorbij. Sinds ik geen eieren meer gebruik in mijn baksels ben ik alle gemiste kansen aan het inhalen. Niet zelden haalt slechts een fractie van het beslag de oven. Lekker, maar eigenlijk niet de bedoeling – en ook niet heel goed voor je, als je nagaat dat een eetlepel beslag vaak al 1 koekje maakt.
Oeps.
Nu is er een nieuwe foodtrend in opkomst: cookie dough – oftewel eetbaar koekjesdeeg. Dat is dan wel zonder rauw ei, maar meestal nog steeds betreurenswaardig ongezond. Zo bevatten cookie dough-recepten vaak veel suiker, geraffineerd meel en boter, waarvan zowel jij als je aderen gestaag dichtslibben.
Dat kan beter!
Je begrijpt: missie gezond vegan cookie dough was on. Gewapend met mijn staafmixer en een pot kikkererwten dook ik de keuken in. Het resultaat: een heerlijk simpel-en-snel-klaar-recept. Met slechts 6 ingrediënten, vezelrijk, glutenvrij en caloriearm (zo kun je er nóg meer van eten), en zonder geraffineerde suiker, geraffineerd meel of olie. De voedingswaarde heb ik ook uitgevogeld. Wat wil je nog meer.
Nog meer.
Nou vooruit dan, ik heb ook 3 variatie-opties voor je. Eén voor de pindakaasliefhebbers, één voor de chocoholics, en één voor de eiwitfanaten. Kies jouw favoriet en ga hoppa, aan de slag!
---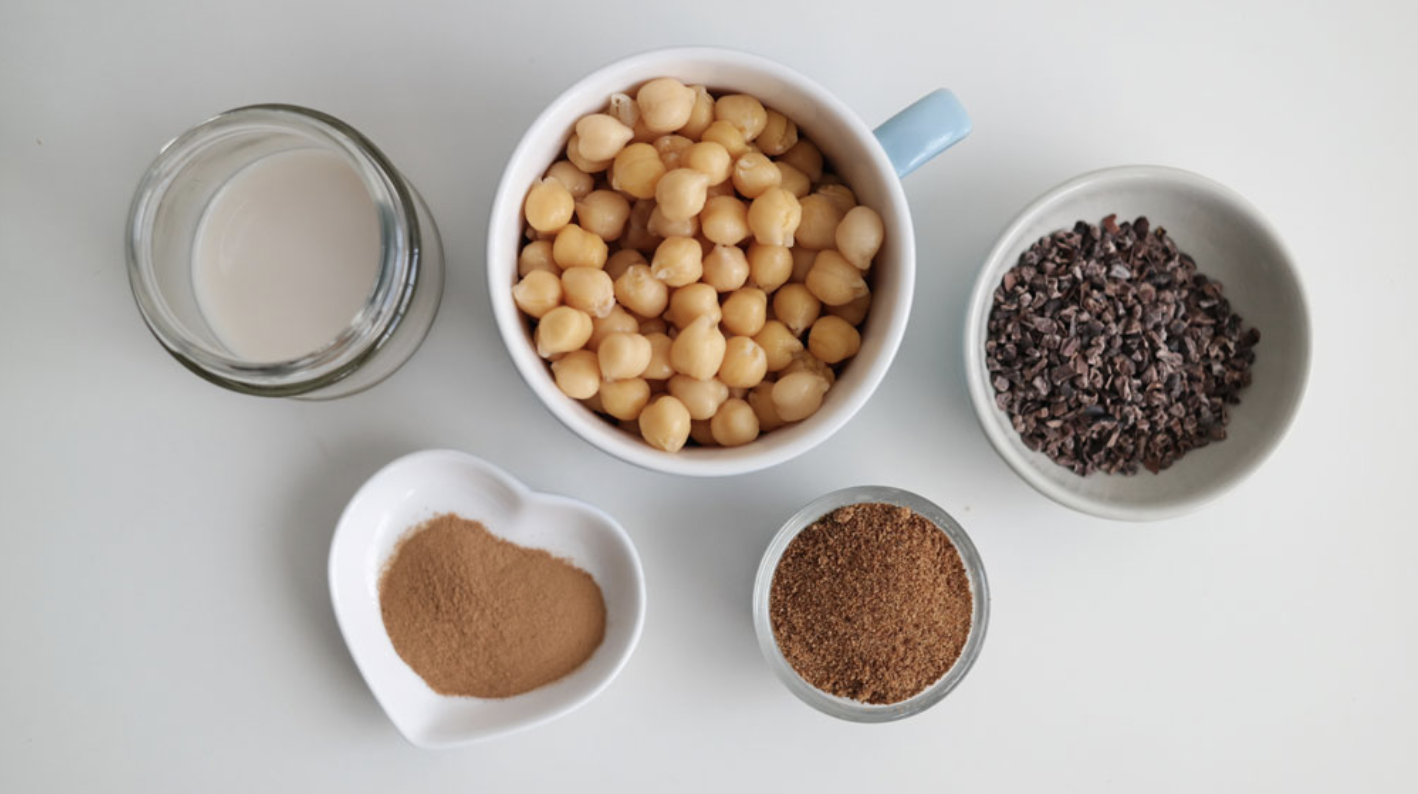 Ingrediënten
200 g kikkererwten (of 1 pot, uitgelekt)
40 ml ongezoete amandelmelk
3 el kokosbloesemsuiker / jouw favoriete zoetmiddel
1 volle tl kaneel of speculaaskruiden
Snufje zout
2 el cacaonibs
Tip #1: Je kunt ook witte bonen, bruine bonen, zwarte bonen of doperwten gebruiken.
Tip #2: Drapeer 1 gulle el pindakaas of andere notenpasta over je cookie dough. Geloof me, dit maakt het pas écht de traktatie van de eeuw.
---
Vegan Cookie Dough Variaties
1. Peanut butter heaven
+ 1 hele grote el pindakaas (20 g)
+ 1 tl kokosbloesemsuiker
+ 25 ml amandelmelk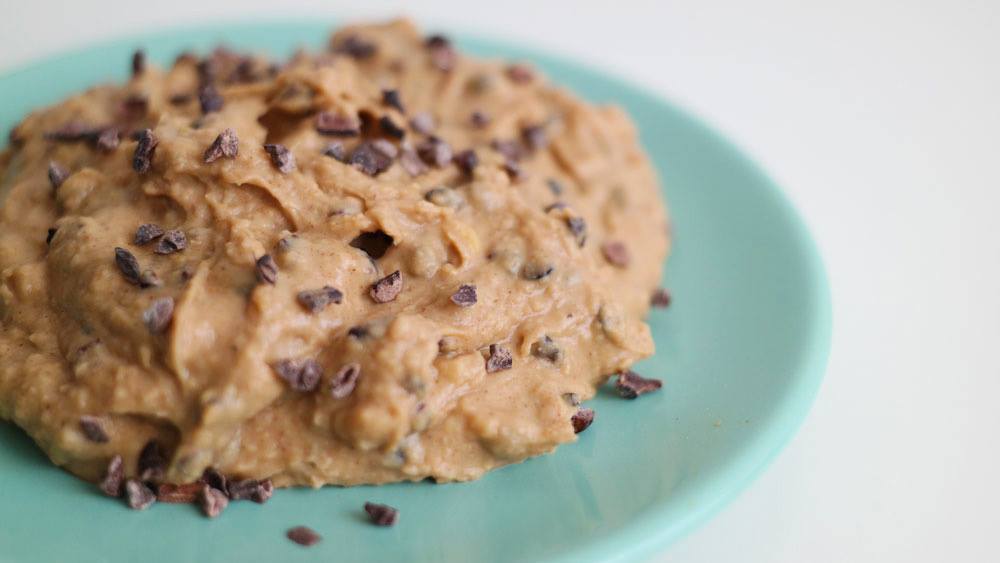 2. Double chocolate
+ 1 grote el cacaopoeder
+ 25 ml amandelmelk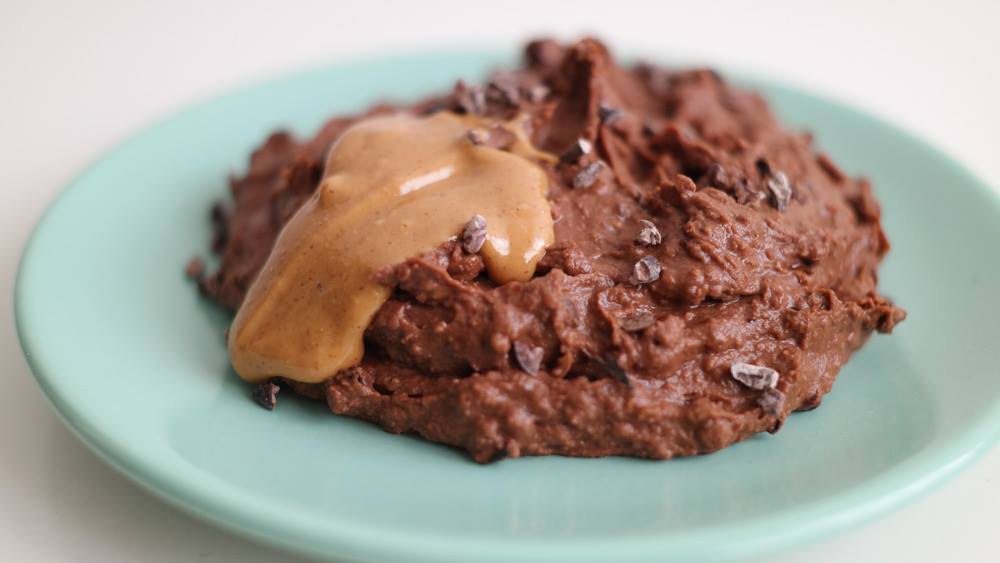 3. Protein power
+ 25 g plantaardig eiwitpoeder (zoals Orangefit of Body & Fit Vegan Protein Powder chocolade)
+ 150 ml amandelmelk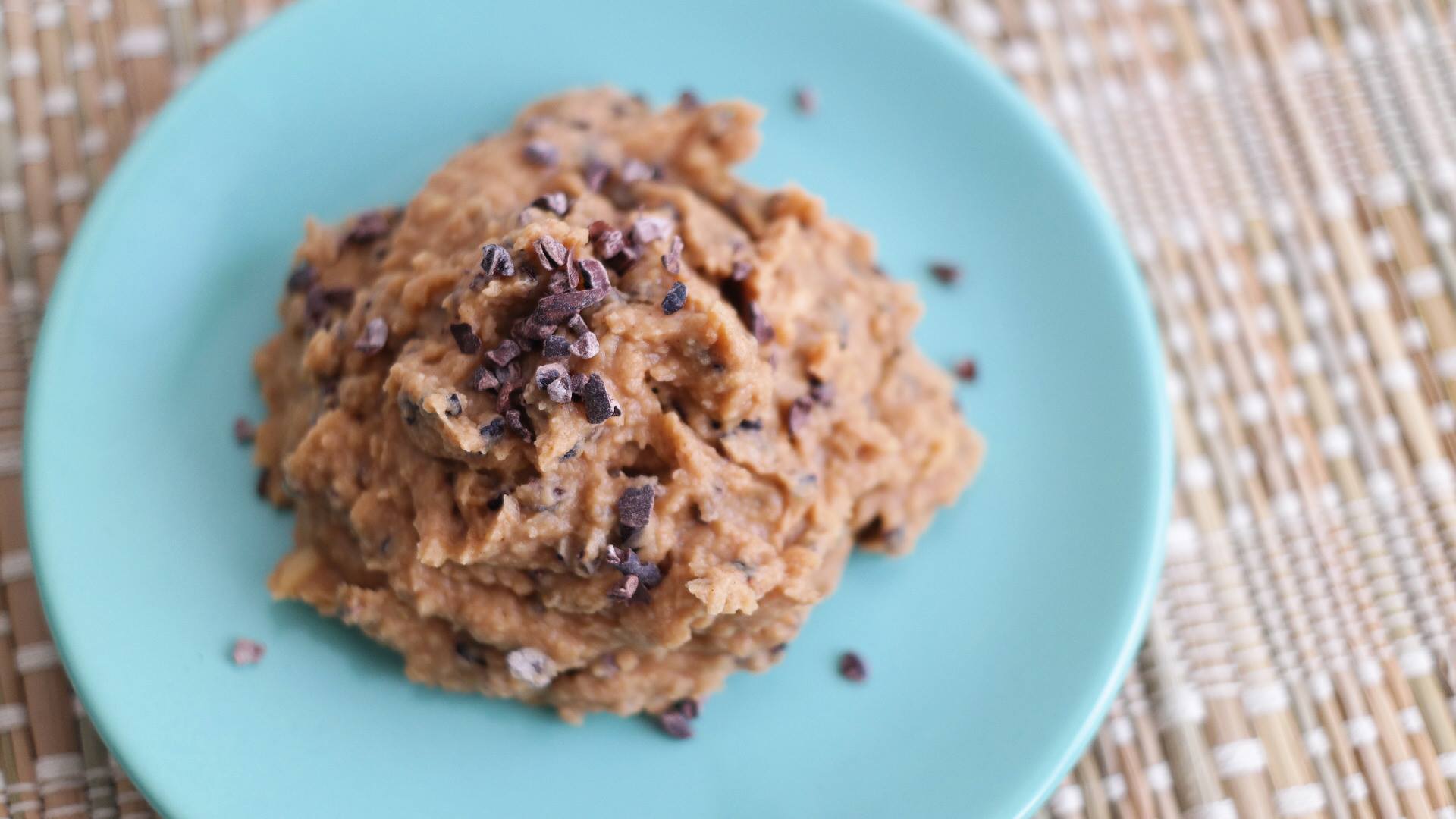 ---
Zo maak je Vegan Cookie Dough
Mik alle ingrediënten behalve de cacaonibs in een bak, pan of keukenmachine.
Voeg eventueel de ingrediënten van jouw gekozen variatie-optie toe.
Mix ze met de staafmixer of in de keukenmachine tot een gladde massa.
Voeg eventueel wat extra water of amandelmelk toe als je het 'beslag' te dik vindt.
Roer de cacaonibs erdoorheen, serveer in een kom of op een bord en enjoy!
Van dit recept kun je ook heel eenvoudig gezonde mousse maken! Check dit recept. Of maak dit supersimpele vegan bananenbrood als je tijd over hebt.
---
Voedingswaarde (per 100 gram)
Basisrecept
Kcal: 159
Koolhydraten: 18
Eiwit: 6,4
Vet: 5,5
Peanutbutter Heaven
Kcal: 180
Koolhydraten: 17,3
Eiwit: 7
Vet: 7,9
Double Chocolate
Kcal: 161
Koolhydraten: 17,6
Eiwit: 6,8
Vet: 6,4
Protein Power
Kcal: 123
Koolhydraten: 11,5
Eiwit: 8,3
Vet: 4
---
PS. De link naar het vegan eiwitpoeder van de Body en Fit Shop is een affiliate link. Dat betekent dat als jij via deze link iets bestelt, dat ik dan en klein percentage van dat bedrag van de Body en Fit Shop krijg. Zo sponsor je me dus met een kopje koffie (waardoor ik nog sneller dit soort artikelen in elkaar kan tikken!) zonder daar iets extra's voor te hoeven betalen. Dat vind ik super lief, dank je wel! 🙂