Komt een konijn bij de bakker. "Bakker," vraagt hij, "heeft u ook worteltaart?" De bakker schudt zijn hoofd en zegt "Nee, dat heb ik niet." Met een sip gezicht verlaat het konijn de winkel.
De volgende dag komt het konijn opnieuw binnenlopen en vraagt weer: "Bakker, heeft u worteltaart?" De bakker krabt zich schuldbewust achter z'n oren en zegt: "Nee, sorry. Ik heb vandaag ook geen worteltaart."
Hij kijkt hoe het konijn met hangende schoudertjes zijn winkel uit loopt. Zodra de deur achter het diertje dichtvalt springt de bakker op. Missie worteltaart is on. Hij trekt er zelfs eigenhandig z'n oude Vespa voor uit het stof, om in de stromende regen wortels te gaan kopen bij de biodynamische groentenboer in het dorp verderop.
De volgende dag komt het konijn de winkel weer binnen. De bakker rent verheugd naar de toonbank. "Bakker, heeft u ook worteltjestaart?" vraagt het konijn. "Jazeker!" zegt de bakker trots, waarop het konijn zegt: "Vies hè."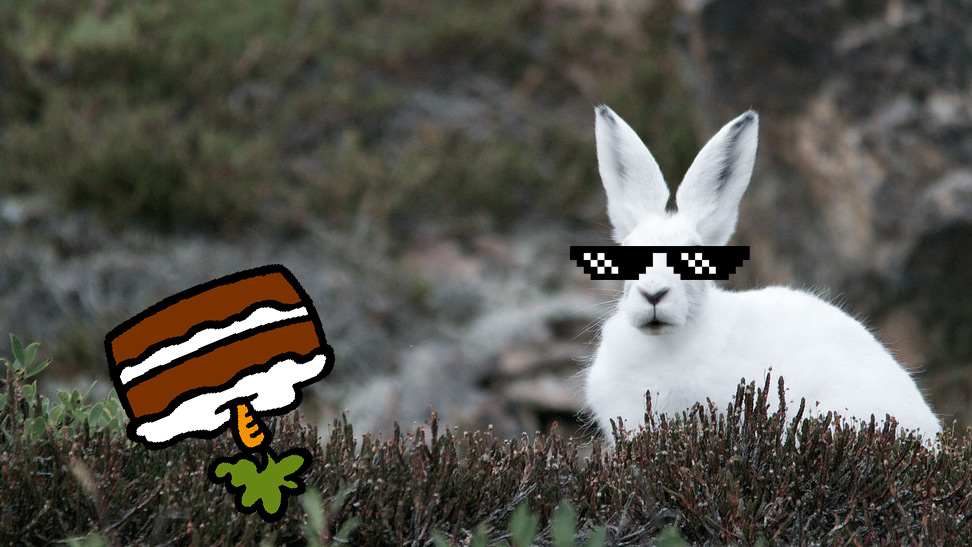 Wat een rotkonijn. Heeft die arme bakker al die moeite voor niets gedaan. Bovendien is worteltaart (a.k.a. carrot cake) helemaal niet vies is, maar juist waanzinnig lekker. De combinatie van wortel, speculaaskruiden, pecannoten en een creamy topping is echt een van de beste uitvindingen die de mens sinds de schepping van pindakaas heeft gedaan.
Het liefst eet ik iedere dag carrot cake – wie niet. Maar wie structureel dagelijks taart in z'n giecheltje schuift loopt een vrij significant risico om als kamerolifant te eindigen. Want het mag dan wel gezond klinken, met die wortel enzo, maar feit blijft dat carrot cake voor meer dan 50% uit boter, suiker en bloem bestaat [1]. Dat kan beter, dacht ik zo.
Gezonde Carrot Cake als Ontbijt
Ik heb een van mijn favoriete ontbijtjes, overnight oats, omgetoverd in worteltaart. Het resultaat: carrot cake overnight oats. Gezonde havermoutpap die naar worteltaart smaakt. Van alle overnight oats recepten die ik in huis heb is dit zonder twijfel mijn favoriet. Het is gemaakt van havermout (vezels!), geraspte wortel (vitamines!), chiazaad (omega-3!) en speculaaskruiden, en heeft een romige topping van plantaardige yoghurt (eiwitten!). Kortom: dit carrot cake overnight oats ontbijt is lekker én gezond.
Ook leuk aan dit recept is dat het echt super simpel is: je gooit alle ingrediënten bij elkaar (wat maximaal 5 minuten van je tijd kost), zet het in de koelkast, en de tijd doet de rest. Als je vanavond dit recept maakt, eet je morgen worteltaart als ontbijt!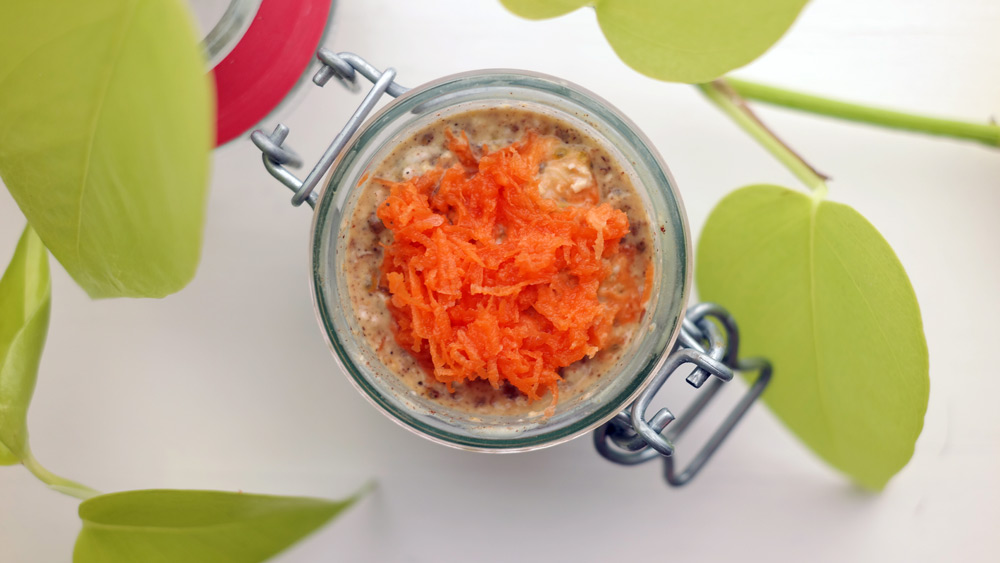 Ingrediënten
50 gram havermout
Halve wortel (ongeveer 50 gram) (hoeft niet biodynamisch, mag wel)
1 el lijnzaad
1 el rozijnen
½ tl koekkruiden
1 el ahornsiroop of een beetje stevia
200 ml amandelmelk
Klein snufje zout
Toppings: handje pecannoten + 2 el kokos- of sojayoghurt
---
Zo maak je Carrot Cake Overnight Oats
Rasp de wortel met een fijne rasp. Doe de wortelrasp in een pot of kom. (Het 'kontje' dat je overhoudt omdat je anders je vingertopjes mee zou raspen kun je in de pindakaas gooien, er met een lepel weer uit vissen en in je mond stoppen. Tip van de dag.)
Voeg de rest van de ingrediënten behalve de toppings toe.
Roer of schud de ingrediënten goed door elkaar.
Zet in de koelkast en laat een nacht (of minstens 2 uur) rusten.
☀ Ochtend: Roer even door, garneer met de yoghurt, verkruimel de pecannoten en strooi eroverheen.
Tip: Heb je 's ochtends 2 minuutjes tijd? Rooster de pecannoten dan even in een droge koekenpan. Dit smaakt echt awesome!
---
Voedingswaarde*: Kcal: 435 | Koolhydraten: 42,1 | Eiwit: 12,5 | Vet: 17,9
*Berekend met sojayoghurt en stevia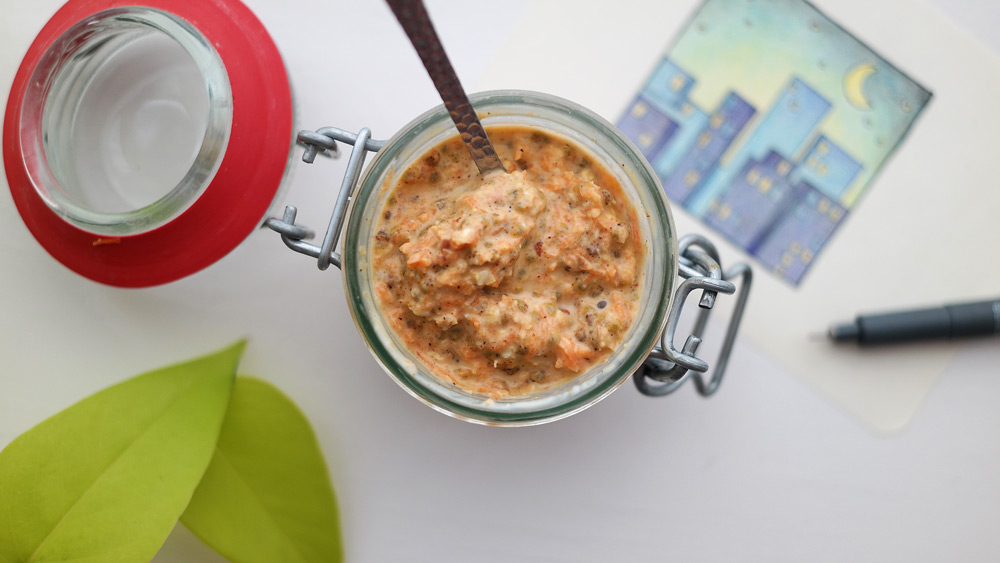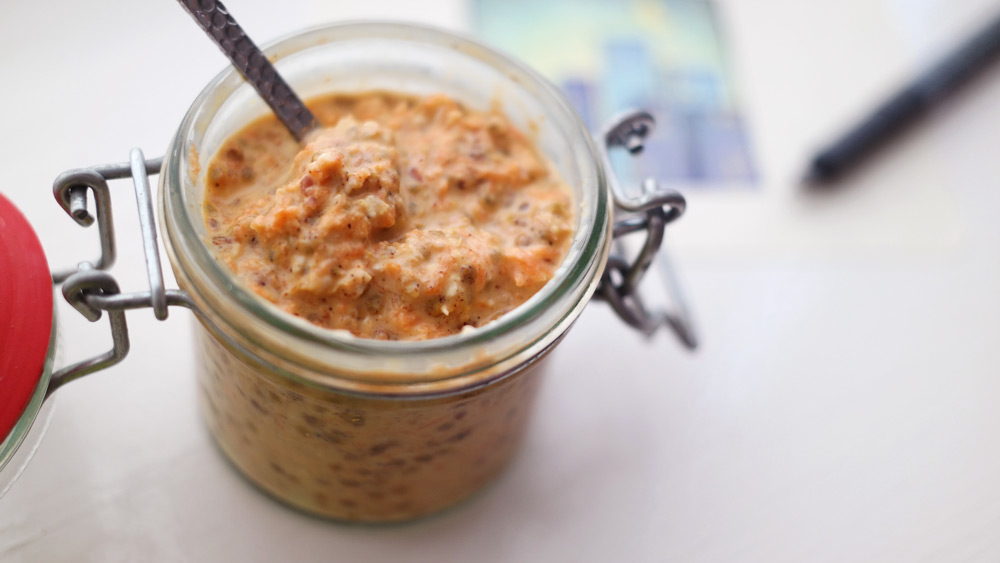 Nog meer Overnight Oats Recepten
Ik heb nog veel meer overnight oats recepten voor je in petto! Stuk voor stuk zijn ze net zo gezond, simpel, snel en lekker als deze. Kies jouw volgende favoriet:
Of bouw je eigen ultieme overnight oats recept, met het 5-stappenplan dat je in dit overnight oats artikelvindt. Veel (eet)plezier!