Tja, wat is dit nou. Ontbijtje? Tussendoortje? Toetje? Eigenlijk kan het alledrie. Want deze chocolade chiapudding in laagjes is gezond, houdt je lang verzadigd, ziet er feestelijk uit en – en dat is het belangrijkste van allemaal – smaakt heerlijk romig en zoet! Voor iedereen die wel eens wat variatie wilt op z'n havermoutontbijtje, plak bananencake of sojavla.
Het lijkt wel magie: als je chiazaadjes mengt met water en dit een paar uur laat staan, vormt het een puddingachtige structuur. Chiazaadjes kunnen wel 10 keer hun eigen gewicht aan water opnemen! Ga jij dat maar eens proberen, of nee.. doe maar niet.
Chiazaad bevat daarnaast veel eiwitten, vezels en gezonde omega-3 vetten, die je allemaal binnenkrijgt terwijl je vrolijk deze chocolade laagjespudding naar binnen schuift. Zo bevat dit gerechtje maar liefst 15 gram vezels. For the record: dat is de helft van de dagelijks aanbevolen hoeveelheid. De sojayoghurt in dit recept draagt nog eens bij aan die eiwitten, en met vers fruit als topping scoor je gelijk wat vitamientjes. Tel daar de antioxidanten van de cacaonibs bij op en je hebt een alles-in-één healthbommetje! Zo kom jij die apocalypse wel door.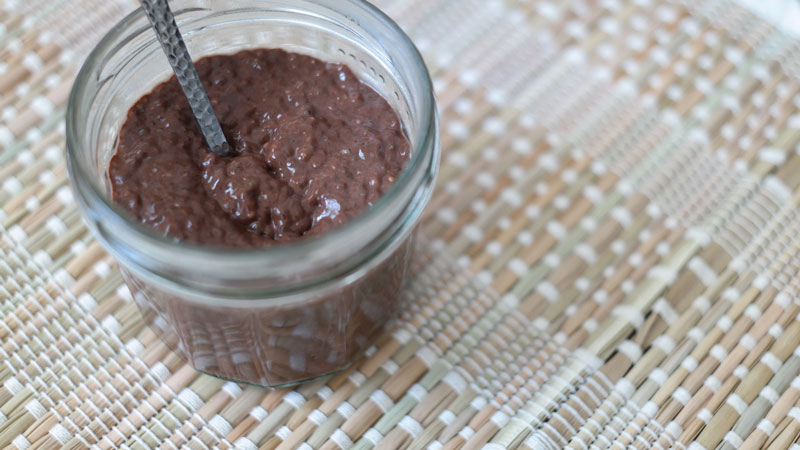 Je maakt de chocolade chiapudding met het basisrecept voor chiapudding. Het enige dat je hiervoor nodig hebt is chiazaad, cacaopoeder, amandelmelk en kokosbloesemsuiker. Zorg ervoor dat je de chiapudding minimaal 2 à 3 uur van tevoren maakt, want de chia heeft die tijd nodig om het water op te nemen. Wat ik zelf vaak doe als ik me verveel, of als ik een excuus zoek om even van m'n werk weg te lopen, is gewoon een chiapudding maken volgens het basisrecept en die in de koelkast parkeren. Ik bedenk later altijd wel iets dat ik met de chiapudding kan doen, en ben mezelf vaak dankbaar dat ik er één heb gemaakt.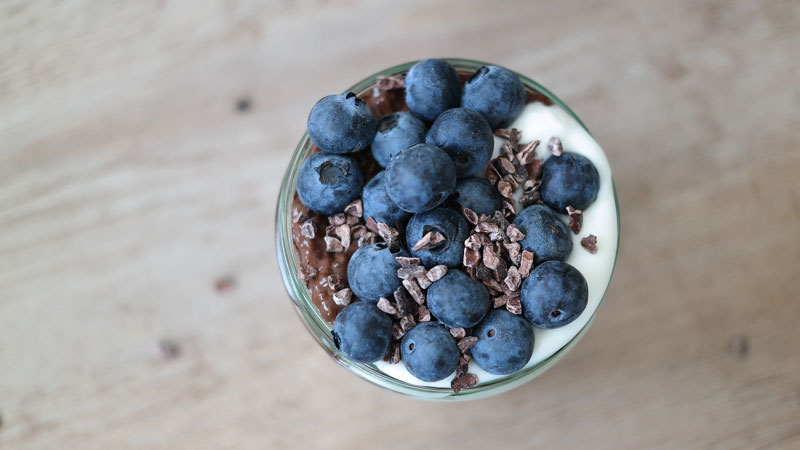 Multifunctioneel Dingetje
Je kunt deze chiapudding dus als ontbijt nemen, als 4-uur-cup-a-pudding, of als gezond toetje serveren. In dat laatste geval zou ik 1 portie van dit recept als 2 toetjes serveren, want hij vult echt ontzettend! Deze chocolade chiapudding is ook ideaal als to-go snack als je nog even door moet. Maak in dat geval de chiapudding in een pot, draai eenvoudigweg de deksel erop en neem 'm zó mee als tussendoortje voor onderweg of voor op je werk. (Pas wel op voor jaloerse collega's.)
Ik heb deze pudding getopt met blauwe bessen en cacaonibs, maar je kunt er werkelijk vanalles op gooien wat je wilt. Het lekkerst is om zacht fruit te kiezen en dan iets crunchy als tegenhanger. Bijvoorbeeld plakjes banaan en pindastukjes, mango en walnoten, kiwi en geroosterde boekweitkorrels. Als je er een toetje van maakt kun je ook een paar Oreokoekjes verkruimelen en dat erbovenop leggen!
---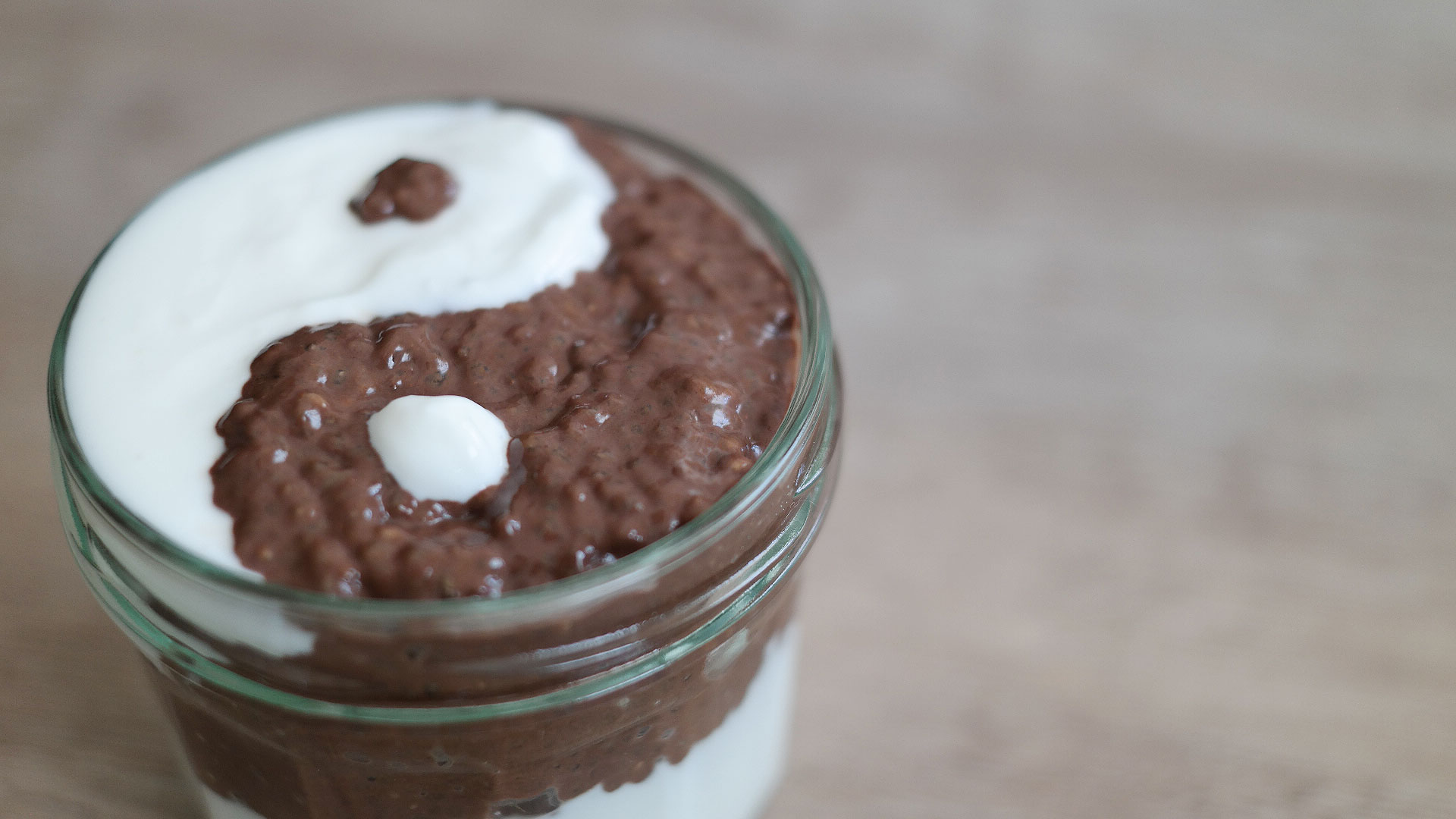 Ingrediënten
1 chocolade chiapudding (25g chiazaadjes – 150ml amandelmelk – 15g kokosbloesemsuiker – 1 el cacaopoeder: goed roeren en minimaal 2 uur in de koelkast zetten)
150 ml sojayoghurt of -kwark
100 gram blauwe bessen*
1 el cacaonibs (of andere favo topping)
* Je kunt ook ander zacht fruit gebruiken, zoals frambozen, kiwi, banaan, mango of kakifruit.
Zo maak je Chocolade Chiapudding in Laagjes
Minimaal 2 uur van tevoren: Bereid de chiapudding.
Vul een glas of glazen potje (minimaal 300 ml) met ongeveer 2/3 van de sojayoghurt
Schep daarbovenop de chiapudding
Schuif de chiapudding een beetje naar links zodat je aan de rechterkant een 'kuil' creëert
Vul de 'kuil' met de rest van de sojayoghurt
Leg het fruit op de chiapudding en strooi de cacaonibs eroverheen. Eet smakelijk!
Tip: Je kunt ook een yin-yang chiapudding maken door wat te spelen met de sojayoghurt en de chiapudding! Laat in dit geval de toppings achterwege.
---
Voedingswaarde – Calorieën: 399 | Eiwit: 13,7 | Koolhydraten: 31,3 | Vetten: 20 | Vezels: 15,2
---