Dit is zonder twijfel het beste recept dat ik ooit heb gemaakt, want dit is gewoon het beste dat ik ooit heb geproefd. Chocolade bananenijs met zoete pindakaassaus is the new awesome. Arme Ben en Jerry zien spontaan hun verkoopcijfers dalen, want na dit ijs wil je nooit meer wat anders.
Damn you vegans!*
– Aldus Ben (van Jerry)
IJs, chocola en pindakaas – de meest goddelijke creaties op Aarde – blijken een combinatie te maken die rechtstreeks uit de Zevende Hemel is komen vallen. Het zoete van het chocoladeijs, een tikkeltje kaneel, met een swirl van pindakaas erdoorheen… Veeg me op.
*Dit artikel werd geschreven voordat Bennert en Jerryboy het grandioze idee kregen om vegan varianten te maken. En hoewel ze insanely lekker zijn (vooral die cookie dough met pindakaas!), zijn het nog steeds ongezonde caloriebommetjes. Dus dit ijs moet je nog steeds maken. Amen.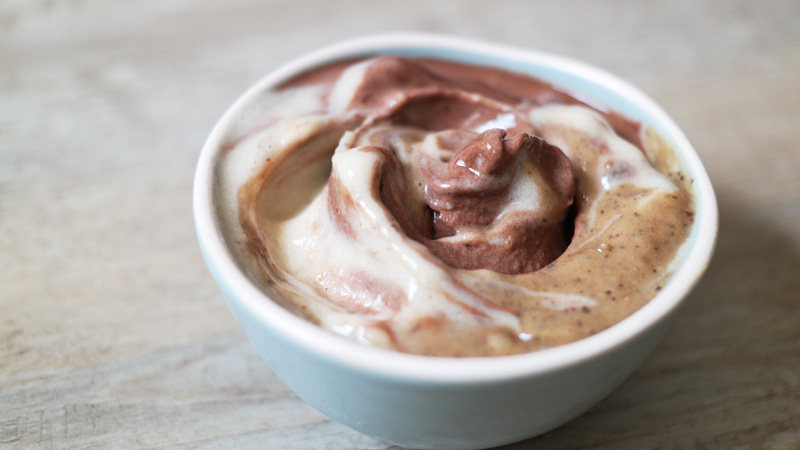 Simpel en Vegan
Laat de titel je niet afschrikken: dit recept is echt belachelijk simpel, en ook nog eens whole foods, plant-based. Dat betekent dat dit bananenijs enkel ongeraffineerde plantaardige ingrediënten bevat, en geen zooi als suiker, room of conserveringsmiddelen. Wat er dan wel in zit:
IJs: banaan+kaneel+cacao
Saus: dadels+pindakaas+water
Gezond ijs
Voeding op zich is niet 'gezond' of 'ongezond', maar je snapt wat ik bedoel. Zeker als je de voedingswaarde van vegan bananenijs met dat van standaard roomijs vergelijkt. Per 100 gram bevat roomijs 235 kcal en 15 gram vet; bananenijs slechts 95 kcal en 0,3 gram vet. En dan heb ik het nog niet eens over de vezels en vitaminen die met die banaan mee komen. Bring it on!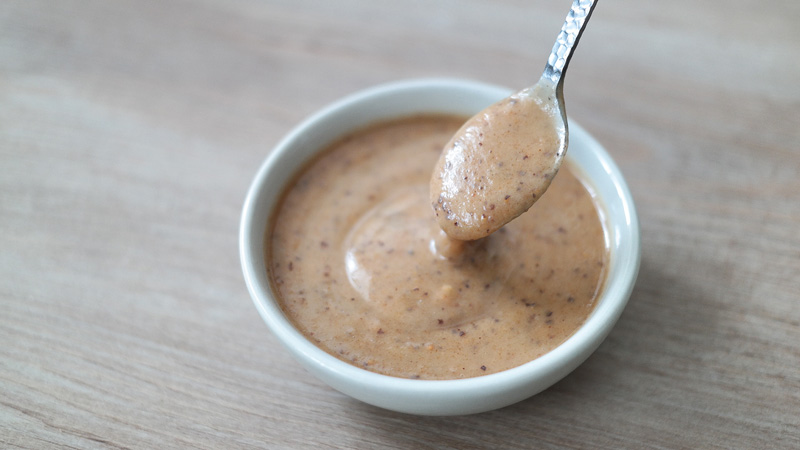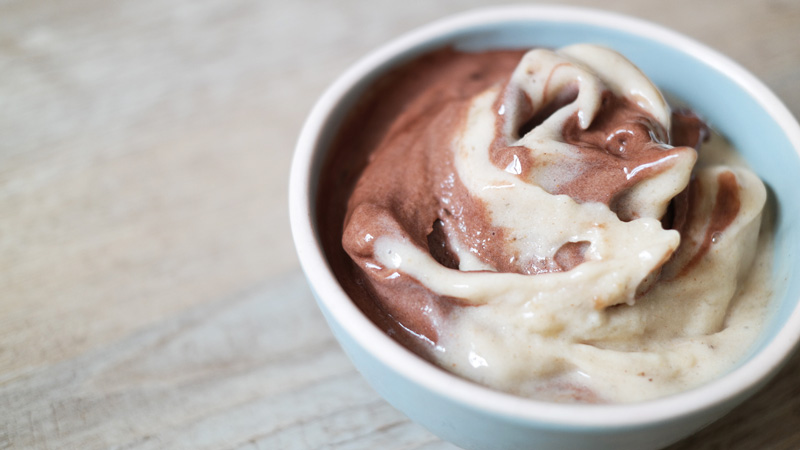 Zo Maak je Bananenijs
Eigenlijk heb je voor bananenijs maar één ingrediënt nodig: bananen. Het is echt doodsimpel: je snijdt twee rijpe bananen in stukjes, die gooi je in de vriezer, een paar uur later transporteer je ze van de vriezer naar je blender, blenden, klaar.
Belangrijk om te weten
Als je voor het eerst bananenijs maakt, moet je wel even wat weten over dat 'blenden'-gedeelte. Het is niet zo dat je de blender aanzet en ondertussen de was kan gaan opvouwen. Je zult meerdere keren de blokken banaan tussen de messen moeten proppen voordat er een ijs-achtige substantie ontstaat. (Zet de blender dan wel uit – met een lepel in een draaiende blender roeren is zo ongeveer net zo veilig als spelen met vuurwerk.) Houd vol en geef niet op! Je zult worden beloond met heerlijk zacht bananenijs.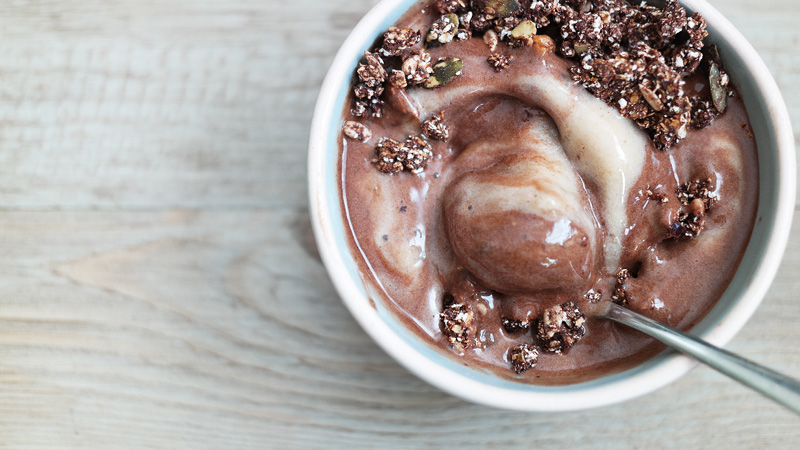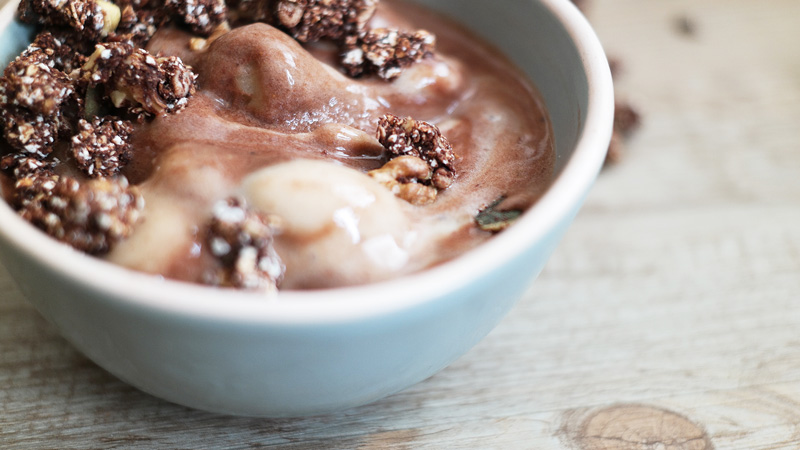 S.O.S. Smeltgevaar!
Wat je ook moet weten van bananenijs – of nicecream, zoals ze dat in Amurrrica noemen – is dat het heel. snel. smelt. Zodra je klaar bent met blenden bevind je je volledig onvrijwillig in missie Save Our Smeltijs. Alles valt of staat met een vlotte werkwijze. Als je echt traag bent of als je je #vegan #nicecream eerst op Instagram wilt gooien, eindig je geheid met een milkshake. De smaak is er niet minder om, maar voor de presentatie is een beetje body wel het leukst.
Anti-smelttip van Tante Truus: Zet de kom waar je het ijs in gaat serveren een half uur van tevoren in de vriezer. Dit scheelt echt enorm!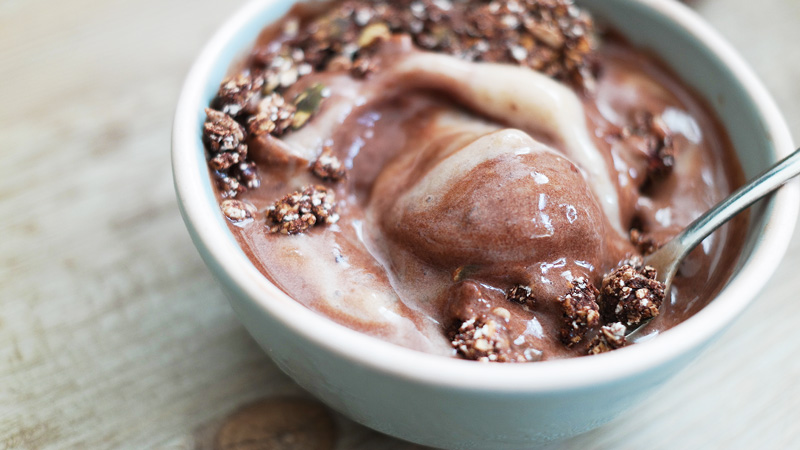 ---
Ingrediënten
Voor het ijs
2 à 3 rijpe bananen (bevroren)
2 tl cacaopoeder
1 tl kaneel
Plantaardige melk (±50 ml)
Voor de saus
50 g medjooldadels
20 g pindakaas
75 ml water
Vanille-aroma (paar druppels)
Snuf grof zeezout
Toppings: Crunchy toppings zoals cacaonibs, nootjes of zelfgemaakte granola zijn echt aanraders. Ook leuk: een handje frambozen, plakjes kiwi of banaan.
---
Stap 1: Pindakaas Swirl Saus
Mix alle sausingrediënten in een kleine blender of staafmixer tot een glad geheel.
Zet apart.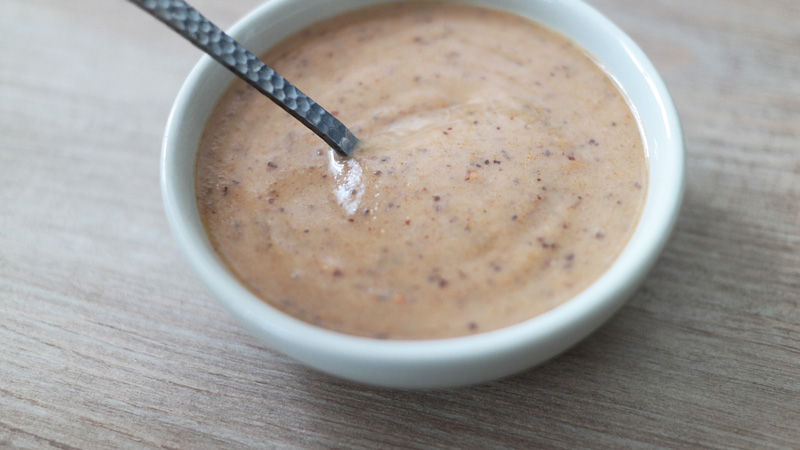 ---
Stap 2: Chocolade Bananenijs
Doe de bevroren banaan, kaneel en plantaardige melk in de blender of keukenmachine en blend tot een gladde massa. Je zult een paar keer moeten stoppen met blenden om de brokken banaan tussen de messen te drukken. Blend niet te lang, want dan wordt het een milkshake in plaats van ijs.
Als de mix glad is ga je in de vierde versnelling. Schep als eerst de helft van het ijs in je kom en zet aan de kant.
Voeg de cacao aan de rest van het ijs toe en blend dit kort door elkaar.
Schep het chocoladeijs bij het andere ijs en giet een deel van de saus eroverheen. Begin met 2 eetlepels. Je kunt er altijd later meer bij doen.
Schep het witte bananenijs een beetje omhoog en roer kort door – dat staat zo leuk.
Le finising touch: smijt de toppings erbij.
Nou waar wacht je nog op? Aanvallen! En wees je ervan bewust dat je van de verdere rest van je leven niets meer zult eten dat dit kan evenaren. ♥
In plaatjes ziet je hele avontuur er zo uit: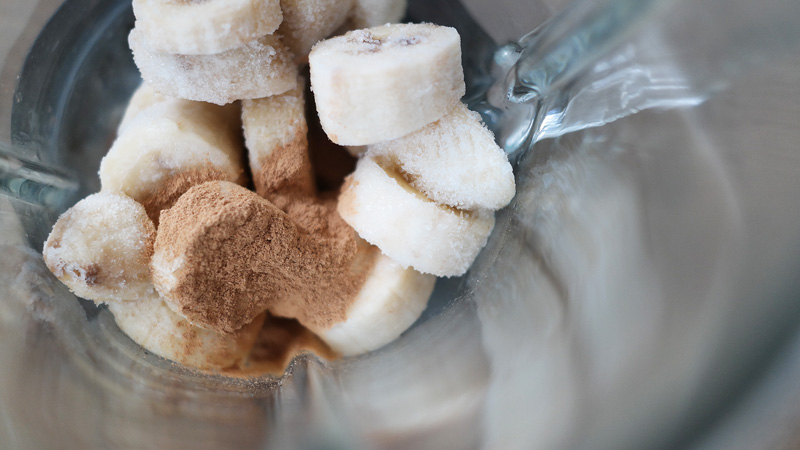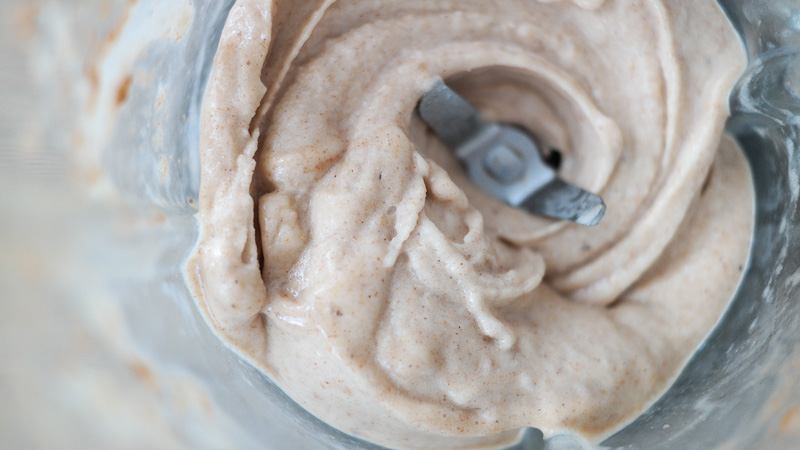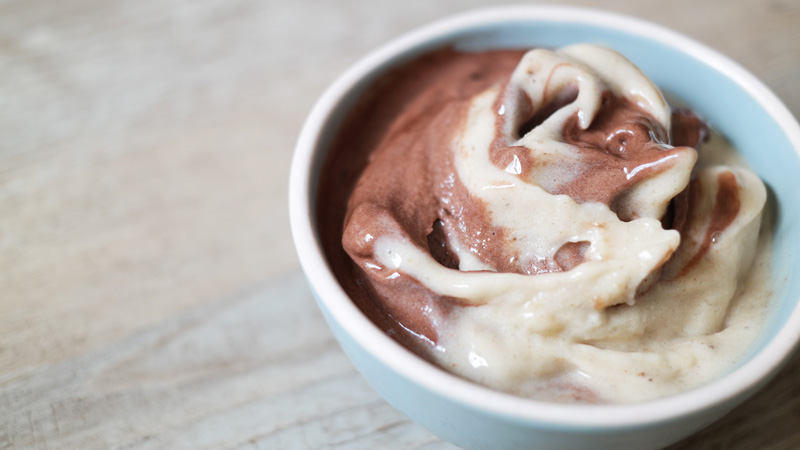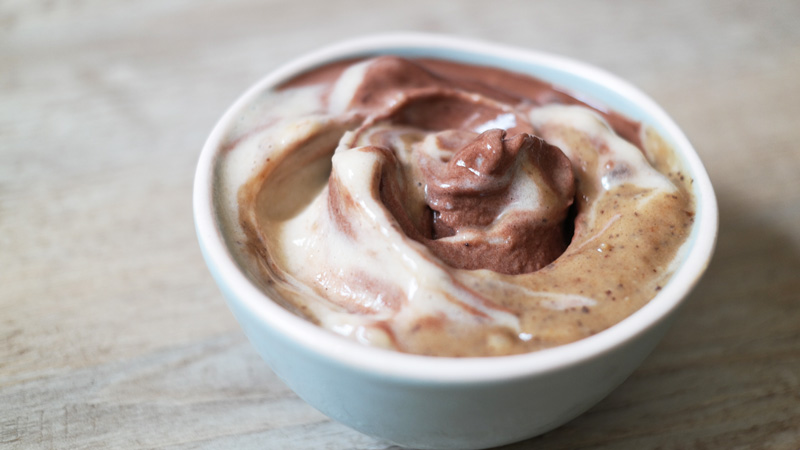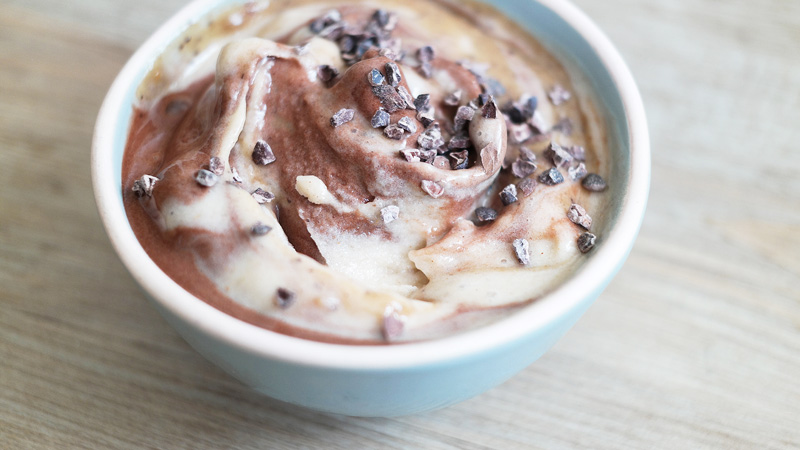 Tip: als je dit lekker vindt, dan zijn deze recepten ook zeker wat voor jou: