Zo ongeveer iedere foodblogger heeft wel een eigen bananenbrood, dus vond ik het hoog tijd dat ik er ook één had (ik heb er inmiddels nog één, een supersimpel bananenbrood). Dus ging ik, gewapend met alleen maar meukvrije ingrediënten, goede hoop en een bakblik aan de slag. En ik kan je zeggen: het is gelukt. Dit bananenbrood is epic. Niet alleen omdat 'ie waanzinnig lekker is, maar ook omdat 'ie bij zo ongeveer iedere voedingsstijl wel past.
Glutenvrij, vegan (dus zonder ei en zonder zuivel), en vrij van geraffineerde suiker en olie. Correct me if I'm wrong, maar volgens mij is dit bananenbrood zelfs paleo. Paleo glutenvrij vegan bananenbrood. Van alleen de titel ga je al glimmen. Nog eventjes alles op een rijtje, zodat je een mooi overzicht hebt:
Zonder ei
Zonder suiker
Zonder tarwe
Zonder boter
Zonder olie
Dit bananenbrood is gemaakt met amandelmeel en bevat geen dierlijke producten. Dat is vrij uniek, want de meeste bananenbroden met amandelmeel bevatten ook ei om het brood te doen rijzen. In dit recept gebruik ik baksoda en appelazijn om dit voor elkaar te krijgen, wat je overigens kunt vervangen door andere ingrediënten (zie recept).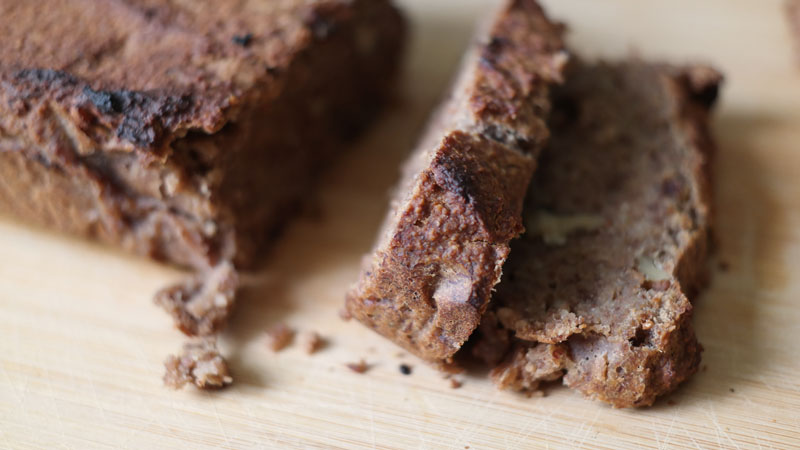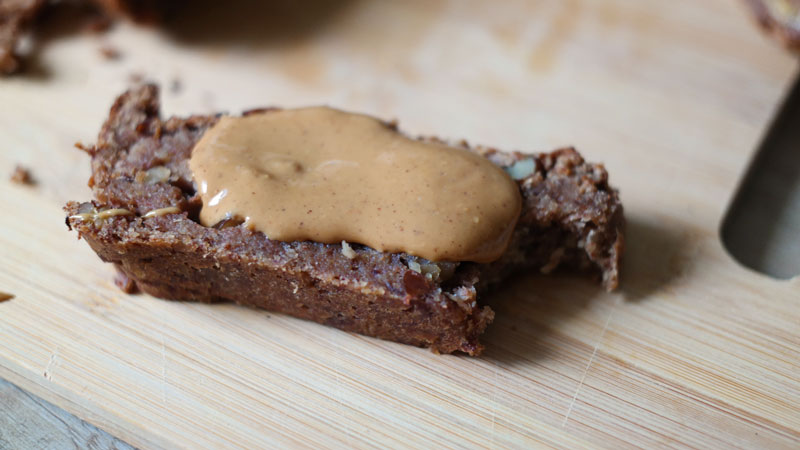 True, door het amandelmeel en de walnoten is dit geen 'light' recept, maar dat moet je ook helemaal niet willen. Dit bananenbrood bevat dankzij die noten geweldig veel goede voedingsstoffen waar je lichaam echt wat aan heeft [1]. Noten zitten vol antioxidanten, vezels en mineralen, en zijn koning van de omega-3 vetten. Omega-3 is goed voor zo ongeveer iedere vezel in je lijf, maar we blijken er met z'n allen een schreeuwend tekort aan te hebben [2].
Uiteraard heb ik er nog even de wetenschap op nagetrokken. Mensen die regelmatig noten eten zijn slanker [3], leven langer [4] en hebben verbeterde cholesterolwaarden [5]. Waarschijnlijk hebben die mensen ook allemaal hun financiën op orde en halen ze iedere dag stipt op tijd hun kind van school om vervolgens samen een gezonde cake (deze) te gaan bakken.
Bam! Met één plak van dit brood behoor jij ook tot die groep. Alsof je een bommetje in het heilige Lourdeswater maakt en als een soort Asterix wederkeert.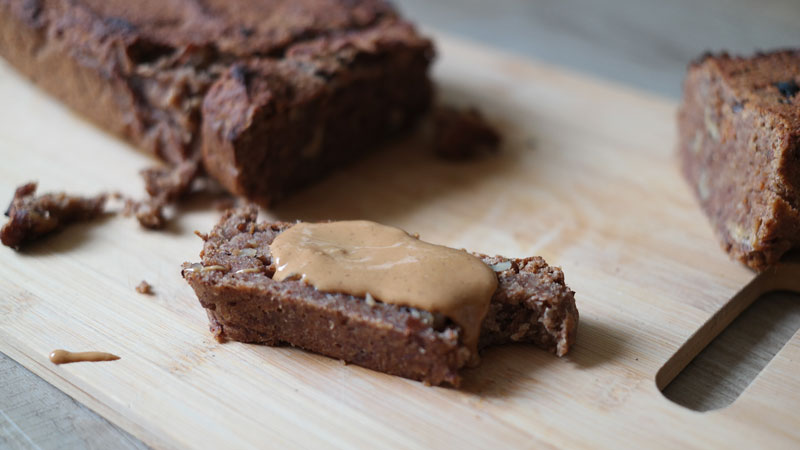 Ingrediënten
3 grote rijpe bananen
250 gram amandelmeel
50 gram arrowroot
100 gram ontpitte medjooldadels*
1 volle tl baking soda
1/2 tl zout
Scheutje vanille-aroma
2 tl kaneel
15 ml appelazijn
50 gram walnoten
Te vervangen door
–
Alle soorten meel** behalve kokosmeel
Tapiocameel / bananenmeel / maïzena
75 gram kokosbloesemsuiker
Bakpoeder
–
1/2 tl vanillemerg
Speculaaskruiden
25 ml Citroensap
Alle andere noten
Tip: Vind je dit teveel gedoe? Probeer dan m'n supersimpele chocolade bananenbrood met maar 6 ingrediënten (waar een snufje zout er 1 van is).
* Ik ga iets bekennen. Ik gebruik nooit medjooldadels maar altijd die kleinere zachte dadels die ik bij de Turkse supermarkt koop. Ik betaal hier voor een doosje van 500 gram slechts 2,95. #budgethack
Let op: dat is dus iets heel anders dan die harde bruine gedroogde dadels in zo'n doorzichtige zak of met zo'n stokje erbij. Die kun je namelijk onmogelijk prakken.
** In theorie moet je dit bananenbrood met alle soorten meel kunnen maken, al zul je waarschijnlijk wat water moeten toevoegen om tot dezelfde consistentie te komen (zie punt 4 hieronder).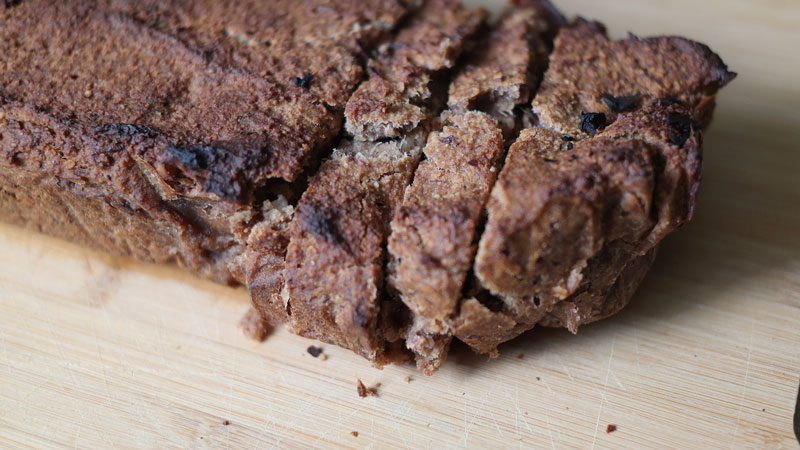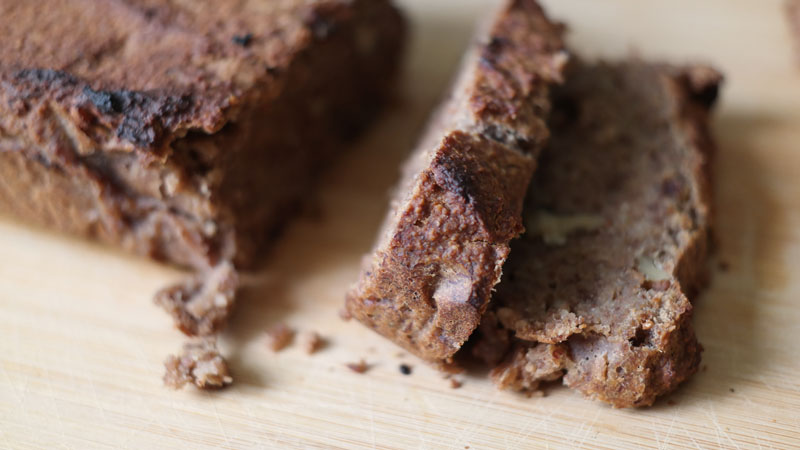 Zo maak je Glutenvrij Paleo Vegan Bananenbrood
Verhit de oven voor op 180ºC.
Bekleed een bakvorm met bakpapier. Cake-, taart- of brownievorm – al doe je 'm in een Patrick-de-ster-vorm, 't kan allemaal.
Prak de banaan en dadels met een vork tot een papje, of gebruik de staafmixer of keukenmachine.
Voeg het amandelmeel, arrowroot, baking soda, zout, vanille, kaneel en de walnoten toe en roer dit tot een dikke substantie dat ergens tussen een beslag en deeg in zit. (Je zou het op kunnen pakken zonder dat er klonten terugvallen, maar er nog wel doorheen kunnen roeren met een lepel. Is het beslag te dik omdat je een ander meel gebruikt? Voeg dan wat water toe tot je deze consistentie hebt bereikt.)
Voeg als laatste de appelazijn toe (dit kan gaan schuimen), roer door het beslag en giet/gooi/flurk het beslag in de bakvorm. Strijk de bovenkant glad en bak 45 minuten op 180 graden.
Laat het brood afkoelen voor je 'm aansnijd. Dan smaakt 'ie zoeter en is beter te snijden.
Optioneel maar eigenlijk verplicht: pindakaas. Een laag pindakaas op je plak bananenbrood tilt de ervaring werkelijk naar een hoger level. Enjoy!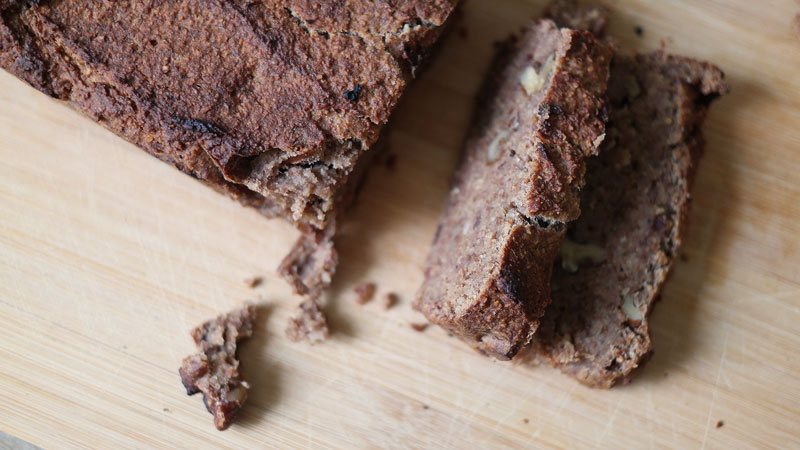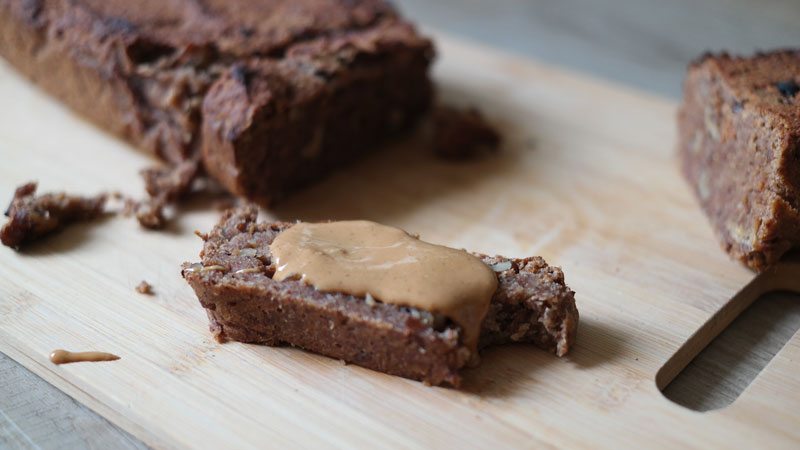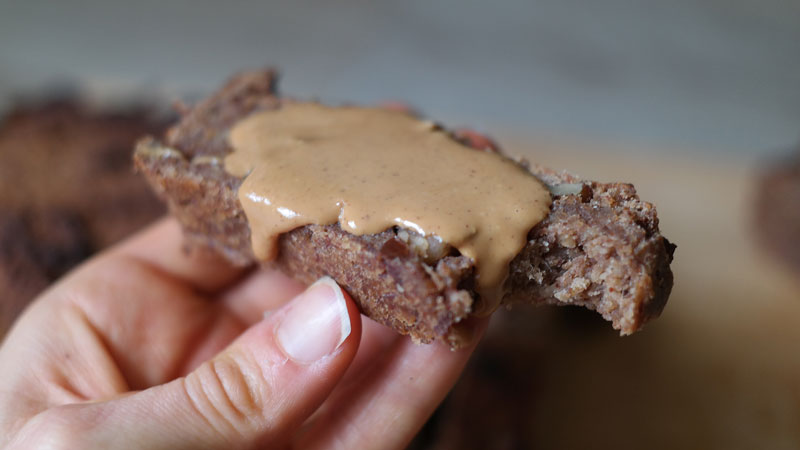 ---