Vergeet de Big Mac. Vergeet de Whopper. Vergeet gewoon al die andere hamburgerzooi die je in een grijs verleden hebt gegeten. Deze dubbele tempeh burger laat alle fastfoodketens-of-hell in het stof happen. Met supermalse tempeh, zachte pompoen-avocadospread, en smeuïge satésaus wil je nooit meer een andere burger.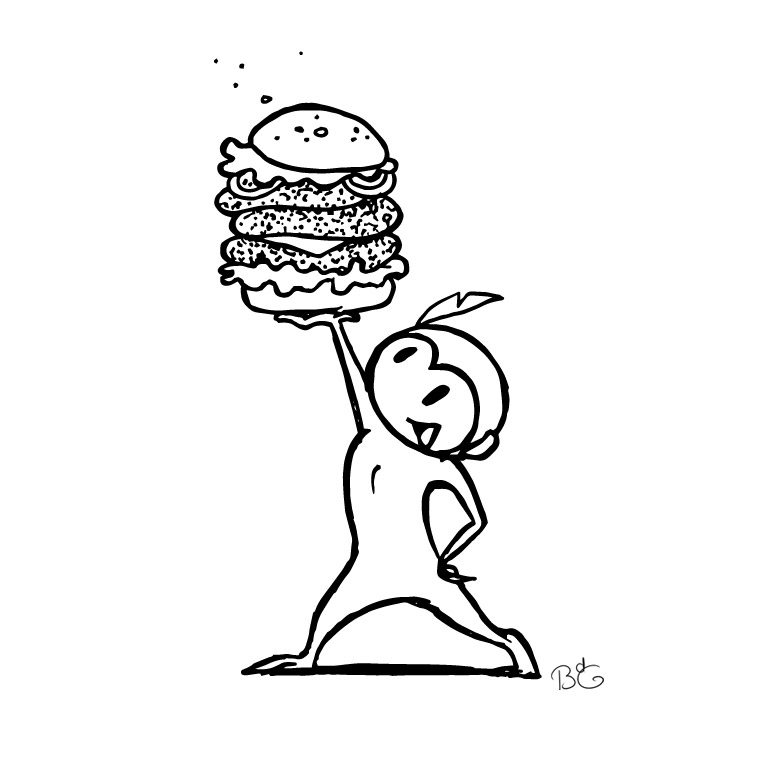 Waar de McDonalds zijn diabetesactiverende broodje belegt met vet vlees, muffe kaas en een 30-ingrediënten-tellende saus waar je een week later nog een kater van hebt, is deze dubbele tempeh burger juist goed voor je. Hij bevat alleen gezonde ingrediënten, geen gerafineerde suikers, en geen onnodig toegevoegde zooi om de houdbaarheidsdatum tot ∞ te rekken.
Maar het allermooiste vind ik dat deze burger 100% vrij is van dierenleed. Dus als je honger en een hart hebt, ga je deze maken.
Ik heb de instructies zo opgesteld dat zelfs de grootste keukenramp deze burger kan bouwen. Het enige dat je hoeft te doen is de stappen opvolgen. Zorg er wel voor dat je minimaal 3 uur (liefst een dag) van tevoren begint met Stap 1: het marineren van de tempeh. Alleen dan krijg je de allerlekkerste burger!
Ingrediënten
Ongeveer 150 gram tempeh + ingrediënten voor de marinade
1/2 avocado
50 ml satésaus
1 broodje naar keuze (zelfgemaakt of zelfgekocht)
Kokosolie om in te bakken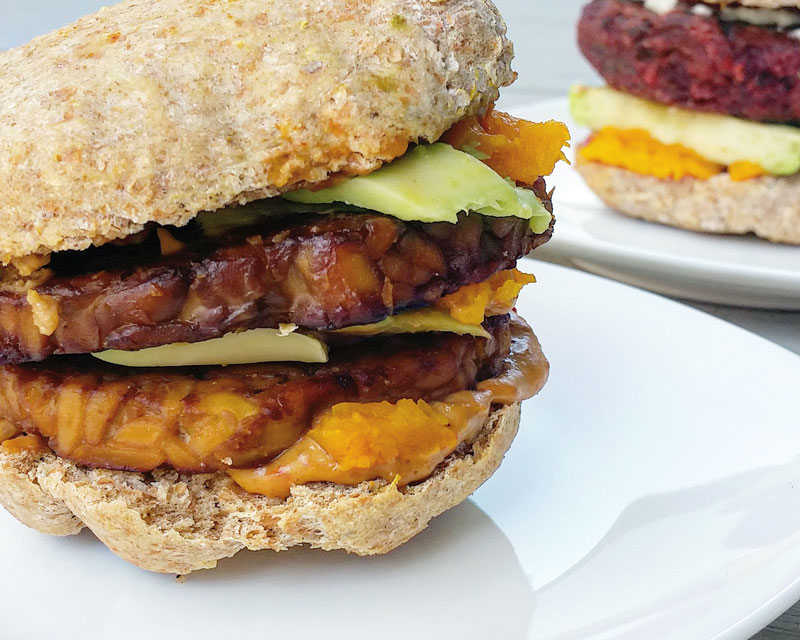 Zo maak je een Dubbele Tempeh Burger
Stap 1: De Tempeh Burger (min. 3 uur maar liefst een dag van tevoren)
Snijd een vierkant stuk van het blok tempeh af. Snijd deze in de lengte in 2 plakken van 1 à 2 cm dik. Uit iedere vierkante plak snijd je twee ronde 'hamburgers'. (Van de restjes kun je later tempeh roerei maken.)
Maak de marinade, bijvoorbeeld met dit supersimpele gezonde recept.
Leg de schijven tempeh in de marinade en laat minimaal 3 uur marineren in de koelkast. Hoe langer hoe beter.
Stap 2: De Rest
Kook de pompoen- of zoete aardappelblokjes in 5 à 10 minuten zacht. Giet af en laat even uitdampen.
Prak de avocado grof met peper en zout, of maak even snel deze avocadospread. Zet aan de kant.
Prak de pompoen of zoete aardappel grof en zet aan de kant.
Zorg dat je de satésaus binnen handbereik hebt. Koud of warm, kan allebei.
Verhit een ruime hoeveelheid kokosolie in een pan en bak de tempehburgers op laag vuur in 10 minuten aan beide kanten goudbruin.
Stap 3: Stapelen!
Snijd het broodje doormidden en besmeer de onderkant met een laag satésaus en een lepel geprakte pompoen.
Leg hier de eerste tempeh burger op.
Dek af met een laag geprakte pompoen en avocado.
Leg hierbovenop de volgende tempeh burger.
Und wieder een laag pompoen en avocado.
Besmeer de onderkant van de andere helft van het broodje met een laag satésaus, en maak de tempeh burger compleet.
Enjoy mucho!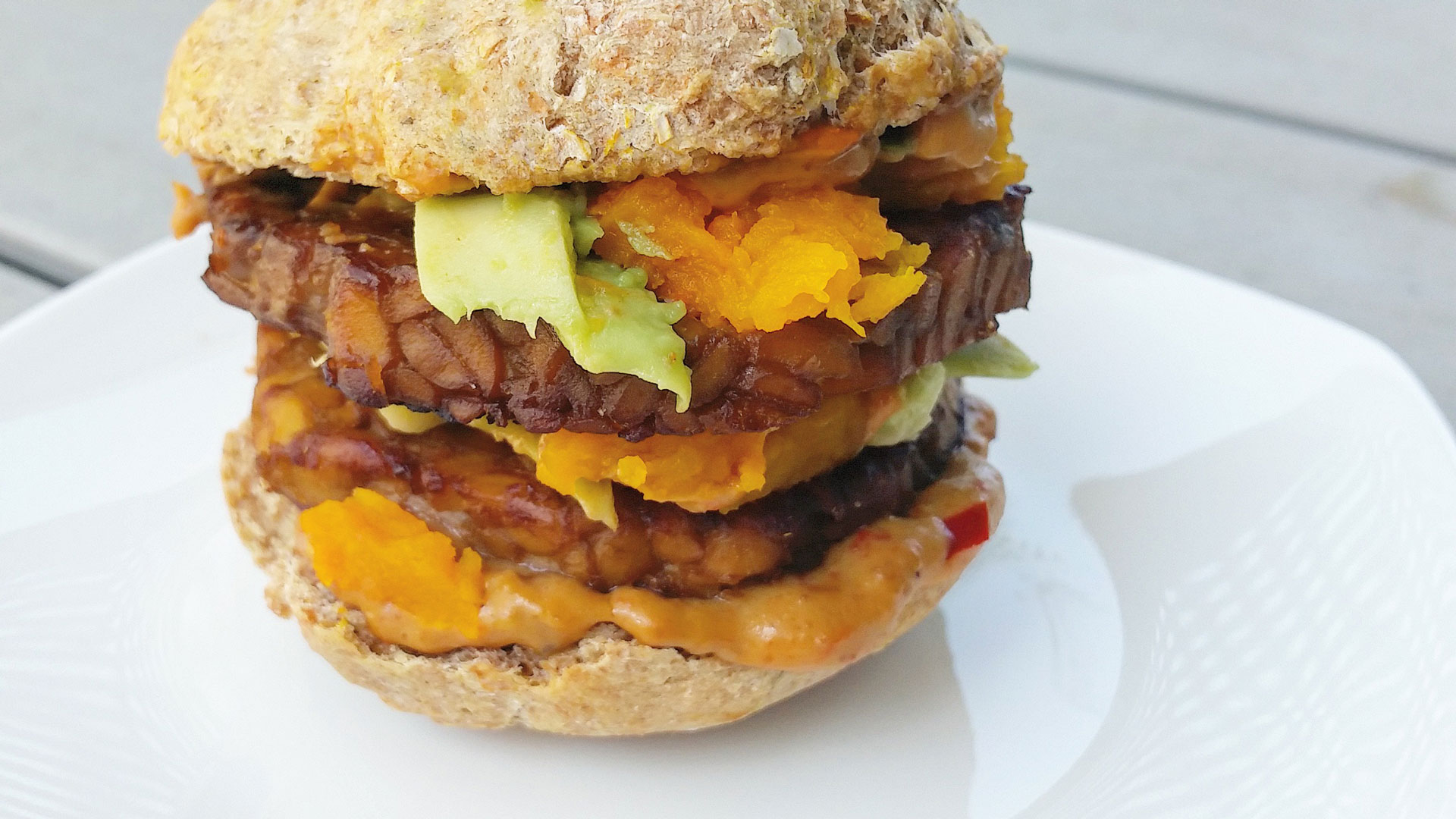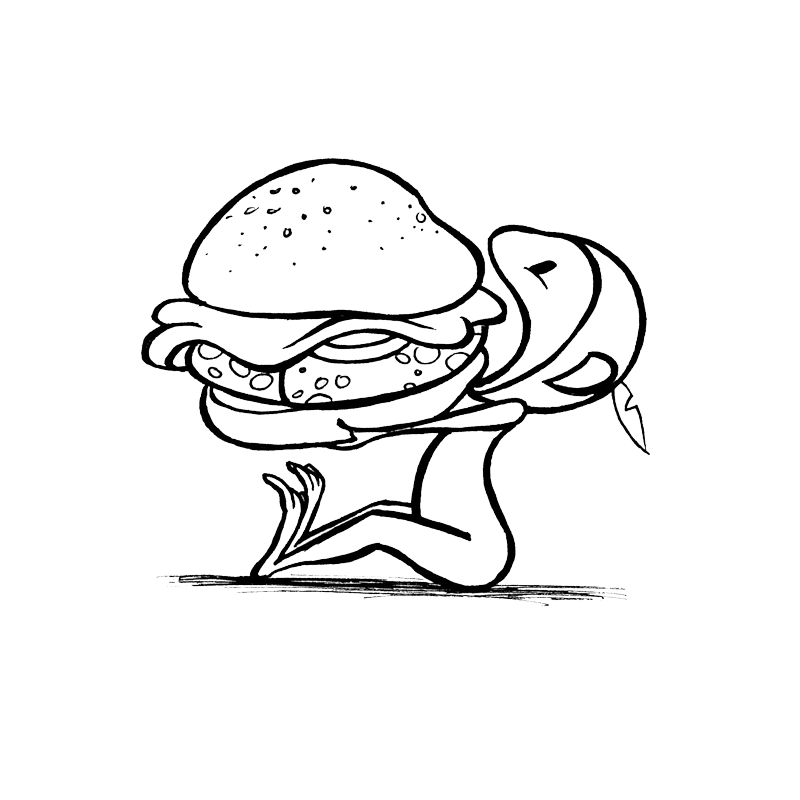 Foto- en receptcredits: Jessica Harthoorn