Deze week ben ik fruitariër, maar dat betekent allesbehalve dat ik de hele week alleen maar op mango's en meloenen leef! Fruitariërs eten de 'voortbrengselen' van planten die geoogst kunnen worden zonder de plant te doden of te beschadigen. Dus niet alleen fruit, maar ook zaden, noten en vruchtgroenten staan op het menu van de fruitariër. Zo ook mijn grootste groentevriend: de pompoen.
Pompoensoep kon dus niet ontbreken in mijn weekje als fruitariër. Je vraagt je nu waarschijnlijk heel hard af wat er dan nog meer behalve pompoen in zit. I'll tell you: kokosmelk, sambal, peper en zout. Meer opsmuk heeft dit recept simpelweg niet nodig.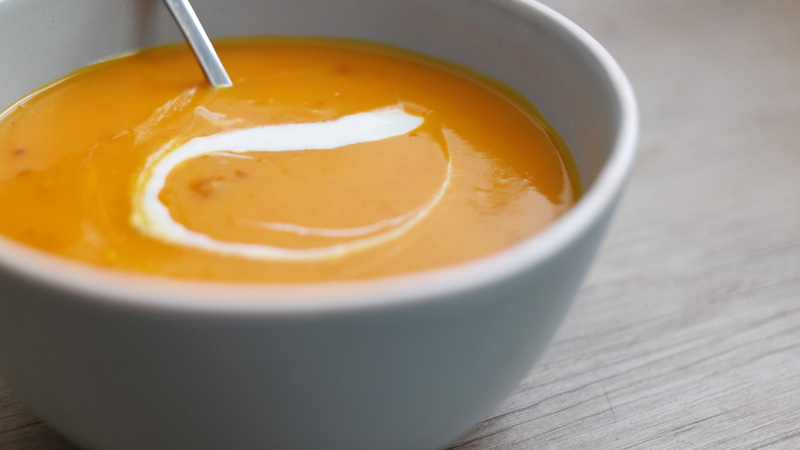 Simpel AF
Een groot voordeel van dit minimalistische recept is dat het zó op tafel staat. Je hoeft de pompoen niet te roosteren, je hoeft niet uren te wachten tot 'ie gaar is, en je hoeft ook niet eerst naar de toko te fietsen om vervolgens op je knieën dat ene onuitspreekbare specerij tussen de boemboe vandaan te grabbelen. Nein. Als je de supersnelle tip in het recept opvolgt is deze pompoensoep al binnen 20 minuten fertig!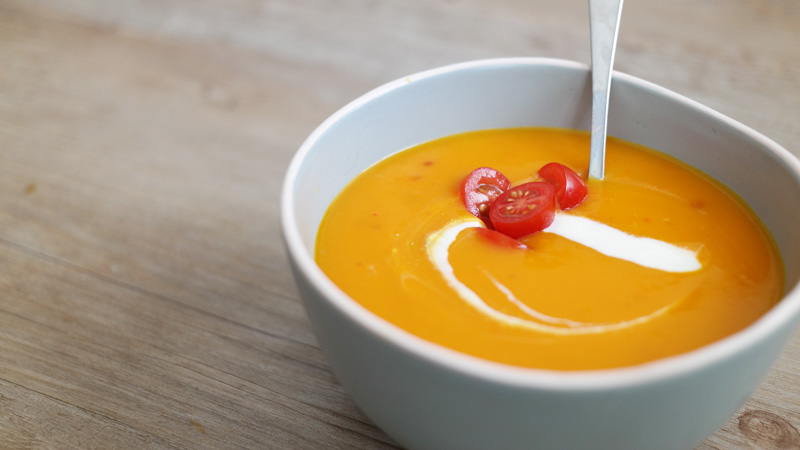 Sweet 'n Creamy
Doordat je de pompoen niet roostert maar kookt, heeft de soep een zachte en volzoete smaak. Voeg daar de extra romigheid van de kokosmelk aan toe en je hebt het ultieme comfort food gecreëerd. Je zou bijna naar de herfst gaan verlangen, lekker met een kleedje op de bank deze soep weglepelen, terwijl de regen op de ramen tikt. Maar eerst nog even zomer, mét soep! Want soep kan altijd.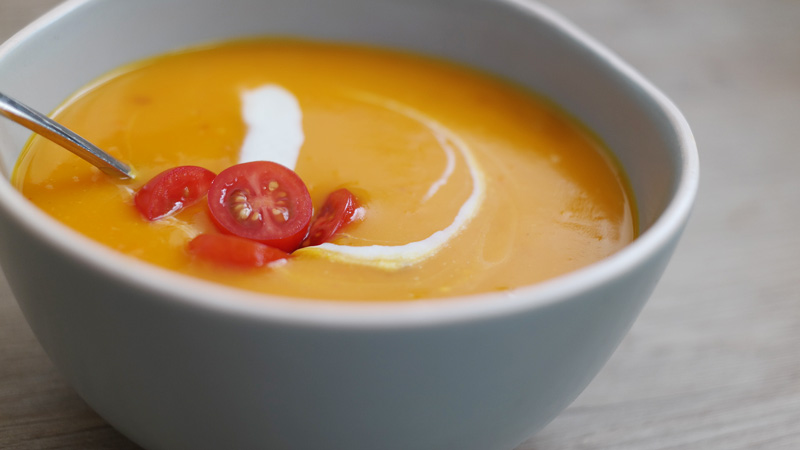 ---
Ingrediënten
1 pompoen (supersnelle tip: voorgesneden pompoenblokjes)
1 blikje kokosmelk van 400 ml
2 tl sambal
Flinke snuf peper en zout
Optioneel: 1 el sojayoghurt en 3 gehalveerde cherrytomaatjes voor de garnering
Tip: Hoef je deze soep niet per see fruitariërproof? Voeg dan 1 grote ui, 2 teentjes knoflook en een theelepel kaneel toe voor een extra smaakdimensie.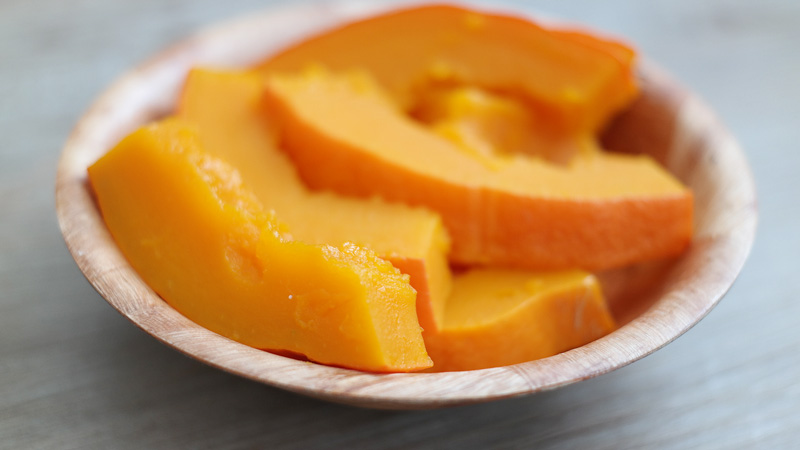 ---
Zo maak je Pompoensoep met Kokosmelk
Was de pompoen, snijd 'm doormidden en verwijder de zaden. Snijd met schil en al in blokken.
Doe de blokken pompoen samen me 1 tl zout in een pan, en vul deze met water zodat de pompoen net onder staat. Breng aan de kook.
Laat de pompoen 15 à 20 min doorkoken, tot deze zo zacht is dat je met een vork de schil doormidden kan breken.
Giet driekwart van het water af of bewaar als basis voor bouillon of om havermout in te koken (=aanrader), en voeg de kokosmelk en sambal toe.
Pureer met een staafmixer tot een gladde soep. Vind je 'm te dik? Voeg dan wat (kook)water toe. Verwarm de soep en breng op smaak met peper, zout, eventueel extra sambal toe.
Serveer met of zonder garnering en enjoy!
---
Tip #1: houd een paar blokken gekookte pompoen apart voordat je de soep pureert, en voeg deze aan het einde toe. Deze zachte blokken pompoen zijn super lekker om terug te vinden in je soep!
Tip #2: Besmeer twee rijstwafels met amandelpasta met zeezout en maak er een volwaardige lunch van. Wist je dat dit ook in een fruitarisch voedingspatroon past? Kijk maar eens!